Environs
Historic co-op contrasts antiques with `80s renovation.
YOU'D BE INSANE to pass this up! Historic 1BR has gorgeous views, high ceilings, balcony, roof deck, ample parking, unique bathroom, one-of-a-kind neighbors. Close to Adams Morgan, but quiet. Co-op w/ reasonable bylaws. Occupant has keen eye for antiques, color schemes. Top floor of a palatial building. Won't last!
The Ontario was designed by James G. Hill, chief architect for the federal government until 1883. He resigned amid accusations that he was a member of the Granite Ring, a cartel of illegal stonework suppliers. Brad Urban appreciates the building's tawdry past. His one-bedroom apartment is located on the building's uppermost floor.
BRAD: This is my 1980s disaster kitchen. It used to have wooden cabinets under the window, but those were ripped out during a bad '80s renovation, along with a few other things.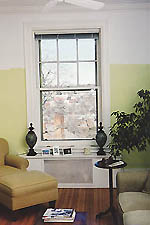 High Pane Threshold:
Urban gets in touch with
his inner acrophobic.
[In pantry] There's a waffle iron in here that's supposedly been in the apartment for fifty years, like a good luck charm that everyone leaves when they move out. The pantry was built to double as a hallway for the servants to use. That's why it's so long and narrow. It allowed them to bypass the living room and dining room when going to the foyer. This building is a co-op, so I don't actually own the apartment. I own shares in the corporation that owns the building, Ontario Owners, Inc. If you want to live here, there's an interview process and you have to submit a financial statement. But the building is run really well. A live-in porter picks up my trash at my door every morning. The rules are strict, though. There's a $150 fine if you loan out the front door key.
[In living room] I think this has always been a fairly wealthy neighborhood. The original landowner tore down his own house so this place could be built. During the Martin Luther King riots, the residents armed themselves and took shifts protecting the grounds. I really like being in a building with history. From the outside, it looks like some huge Victorian insane asylum. The woman who lives next door plays the piano a lot, but all she plays is the song from Rosemary's Baby. Apparently she used to be a comedian. [Councilmember] Jim Graham lives here too.
[In hall] This closet used to be an elevator shaft. It was sealed in the '50s with the co-op conversion. I'm probably going to convert it into an office since it's so big. That dress hanging there is the dress I wore to the Miss Adams Morgan pageant. When I came home that night, I was stopped at the front desk and asked if I was visiting someone.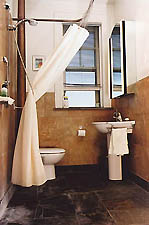 Baby Shower:
The tub gets thumped.
[In bathroom] I like the slate floor. The only drawback is that it takes forever to dry. I'm still getting used to this shower. The previous owner made me get in it and stand there before I decided to buy. She said to me, "You can have a party in this shower! I would have myself, but my husband never wanted to. " They're retired and sailing around the world now. This copper pipe is a steam riser. It heats the whole room.
[In dining room] Some people use this room as a bedroom. It's got a pocket door that can be used to separate it from the living room. The west wing was built in 1903. The east was 1906. This is a quiet neighborhood. You can hear the trains blowing their whistles as they pull into Union Station, and in the other wing you can hear the animals at the zoo. The building was originally advertised as being in a lofty location free from malaria. There's still no central air, and the previous residents took out all of the radiators. They were too hot. You'd cook if you turned them on. The gas fireplace works, but the mantle was taken down during the bad '80s renovation. I'm guessing the track lighting was probably put in at the same time, too.
Epic romance? Torrid affair? Summer fling? Whatever your relationship with your dwelling, we want to hear it. For a chance to be featured in Environs, e-mail home@metroweekly.com.
---