| | | |
| --- | --- | --- |
| | High spirits abound in this 1 BD, 1 BA Dupont Circle condo where frequent parties and get-togethers also give way to rest for the weary traveler. Also comes with plenty of bookshelf space, so you can nurture your mind while relaxing the body. | |
He may be a world traveler, but consultant Christian Conti only considers one place home -- his Dupont circle condo. The comfortable abode houses an exotic liquor collection, tons of books, and some good old-fashioned Italian hospitality.
Christian: I was living in Bethesda before this. I stayed out there for a couple years and then I got a promotion. I always told myself I would move into D.C. once I got a promotion. I went house shopping and actually found this place the first weekend. I'm a decisive person and I knew what I was looking for. I wanted something comfortable, with enough open space to have people over to watch the Super Bowl or have a party. I have a standing party on Sundays for Sex and the City and Sopranos. I travel a lot for work so it's nice to enjoy myself on the weekends when I actually have free time with my friends.
[In the living room] I had a two-bedroom apartment in Bethesda and I brought almost nothing with me. It was all very light wood and none of it went with this place, so I started fresh. One of the only things I brought with me was this bookcase. I had to buy the other bookcase and I will probably have to buy a third at some point. These bookcases are definitely already starting to groan under the weight of the books. I travel so much -- I probably spend about ten hours a week on a plane -- in a good week I'll read two or three books. This past month I read seven or eight books -- everything from the new translation of Don Quixote to the last Stephen King novel. I read just about anything that catches my fancy. When I was growing up Catch-22 was a favorite of mine -- it was so ironic and nasty, which is what I was like as a teenager.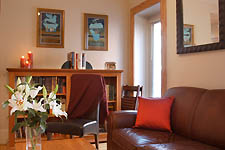 Besides the fact that I like to drink, there is a good reason behind this collection of liquor. A lot of those bottles are pretty old. When I lived in Venice my sophomore year in college I picked up the habit of bringing a bottle of something home with me from my trips overseas. I brought back these bottles of grappa from my family in Italy. There are also bottles of gin from the U.K. and bottles of vodka from all throughout Europe. I'd say about half this bar has been smuggled in through my luggage. This is an old bottle of absinthe from a friend who was a Christian missionary in Prague for a year and half. His wife condemns drinking but out of love for me -- God bless his heart -- he bought a bottle of absinthe for me. There is booze here that I obviously drink but a lot of it I only drink once in a while -- when I'm feeling nostalgic. I like having the bottles up there to remind me of places I have been.
| | |
| --- | --- |
| | |
[In the bedroom] When I lived in Venice I had this friend who opened up a bar. I used to go there and drink because he was one of the five people I knew in Venice who spoke English. I met this other guy at the bar who was studying glassblowing in New York and got something like an internship with one of the glassblowing houses on the Island of Murano. We spent a lot of time hanging out and drinking and at the end of the summer he made this statue for me and signed it. It was cobalt blue, which was my obsession at the time. Living in Venice was a tremendous time and this was a memento of that adventure.
This condo is my first ownership experience -- I love it. It is nice when I'm on the road and I'm working 18-hour days and getting screamed at by my clients to know that I'm doing it for something. This place is my sanctuary -- this is home for me. I love having people over and I love having people stay with me. It's comfortable and that's the way I want it to be. I like to come home on a Thursday night and just poor a glass of wine, maybe throw a log on the fire, crawl up on the couch and just relax. I'm happy here.
Does your house, condo or apartment have a story to tell? Let Environs know about it. E-mail environs@metroweekly.com.
---