11 Amazing Tech Gifts
A Holiday Gift Guide for all the techies on your list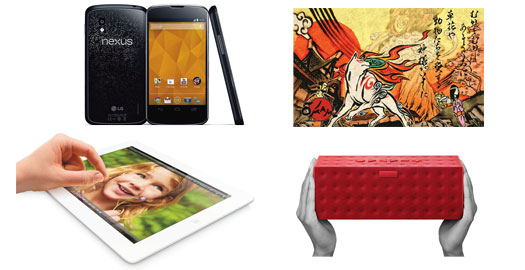 Technology is the ultimate Christmas gift. More useful than diamonds, a greater fashion statement than clothing, more satisfying than chocolates. Or socks. If you're the kind that likes to aim big during the holidays, be it for a loved one, parent or friend, we've got the perfect gifts for the more discerning technology fans in your life. Tablets to cameras, smartphones to games, we've covered the basics to give you guaranteed success when the recipient tears off the wrapping paper. If you're more Grinch than gift, they also make excellent presents to yourself – and, really, we think you've earned it. Read on, as we give you the ultimate guide for a very merry Techmas.
Smartphones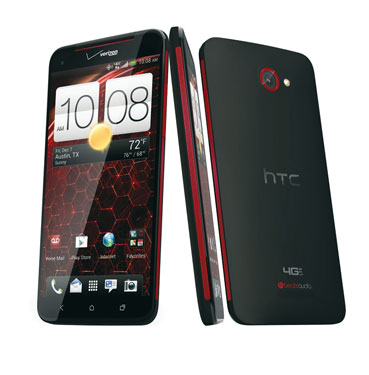 Droid DNA HTC
HTC Droid DNA
The latest handset in Verizon's now infamous Droid lineup is the most impressive new smartphone this year. No mean feat, given the caliber of handsets that have launched in 2012. The Droid DNA packs a whole lot of awesome into its slender, unibody frame -- quad-core Snapdragon S4 processor, 2GB of RAM, 8MP camera, Beats audio and support for Verizon's LTE network. Its crowning glory, though, is a 5-inch Super LCD3 screen, which is coated in Gorilla Glass 2 and has a resolution of 1920x1080. This makes the Droid DNA the first smartphone available with Full HD resolution, which translates to a Retina-crushing 440ppi, perfect for those who browse, watch films and ogle their phones for hours on end. The Droid DNA is available for $599 as a standalone purchase, or $199 with a 2-year contract.
Smartphones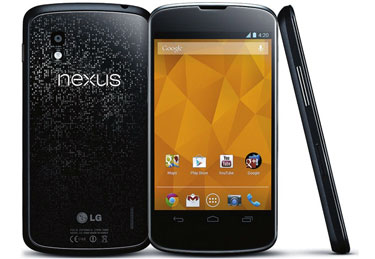 Nexus
Google Nexus 4
Consider this Technocrat's midrange Android option for your Christmas list. Designed by LG, the Nexus 4 is Google's idea of what a modern smartphone should be. At 9mm thin, with a glass back à la the iPhone 4 (though it's made of tough Gorilla Glass, unlike Apple's smash-prone device), it's a slick handset with minimal branding. Nexus 4 comes with NFC, an 8MP camera, a quad-core Snapdragon CPU, 4.7-inch 1280x768 screen (320ppi), 2GB of RAM, wireless charging, and, the Nexus lineup's main feature, stock Android -- no carrier bloatware, no skins, just pure Android as Google intended it to be. None of the above suggests a midrange device. In fact, the Nexus 4 is a relative powerhouse, and perfect for Android devotees or those who appreciate its clean software experience. Why is it our midrange handset, then? Try $299 for the 8GB version. That's it. No carrier fees, no contract, just $299. Available directly from Google, the Nexus 4 is a steal.
Tablets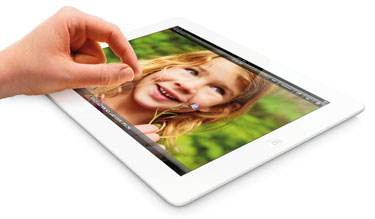 iPad
Apple iPad 4th Generation
The iPad is the easy choice in this category. Apple's tablet reinvented a sector that, until the iPad, relied on desktop Windows and stylus input, not to mention often staid and business-like hardware. In its fourth iteration, the iPad continues the subdued, simple success of its predecessors, mixing a new processor, improved graphics, 10-hour battery life, 1080p video with image stabilization, dual-band Wi-Fi, LTE and, naturally, the much-lauded Retina Display. Its 2048x1536 resolution and deep color saturation make it one of the best on any mobile device, and a genuine pleasure to navigate. Whether iOS's limitations are to your taste or not, the iPad is indisputably the go-to tablet for high-quality apps. Price is its only major downside, starting at $499 for 16GB, with LTE models starting at $629 for 16GB of storage.
Tablets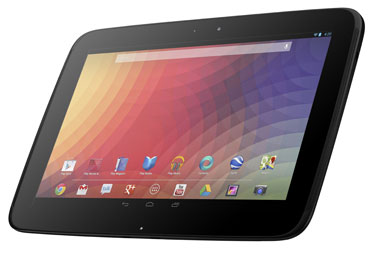 Google Nexus 10
Google Nexus 10
Made by Samsung for Google, the Nexus 10 has the highest-resolution display of any current tablet, which, at 2560x1600, easily bests the iPad for detail and clarity. Its 16:10 aspect ratio lends itself favorably to watching TV and films on the device, and websites look incredibly sharp on the pixel-dense display. Powered by Samsung's brand new A15 CPU, paired with quad-core graphics, the Nexus 10 will breeze through tasks with ease. Android lacks the number of tablet-specific apps that iOS boasts, but the Nexus 10 comes with stock Android, and the full benefits of Google's ecosystem -- integrated YouTube, Gmail, Google Now and more. The tablet for those who love streaming Netflix, YouTube, film and TV in HD. Available from Google starting at $399 for a 16GB model.
Cameras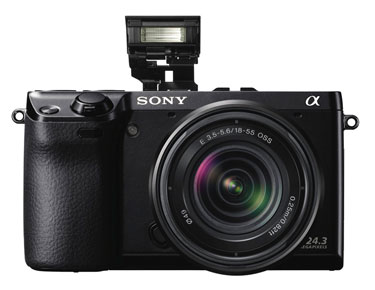 Sony Alpha NEX-7
Sony Alpha NEX-7
The NEX-7 is not for beginners. Sony has aimed this, their most expensive compact camera, squarely at advanced photographers, and those whose interests lie beyond Instagram images of their lunch. Its core specs will whet the appetites of any camera geeks – 24.3MP APS-C CMOS sensor, 1080p recording at 60fps, a half-inch 1024x768 OLED electronic viewfinder (the highest resolution in any stills camera), 3-inch LCD display that can be tilted for use at different angles, interchangeable lenses, 0.02 second shutter lag, stereo mics, infra-red remote receiver and three dials for greater control over camera functions. If any of that meant nothing to you, don't worry, you could still buy the NEX-7 and take the best photos you've seen in a compact, but you'd be missing out on so much that this camera is capable of. The NEX-7 is Sony at its best, delivering a camera that could entice many DSLR users down into the compact range, without having to trade image quality for portability. The only downside? This much technology comes at a price – a steep one. The NEX-7 starts at $1,249 with an 18-55mm lens.
Cameras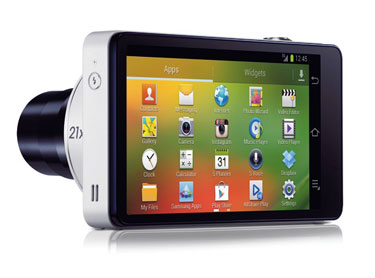 Galaxy camera
Samsung Galaxy Camera
Have you ever wondered what it would be like to take the best parts of a smartphone – the screen, processor, apps, sharing functionality – and combine them with a compact camera? Samsung has, and with the Galaxy Camera they've answered a question that few would probably have asked, but many will now want. Taking everything that is great in the Galaxy S3 smartphone – its 1.4GHz quad-core processor, 4.8-inch 720p display and Android 4.1 JellyBean OS – Samsung proceeded to squeeze them into the body of one of its Wi-Fi enabled compacts. The result is something truly unique. A 16.3MP BSI CMOS camera with optical image stabilization, 21x optical zoom, 1080p recording up to 30fps, 120fps video at 768x512, Wi-Fi, HDMI and GPS. Fairly standard compact camera specs, but it's in its software that the Galaxy Camera proves its worth. Take a photo and you can edit it using the built-in Paper Artist app, or load up Instagram and make that pin-sharp photo blurry and grainy – because it's art – or upload it to Facebook, tweet it, open it in Photoshop mobile, email it or send it to a friend. Built-in LTE on Verizon and AT&T means you don't even need to be near Wi-Fi to share your images. Galaxy Camera even has voice control, so you need only shout ''Cheese!'' and it'll take a photo (''Smile!'' is also acceptable). Finished shooting? Play Angry Birds, check your email, watch a film, share your videos and pictures wirelessly with a TV… you name it, Android enables it. It's a breathtaking re-imagining of what a camera is capable of from a social and editing standpoint, and it's more than worth the initially steep asking price. $499 with an AT&T contract, or $549 on Verizon, not including data charges.
Games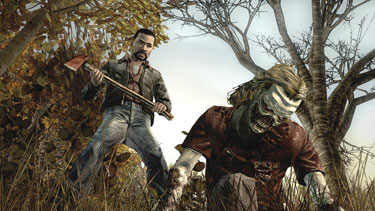 Walking Dead game
The Walking Dead
I hate zombies. I've never understood the fascination, never enjoyed the films, and never liked the games. They're awful. So, naturally, I'm recommending The Walking Dead by Telltale Games, which is based around survivors in the immediate aftermath of a zombie apocalypse. The Walking Dead takes a narrative approach, as opposed to the run-and-gun style of most zombie games, favoring a point-and-click, dialogue-driven style that deliberately controls the players as they navigate the game world. Released episodically over the course of this year, all five episodes are now available on a single disc, and I urge you to get it, or gift it to a gaming friend, and experience the full game. It follows the efforts of protagonist Lee Everett and his experiences as the zombie outbreak occurs, and by gradually introducing a choice mechanic, the game allows you to shape the story and make it your own. Death is a constant threat and no character is guaranteed to survive to the end, but it's a thrilling, involving, immensely satisfying game. Most of the action is between survivors, dealing with internal politics, family struggles and the moral choices that come with a world in which there is no order. Get it, now, for yourself, for friends, for strangers on the street, and experience the bleak reality the characters – and subsequently the player – must face. Available on PS3, Xbox 360, PC and Mac.
Games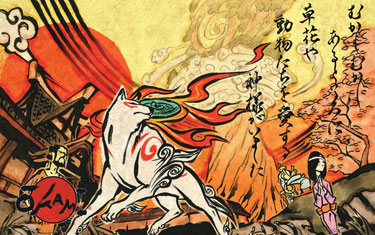 Okami HD
Okami HD
Can games be art? It's a question asked often, usually by those who don't actually play them, as gamers have known for years that their ''playthings'' are among the most interactive examples of art there are. Roger Ebert famously slammed games for not being art – well, Mr. Ebert, I give you Okami HD. Originally released -- and subsequently ignored -- on PS2, it was released on Wii, where it drew a slightly more emphatic response. Thankfully, Capcom is trying again with Sony hardware, and the result is one of the most unique, beautiful, emotional games available. Okami plays like a Japanese ink painting come to life, with gorgeous backdrops, stunning visuals and rich character animations. Its story is classic Japanese – rural past, emperors, kings, traditions, mystical forces – and it's steeped in history and influences that are a joy to behold as you play through. Utilizing the PlayStation Move (though the DualShock can also be used), you play as Amaterasu, the sun goddess come to life as a wolf, and control her Celestial Brush, painting over the landscape to manipulate it. Want to turn night into day? Freeze the frame and draw a circle in the sky. Need to cross a river? Paint a bridge and climb over. Attacking an enemy? Slice the brush across their torso to cut them in half. Gameplay is satisfying, natural, never feels tired and is bolstered by a deep story, bursting with humour and life. Why does it make a great gift? Buy it for yourself, fall in love, and then spread it to your nearest and dearest. It's gaming nirvana. Available exclusively through the PlayStation Network on PS3.
Accessories
Big Jambox
Jawbone Big Jambox
You know that one person who always insists on using his laptop or smartphone to play music through? Yeah, that guy? Well, rather than simply unfriending him and walking away, why not give him the gift of music as it was meant to be heard? Jawbone's Big Jambox is the big brother of their much-lauded Jambox mini speaker, and it's the perfect accompaniment for anyone who plays their music in the house, on the roof, at the pool, in the park… anywhere. Featuring stereo acoustic drivers, dual passive bass radiators, Bluetooth compatibility with two simultaneous devices, 15 hours of battery life, LiveAudio – which gives music a 3D effect by multi-layering the instruments/sounds – and compatibility with a wide range of devices, the Big Jambox is sure to entertain. It's light, at just under 3 pounds, and is small enough that it can be taken with you and large enough to completely fill a room or space with sound. Available in white, red or black, the Big Jambox is $299 – but it's a price worth paying to never hear low quality smartphone speakers again.
Accessories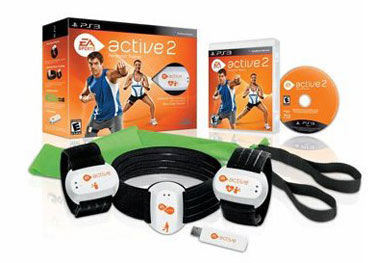 EA Active Sports
EA Active Sports 2
Know someone who needs to shed the holiday pounds? Consider the EA Active Sports 2. Not the most flattering gift/suggestion, but they'll thank you after a few weeks when they're dropping weight. Combining straps to measure vital statistics, it offers a full workout, complete with trainer, to punish your body into submission through numerous mini games and activities until the weight drops off. Available on PS3, Xbox 360 and Wii.
Accessories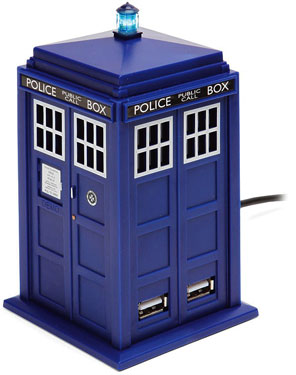 Tardis hub
TARDIS USB Hub & Dalek Desk Defender
Nothing says geek like a love for Dr. Who. Except, that is, for the official Dr. Who USB hub. Complete with flashing lantern and time-travelling sound effect when a USB device is plugged in, it's sure to delight any Whovians in your life. Send them into overdrive by combining it with the Dalek Desk Defender, which, when plugged in, will guard your desk while you leave to fight Cybermen or get your lunch. Motion activated, it will sense rogue employees up to 9 feet away, and actively deter them with threats of extermination. Pointless fun, they're sure to bring a smile to someone's face when they unwrap them. At least once they realize it's not a real Dalek. $19.99 and $24.99 respectively from thinkgeek.com.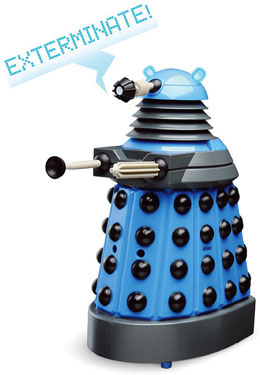 Dalek Desk Defender
See more tech suggestions at our "5 Days of Techmas" series at Technocrat.
---