Dance Preview
2005 Fall Arts Preview
---
Clarice Smith Performing Arts Center
University of Maryland
College Park, Md.
301-405-ARTS
www.claricesmithcenter.umd.edu
Bebe Miller Dance Company -- The World Premiere of Landing/Place, utilizing motion capture technology, live music, projection and dance to take the audience into the past and present simultaneously (9/15 & 9/16)... The Tehreema Mitha Dance Company -- Performing a full evening of works from their classical and contemporary dance repertoire (10/8)... Brian Brooks Moving Company -- Performing Piñata, simultaneously controlled chaos and a precise explosion of color (10/21 & 10/22)... Dakshina/Daniel Phoenix Singh & Company -- A festival of Indian Dance, featuring a group of dancers and choreographers from the U.S. and India, including Dr. Mallika Sarabbhai (In the Tawes Theater, 10/28 & 10/29)... University of Maryland Dance Ensemble -- Guest artist and faculty choreography celebrate the premiere of visiting artist Mark Haim (12/2 & 12/3)... Joe Goode Performance Group -- Goode's work is inspired, ''smart'' theater, filled with not only dance but visual art, song, humor and storytelling, ripe with humor and spiritual wealth (1/27 & 1/28/06)...
---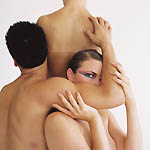 LEVYDance
Dance Place
3225 Eighth St. NE
202-269-1600
www.danceplace.org
25th Anniversary Benefit Concert & Party -- Food, drink and a silent auction followed by a concert featuring hand dancing, tap, mixed media and more (9/17)... Packer Bridgman Dance -- Under the Skin, a co-commissioned work with New York artists Art Bridgeman and Myrna Packer, exploring identity, transformation and desire. Also on the bill: Seductive Reasoning (9/24 & 9/25)... Oberlin Dance Collective -- Known throughout the world for its athleticism, passion and intellectual depth (10/8 & 10/9)... CityDance Ensemble -- Presenting the multi-media work Forgotten Consciousness (10/15 & 10/16)... Jane Franklin Dance with Thompson & Trammel and Shane O'Hara -- On the bill: Ridge Line, a dance and music collaboration based on fragments of letters and descriptions from Confederate and Union Soldiers, In the Corner, Sound Bite, Blinders Dive and Remembrance (10/22 & 10/23)... LEVYDance -- Artistic director Benjamin Levy brings his company back for a third Dance Place appearance with the premiere of Violent Momentum, choreographed to an original score by Keeril Makan (10/29 & 10/30)... Nejla Y. Yatkin/NY2 Dance -- Multi-media dance solo Deconstructing Mata Hara (11/5 & 11/6)... Carla & Company -- The acclaimed company will be joined by Jerusalem choreographer Amir Kolben and guest performers BosmaDance (11/12 & 11/13)... Raqs Sahara -- Belly dance as a theatrical art (11/19 & 11/20)... Ziva Spanish Dance Ensemble -- Dances ranging from the fiery and seductive flamenco of Andalusia to the regional folk dances of Galicia and Aragon (12/3 & 12/4)... Tappers with Attitude -- 15th Anniversary Benefit performances (12/10 & 12/11)... Kwanza Celebration with Coyaba Dance Theater -- Dance Place's resident company presents a special holiday celebration (12/17 & 12/18)... VT Dance -- The Grandmother Project, a new work that includes reflections of loved ones through spoken text, movement and projected images (1/7 & 1/8/06)...
---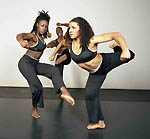 Urban Bush Women
George Mason University
Center for the Arts
4400 University Drive
Fairfax, Va.
703-993-ARTS
www.gmu.edu/cfa
Ballet Hispanico? -- Recognized as the foremost dance interpreter of Hispanic culture in the United States, this groundbreaking dance company fuses ballet, modern and Latin dance forms into a spirited expression of contemporary Hispanic-American culture (10/1).... Aterballetto -- Considered Italy's foremost contemporary ballet troupe (11/5)... ?CHI -- ??Part Cirque du Soleil, part Chinese Acrobats, CHI combines astounding feats of strength, balance and athleticism with an elegance that is consistent with the principles of its Taoist philosophy (11/13)... Ballet Flamenco José Porcel? -- Presenting a new work, Pies en la Tierra (11/19 & 11/20)... Mark Morris Dance Group? -- 25th Anniversary tour (2/10 & 2/11/06)... Susan Marshall & Company -- Marshall's choreography transforms everyday movement into powerful abstract drama (3/4/06)... Russian National Ballet? -- Tchaikovsky's Sleeping Beauty (3/25)... ?Doug Varone and Dancers -- Singled out for its extraordinary physical daring, vivid musicality, and genius for capturing the nuances of true human interaction through movement (4/14/06)... The Nrityagram Dance Ensemble -- The internationally acclaimed ensemble from the extraordinary dance village in Southern India presents the premiere of ?Sacred Space/Margam -- The Path?. Co-presented with WPAS (5/5/06)...
---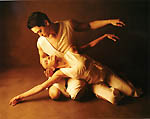 Burgess
Joy of Motion
Jack Guidone Theatre
5207 Wisconsin Ave. NW
202-362-3042
www.joyofmotion.org
Joy of Motion Anniversary Concert -- Featuring works by Dana Tai Soon Burgess, Cross Currents Dance Company, Silk Road Dance Company, Tommy Parlon Dance Projects, Edgeworks Dance Theater, Artemis, Estela Velez, Heidi Schultz/Tappening and Expansion Dance Project (10/8 & 10/9)... 11th International Improvisation Festival (10/15 & 10/16)... Delilah -- The internationally acclaimed belly dancer (10/22 & 10/23)... True to Form 3 (11/5 & 11/6)... Jeslyn Dance Gallery (11/12 & 11/13)... Joy of Motion Dance Project -- An evening of new choreography by emerging and established artists (12/3 & 12/4)... Cynthia Word (12/10 & 12/11)...
---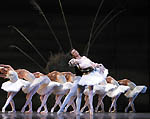 National Ballet of Canada
Kennedy Center
Ballet Series
2700 F St. NW
202-467-4600
The Suzanne Farrell Ballet -- Farrell's international company of dancers returns with a mixed repertory program of works by Maurice Béjart and George Balanchine (Eisenhower, 11/22-11/27)... American Ballet Theatre's The Nutcracker -- Artistic Director Kevin McKenzie's enchanting version of this holiday classic returns (Opera House, 12/7-12/11)... National Ballet of Canada -- Canada's premier dance company presents choreographer James Kudelka's dynamic rendition of Swan Lake, featuring sets and costumes by Santo Loquasto (Opera House, 1/17-1/22/06)... Protégés: The International Ballet Academy Festival -- Showcasing the best ballet students from the world's most renowned professional training programs, including Dance Theatre of Harlem School, Royal Ballet School and the Royal Danish Ballet School (Opera House, 1/26-1/29/06)... American Ballet Theatre -- Presenting its acclaimed production of Kenneth MacMillan's Romeo and Juliet, along with a program of mixed repertory (Opera House, 1/31-2/5/06)... New York City Ballet -- The company's third consecutive Kennedy Center engagement (Opera House, 3/1-3/5/06)... Kirov Ballet -- Featuring the evening-length classic Giselle and a program of works by William Forsythe that will showcase the legendary company's unmistakable style (Opera House, 6/13-6/18/06)... Royal Ballet -- The American premiere of its spectacular new production of The Sleeping Beauty by the renowned Natalia Makarova, as well as a program of mixed repertory (Opera House, 6/20-6/25/06)...
---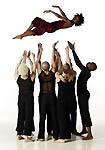 Bill T Jones
Kennedy Center
America Dancing Series
2700 F St. NW
202-467-4600
www.kennedy-center.org
Shen Wei Dance Arts -- Presenting two critically acclaimed works that fuse the art forms of dance, theater, Chinese opera, painting, sculpture and a unique hybridism of western and eastern cultures as part of both America Dancing series and the Festival of China (Eisenhower, 10/21 & 10/22)... Limón Dance Company -- Acclaimed for its dramatic expression, technical mastery and expansive, yet nuanced, movement, the company will perform the world premiere of Jonathan Riedel's Unfortunate Etiquette and master choreographer Lar Lubovitch's new work, The Chiaroscuro Project. (Terrace Theater, 11/2 & 11/3)...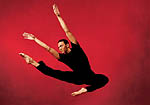 Alvin Ailey
Bill T. Jones/Arnie Zane Dance Company -- Presenting As I Was Saying (Eisenhower, 11/17), a deeply personal evening-length work comprised of a series of three solos performed by Bill T. Jones and the full company work Blind Date (Eisenhower, 11/18 & 11/19)... Alvin Ailey American Dance Theater -- Including Ailey classics such as Revelations, as well as new works by today's most outstanding and innovative African American choreographers (2/7-2/12/06)... Urban Bush Women -- A Brooklyn-based performance ensemble that engages a diverse audience by producing bold and life affirming dance theater based on women's experiences (Terrace, 3/24 & 3/25)... Merce Cunningham Dance Company -- Included is a program featuring a Kennedy Center co-commissioned work titled Views on Stage, set to music by John Cage with a set by Brazilian installation artist Ernesto Neto, as well as classic Cunningham repertory. (Eisenhower, 3/31-4/1/06)...
---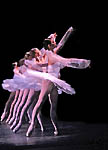 Kirov Ballet
Lisner Auditorium at GWU
730 21st St. NW
202-994-6800
www.lisner.org
Flamenco Festival -- The annual audience favorite returns (Feb. 2006)... Dana Tai Soon Burgess & Company --
The world premiere of Images from the Embers, a work inspired by the book, Hiroshima, Mon Amour. Presented by WPAS (3/3/06)... Maida Withers Dance Construction Company -- The locally-based company presents the evening-length new work Thresholds Crossed (4/21/06)... Inbal Pinto Dance Company -- Presented by WPAS, Israel's new choreographic voice creates a fairground of street acrobats and oddly beautiful creatures with doll-like makeup, spiky blonde wigs, and tutus in her dance-theater work, Oyster, set to a mix of opera, tango, and pop (4/27/06)...
---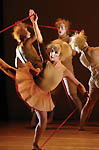 pinto
The Washington Ballet
202-362-3606
www.washingtonballet.org
Carmen, Serenade and Nine Sinatra Songs -- Three pieces, with choreography by Septime Webre (Carmen), George Balanchine (Serenade) and Twyla Tharp (Songs) (KenCen Eisenhower, 11/2-11/6)... The Nutcracker -- Septime Webre's new interpretation of a holiday classic (Warner Theater, 12/1-12/24)... Bach/Beatles Project -- A clash of classical and classic pop as Septime Webre takes on Bach while Trey McIntyre takes on the Fab Four (KenCen, 2/1-2/5/06)....
---