Ben Horen
Second Runner Up: 2010 Nightlife Coverboy of the Year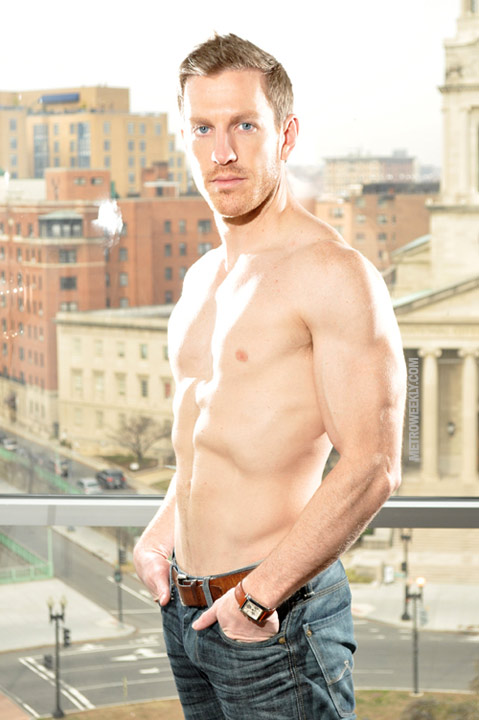 Ben Horen
(Photo by Jeff Code)
When Metro Weekly first checked in with Ben Horen last spring, the aspiring actor was on the move, having recently added some modeling to his repertoire. Namely, it was the Team DC Fashion Show and Model Search fundraiser in March. That's on top of his theater résumé that already included gigs at MetroStage and Studio Theatre. Since his May 20 debut in ''Coverboy Confidential,'' he's certainly kept up the pace. And for Horen, it just comes with the territory of a life lived passionately.
''I'm dedicated and passionate about my goals and aspirations,'' he says. ''That also carries over into relationships with people, my boyfriend, those kinds of things. I'm passionate and dedicated in that too.''
If you've not had the pleasure of seeing that passion on Horen's face – when he's onstage, riding his motorcycle or training in the gym – you can simply make a stop at YouTube and check out the heart-wrenching video for ''Lover,'' the new song by local favorite Tom Goss. In it, Horen plays the part of Goss's war-wounded partner, imbuing the video with a political call for the repeal of ''Don't Ask, Don't Tell,'' along with the emotion that makes it a love song.
''I'd never done anything on video until this,'' he says. ''To actually do something on film, creatively driven that way, was a really cool experience. When you're onstage, everything is just a little bit 'bigger,' so that the last row can see what's going on, whereas on camera things are a lot more subtle. I got to stretch my abilities in acting.''
The video also played into Horen's passion for political affairs.
''The video is a way to put a face to [DADT], to put an emotion to it," he says. "I think, by and large, the American people are just able to remove themselves from 'the gays.' To put a face to it – a real, raw, visceral emotion – is what made the video striking.''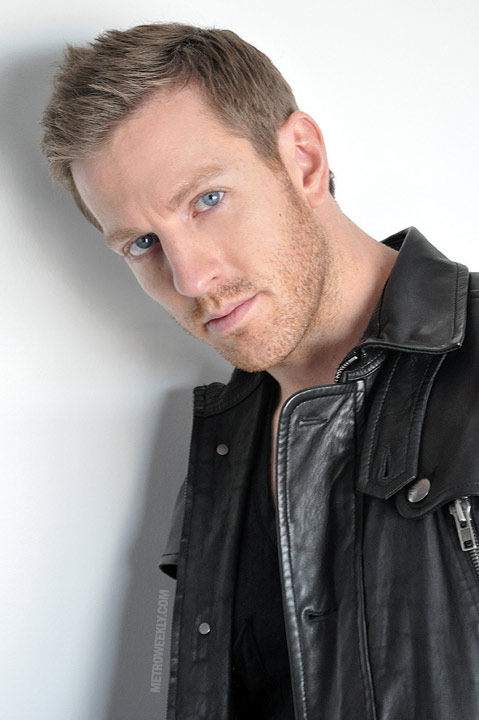 Ben Horen
(Photo by Jeff Code)
That's not to say that DADT is the most important political issue on Horen's plate. Actually, this former public school teacher is thinking of the children.
''I did a decent amount of research in my undergrad years about inequality in education – based on income, on race, those sorts of things,'' he says, recalling his pursuit of his musical education degree at Bowling Green State University, not far from his extremely rural upbringing in northwest Ohio. ''That's something that's very near and dear to my heart. I definitely pay attention to what's going on with education in the country.''
Before the 28-year-old seems just too, too perfect – with his gorgeous blue eyes, bulging biceps and love for the kids – rest assured he's been rattled by insecurities just like everybody else. And, to his credit, he did something about it.
''I found a real Zen in working out," he says. "If you're not just going there to cruise, if you're actually going there to work on your body, there's a real Zen element to it.'' The determination not only earned him the body he has now, but lead him to become a personal trainer. It's just another of Horen's – you guessed it – passions. If it's not one you get to witness up close at Washington Sports Club, Horen's next stage appearance will be in Shakespeare Theatre Company's Cymbeline, opening in January.
For the future, he's got one eye on Broadway, and the other taking a gander westward, thanks to the ''Lover'' video work.
''I had a brief thought of the possibility of going to L.A.,'' Horen admits. ''I felt comfortable in front of a camera, which surprised me. I just found the experience so cool and fun and different. I also found out I can cry on demand.''
Second Runner Up Prize Package
$175 Cash
Annie's -- $75 Dinner Certificate
Blowoff -- Admission (+1) to Event on Jan. 15 at the 9:30 Club
Cobalt -- $25 Bar Tab
DC Cowboys -- $40 Certificate for DC Cowboys Dance Seminar
DC's Different Drummers -- 2 Tickets to Spring Concert
DC Eagle -- $25 Bar Tab
Freddie's -- T-Shirt
Gay Men's Chorus of Washington -- 2 Tier-One Tickets to The Best Little Whorehouse in Texas, March 18
HRC Store -- $25 Shopping Spree at DC Store
JR.'s -- $25 Bar Tab
Landmark Theatres -- 2 Weekday Tickets
Leather Rack -- $25 Gift Certificate
Miss Gay DC America 2011 -- 1 VIP Ticket to Miss Gay DC America 2011, March 19
MAL Weekend 2011 -- 1 Ticket to Reaction Dance
Miss Pixie's Furnishings & Whatnot -- $25 Gift Certificate
Nellie's Sports Bar -- $25 Bar Tab
Reel Affirmations XX -- 1 "Six Pass" Pass
Shakespeare Theatre Company -- 2 Tickets to Any Production for Remainder of 2010-2011 Season
Signature Theatre -- 2 Tickets to Julia Nixon, Jan. 11-15, 2011
SKIN Cosmetic Dermatology of Georgetown -- $100 of Professional Skin Care Products
Strathmore -- 2 Tickets to any "Strathmore Presents" event (restrictions apply)
Studio Theatre -- 2 Tickets to David Cale's The History of Kisses, June 15-July 3, 2011
The Lodge -- $15 Bar Tab
The State Theatre -- 2 Tickets to Michael Jackson Dance Party, Jan. 8, 2011
Town Danceboutique -- $50 Bar Tab
Washington Shakespeare Company -- 1 TheatrePass, Good for 5 tickets to Final 3 Shows of season
Ziegfeld's/Secrets -- $25 Cash
Our thanks to all those nightspots, restaurants, businesses and performing arts venues who graciously provided prizes to this year's Coverboy winners. Certain restrictions apply to some prizes. Prizes are non-transferable.
The 2010 Coverboy of the Year was photographed on location at Donovan House - A Thompson Hotel in Washington, D.C. Visit donovanhousedc.com.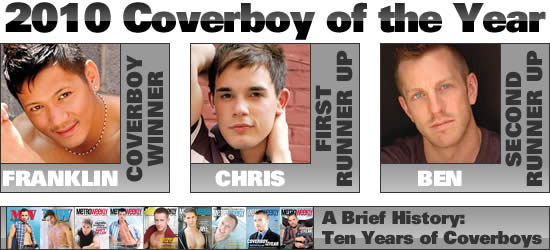 ---