25 Gay Films Everyone Should See: The Sequel
Another round of films that helped to define the culture -- and cultural impact - of LGBT cinema'
By Tom Avila, Sean Bugg, Chris Geidner, Will O'Bryan, Tim Plant, Doug Rule and Randy Shulman
Published on February 24, 2011, 12:40am | Comments
It's a timeworn Hollywood adage: The sequel is never as good as the original. And yet, there exist exceptions to the (mostly true) rule -- Aliens. The Godfather, Part II. Terminator 2. The Dark Knight. Like it or not, sequels are a cinema tradition.
Around this time in 2009, we produced a list of "25 Gay Films Everyone Should See." On it were treasures like My Beautiful Laundrette, Boys in the Band, Desert Hearts and Maurice alongside more obvious choices like Brokeback Mountain, Transamerica and Torch Song Trilogy. We tried to make the list comprehensive, relevant and interesting. But, alas, 25 movies out of a pool of hundreds can't begin to scratch the surface of all that LGBT cinema has to offer. Hence, we offer you 25 more films to add to your Netflix queue. Call it, The Sequel.

What's interesting is that in the history of cinema, explicitly queer movies didn't really venture into the cultural landscape until the mid-'70s, coming to full fruition in the mid-'80s and, especially, '90s. Yes, there are classics that allude to homosexuality -- Hitchcock's Strangers on a Train and Rope, Billy Wilder's Some Like It Hot -- and a handful that are slightly more direct in their queer suppositions -- Tennessee Williams's Suddenly Last Summer, Lillian Hellman's The Children's Hour -- but gay movies are essentially a 40-year-old phenomenon.
It's telling -- encouraging, even -- that two of the films to make this second round weren't even in release at the time of the first -- Lisa Cholodenko's Oscar-nominated The Kids Are All Right and Tom Ford's magnificent, visually opulent A Single Man. Queer cinema is evolving -- slowly but surely -- into a mainstream entertainment, but it's still one that pushes the envelope and achieves a richness of culture that goes far beyond the norm. Our stories are just that compelling.
We know what's coming next. And for those of you about to squawk, "Why isn't The Birdcage on the list?" please note that, while we admire the film, it is exactly the same movie as the far superior La Cage. Including it would have been a redundancy. Ditto for To Wong Foo, which is kind of a lesser Priscilla. We're ready for the barrage of where's Fassbinder? Where's Jarman? Where's Jeffrey? The Broken Hearts Club? Mambo Italiano? WHERE THE HELL'S EATING OUT 2: SLOPPY SECONDS?!
So to that we answer, with the controlled spin of a garden-variety Hollywood publicist, Just you wait until next year's "25 Gay Films Everyone Should See: 3D!"
A SINGLE MAN (2009)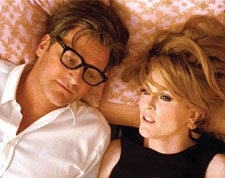 A Single Man
Should anyone decide to compile a collection of the most sexually intense film scenes where absolutely nothing explicitly sexual takes place, it would be impossible not to include the cigarette scene from A Single Man. George Falconer (Colin Firth) has just left the liquor store when he meets Carlos (Jon Kortajarena), a James Dean-esque Latin rentboy who's hanging out in the parking lot. The two share nothing more than a cigarette, George complimenting Carlos on his good looks and ultimately taking the flirtation no further, but the erotic ache contained in those few minutes of film is palpable. Based on the Christopher Isherwood novel of the same name, A Single Man unspools a single day in the life of George, an English professor living in 1960s Los Angeles. It's the day George has decided will be his last (and we hasten to add that this is not a spoiler), finally giving in to the depression that has consumed him since his longtime partner was killed in a car accident.
Fashion designer Tom Ford, making his directorial debut, uses his keen eye and polished aesthetic to provide the film an alluring, beautiful richness. It has the finish of an immaculately tailored garment.
AND THE BAND PLAYED ON (1993)
There are times when a film simply needs to be upfront about being didactic — and this dispatch from the early days of the AIDS epidemic is a classic of event-movie didacticism. Adapted from Randy Shilts's history of the epidemic, And the Band Played On didn't set out to be a major work of art, unlike its Broadway contemporary, Angels in America. Band was about making the case to America that AIDS mattered — that people who were dying from it mattered, that the hatred unleashed against those who had the disease mattered. The cast reads like a who's who of Hollywood, including gay and lesbian actors Ian McKellen, Lily Tomlin and B.D. Wong. It's not a triumph of filmmaking — like any fictionalized documentary, it takes some liberties with facts in order create heroes and villains — but it is an essential cinematic moment for gays and lesbians in America. The saddest thing, in retrospect, is how many of the lessons it wanted to teach have yet to be learned.
ANGELS IN AMERICA (2003)
HBO's miniseries of the Tony- and Pulitzer Prize-winning Angels in America brought one of the leading pieces of modern gay literature and one of the key pieces of AIDS theater to all of America. Primarily telling the story of Prior Walter (Justin Kirk), a New Yorker diagnosed and then living with HIV/AIDS, the epic tale, which covers the mid-1980s to 1990, spans widely enough to share the stories of a fictionalized Roy Cohn (Al Pacino) and a closeted Mormon lawyer named Joe Pitt (the always-appealing Patrick Wilson). With a cast that received every acting award at both the Golden Globes and the Emmy Awards, the production – led by Pacino and Meryl Streep, but aided significantly by the performances of Jeffrey Wright, Wilson and Mary-Louise Parker – managed to find a home on the small screen that retained the largeness of Tony Kushner's two-part theatrical magnum opus.
BENT (1997)
Purists may complain that the transition from stage to screen can only come at a price that will devalue the original work. It's a hard case to make with Bent, with playwright Martin Sherman taking screenplay duty as well. The onscreen product may not offer the shared experience of a live performance, but it still captures beautifully and permanently the story of two gay prisoners at Dachau whose love removes them, in a sense, from their hellish captivity. That's the heart of Bent, but there is more. Before Dachau, before the ''Night of the Long Knives,'' audiences are treated to a surreal interpretation of Berlin's notorious nightlife. Mick Jagger's drag persona, Greta, singing the haunting torch song, ''Streets of Berlin'' – written by Sherman and Phillip Glass – from her trapeze perch is a breathtaking scene all its own. For a nonfiction lesson in the Nazi persecution of gays, the Paragraph 175 documentary is unsurpassed. For a heartbreaking yet uplifting, fictional exploration of humanity's extremes, however, watch Clive Owens's Max and Lothaire Bluteau's Horst fall in love. And bring tissues. With a setting as grim and violent as the Holocaust, Bent remains one of the most wrenching romantic gay movies of all time.
BIG EDEN(2000)
As its title suggests, Thomas Bezucha's Big Eden is about a place too perfect to really exist. It's a romantic comedy for the gay community that is just as implausible and schmaltzy as any in the genre, but it's not aimed at the 20-something gay community, so it's refreshingly free of twinks, dance clubs, and tricking. When middle-aged New York artist Henry Hart (Arye Gross) returns to his hometown in Montana to care for his ailing grandfather, he finds more love and acceptance than he ever imagined. The movie's charm comes from its depiction of unwavering support from everyone in the town -- so much support that it starts to defy reality and become a utopia. Framed by beautiful shots of the Western landscape, Henry's struggle to come out to his family and deal with the unrequited love of his youth is touching while not being overwrought. Strong supporting performances are given by Louise Fletcher, a hysterical Nan Martin as a meddling widow, and Eric Schweig as a lovable, shy convenience store owner. An utterly heartwarming film.
BOUND (1996)
Long before the Wachowski Brothers created their sci-fi leather fetish fantasy The Matrix, and before they tried to sear your eyeballs with the candy-colored mania of Speed Racer, they made this nifty little film about a breathy-voiced, wide-eyed femme and a sultry, tank-topped butch who conspired to steal $2 million from a mobster. At its core, Bound is lesbian noir, taking the standards of mobster films — tough dames, tough talk, tough luck — and upending them by making the tough dames -- rather than the men around them -- the heroes. Gina Gershon is unbearably sexy as ex-con Corky, who gets involved with a gangster's wife. And as that wife, Jennifer Tilly made one of her last star turns before her career collapsed into self-parody — her baby-doll delivery of the come-on line, ''I have a tattoo. Would you like to see it?'' is both hilarious and intoxicating. Bound is no Claire of the Moon — it has no grand goal for the audience other than entertaining as an old-fashioned crime caper. Not, as they say, that there's anything wrong with that.
C.R.A.Z.Y. (2005)
A spectacular, sprawling French-Canadian family drama, C.R.A.Z.Y. never confines itself to a single genre. Rather, it embraces them all. Lavishly told, it evokes a time, place and period with the kind of majesty only the finest works of cinema achieve. The driving narrative focuses on gay teenager Zac (Marc-André Grondin), and the means by which he comes to terms with his emerging sexuality. But it's also the story of Zac's turbulent relationship with his four brothers and harsh father (the explosive Michel Cote). The movie carries itself effortlessly from the '60s to the '80s, taking us on a far-reaching journey that ultimately finds Zac in the desert outside Jerusalem, walking in the steps of Jesus Christ. Directed by Jean-Marc Vallee, C.R.A.Z.Y. has the epic feel of Scorsese's Goodfellas, minus the mobsters and violence. The cherry on top is the way Vallee deftly weaves flights of fantasy into the dramatic tapestry (a scene at Christmas Mass in which Zac takes flight leaves you stunned by its beauty, grace and sheer audacity). In short, C.R.A.Z.Y. is a gay film that's inclusive of the rest of the world. It's one of those movies you watch once and never, ever forget.
GO FISH (1994)
When director Rose Troche introduced us to the lovelorn Max (Guinevere Turner, who also co-wrote the film), the awkward Ely (V.S. Brodie) and the circle of women around whose lives Go Fish was constructed, she wasn't so much blazing a trail for The L Word as she was warning against it. Unapologetically art house -- filmed in black and white and shot through with all manner of clever tricks and gimmicks -- Go Fish is also unapologetically rooted in reality. The female characters simultaneously defy and embrace stereotypes, offering audience members of all races, ethnicities, shapes and orientation a chance to see themselves on-screen. Troche's decision to create a lesbian-themed film for a gay and lesbian audience and not another fantasy-fueling bit of entertainment where the gay women are always blonde and seemingly plucked from a Victoria's Secret catalog, transforms a very simple love story into something fresh, surprising and delightful.
HEDWIG AND THE ANGRY INCH (2001)
John Cameron Mitchell's wildly imaginative comedy/drama/musical features brilliantly subdued lighting effects and animated sequences. It's also got an infectious punk score by Stephen Trask, and a strong cast, including Mitchell, who earned a Golden Globe nomination for his delightful portrayal of the title character. But above and beyond the surface cinematic treats, the story, which began life as an Off-Broadway production, subtly, even slyly, captures the ongoing struggle for recognition of the transgender community in a mainstream society confused by black-and-white cultural norms about gender and sexuality. Hedwig may be just an accidental transgender -- on account of a botched teenage sex-change operation that left her with an ''angry inch'' below the belt. But this fictional male-to-(not-quite-)female transgender effectively stands in for many actual transgender people who might understandably harbor some resentment over mainstream society's routine transgender ignorance, even discrimination. Hedwig, the ''internationally ignored song stylist,'' doggedly pursues respect in a world that makes fun of her and bluntly refuses to understand her predicament. Such a world may prefer Tommy Gnosis, the milquetoast straight man who stole her ideas and music. But ultimately, Hedwig cannot be denied.
LATTER DAYS (2003)
Writer and director C. Jay Cox made Latter Days after the success of his screenplay Sweet Home Alabama, and in some respects Latter Days is as fluffy and filled with clichés as that Reese Witherspoon blockbuster. But it's far from a hoary story. In fact, Latter Days was the first feature film to examine the impact of the Church of Jesus Christ of Latter-day Saints' anti-gay and ''ex-gay'' policies. Principally: the dastardly reality that those Mormons who don't get ''cured'' of homosexuality are generally excommunicated from their families as well as the church. Various Mormon and religious-right groups threatened boycotts of theaters and video stores presenting the film, which, naturally, helped increase attention to it. Latter Days draws on Cox's personal experience growing up Mormon, including time spent as a missionary, before coming out and living life as a former Mormon gay man in Hollywood. The film was a huge hit on the gay film festival circuit, in large part because the interchange of religion and homosexuality is just a key theme, not the main plotline. (Also helping popularity is an attractive cast and several nude and sex scenes.) At its core, the film is a gay love story, focused on the relationship that develops between a closeted Mormon missionary and his openly gay neighbor. They meet cute -- and stay that way.
LAW OF DESIRE (1987)
Long before he buzzed onto your TV as the Nasonex bee, and even before portraying Andrew Beckett's partner in Philadelphia, Antonio Banderas was the big-screen bottom of 1987. Specifically, it was the dawn of the Pedro Almodóvar invasion into U.S. art houses, and Banderas was ankles-up in Law of Desire. But while the more famous Women on the Verge of a Nervous Breakdown, to follow a year later, may have been gay director Almodóvar's blockbuster, Desire was his LGBT offering. Banderas plays young Antonio, harboring a dangerous desire for Pablo, a gay film director, while Pablo is still carrying a torch for Juan. Despite the era, Law of Desire, refreshingly, had nothing to do with AIDS. Instead, these characters, including scene-stealing Carmen Maura as Pablo's transsexual sister, Tina, illustrate not the frailties of they physical body, but the passions and perils of desperate longing.
LOVE! VALOUR! COMPASSION! (1997)
THE RITZ (1976)
Terrence McNally's Tony Award-winning Love! Valour! Compassion! was a far better play than a movie (Oscar didn't so much as glance its way). And yet the movie's worth a viewing, if nothing else than to see original Broadway cast members Justin Kirk, Stephen Bogardus and, especially, John Glover act their thespian hearts out. (Regrettably, in one of queer cinema's greatest instances of miscasting, Buzz, the award-winning role originated by Nathan Lane, was mangled by Jason Alexander.) A soul-searching tale of a group of gay friends who use vacation time to work out their interpersonal problems and internal issues, L!V!C! is like a latter-day Boys in the Band, but with the bitchiness set to mute. McNally has penned some iconic gay works, but one of his finest achievements is a comedy that queer cinemaphiles might consider a throwaway. Yet The Ritz is anything but. An exuberant, uproarious door-slamming farce, The Ritz is notable for its setting -- a gay Manhattan bathhouse in the '70s. (The plot involves a straight businessman hiding from a homicidal mobster.) Like L!V!C!, The Ritz mines members from its original Broadway cast -- Rita Moreno, Jerry Stiller, Jack Weston and the scene-stealing F. Murray Abraham as a feisty bear-lover (or, as they called it in those days, "chubby chaser"). The surprise scene-stealer is hunky Treat Williams, who plays a police detective with an unfortunate vocal issue. For those who remember the way bathhouses once were -- complete with female entertainers! -- The Ritz is a throwback to an era long gone. For everyone else, it's a history lesson with a terrific sense of humor.
LOVE OF SIAM (2007)
We often think of gay films as works of art that can help others learn about our life experiences — to help straight viewers understand lives beyond their own. Funny thing is, we gay, lesbian, bi and trans filmgoers sometimes need our own experiences expanded — to understand gay lives beyond our own. Love of Siam is a perfect little concoction of familiar gay tropes — adolescent sexual ambiguity, unrequited gay love — in a wildly melodramatic Bangkok setting that feels both familiar and foreign. The full plot is too complicated to compress here, but at its core is a love story of sorts between teen boys Mew -- a rising boy-band singer -- and Tong, whose troubled family has left him adrift. The ending is not what you might expect -- no one really gets their heart's desire -- but it's uplifting nonetheless. Love of Siam is earnest and un-ironic in ways that American gay films rarely dare without falling into pathos. For that alone, it's worth a viewing (or two).
MY OWN PRIVATE IDAHO (1991)
It's not necessarily clear what one is getting with My Own Private Idaho. As with any masterpiece, each viewing reveals a new hue or mood. Between the Shakespearian themes and dialogue, to the streets of Portland, Ore., and Rome, and just a touch of narcolepsy for whatever reason, gay director and writer Gus Van Sant's Idaho may leave you scratching your head. Which is fine. The Mona Lisa is what you make it, and so is My Own Private Idaho, with its bits of goofiness, stinging betrayals and iconic imagery. While much of this peculiar picture is timeless, there are elements that anchor Idaho to an era. This was River Phoenix at his best (Idaho is to Phoenix what Rebel Without a Cause is to James Dean). Further, Phoenix as a scruffy gay hustler, plying his trade in Seattle and Portland, could have been the poster boy for ''grunge.'' On one hand, Idaho is a beautiful, enigmatic and delicate story of abandonment. On the other, it is a time-capsule escape to a place where lyrics were slurred, heroin was fashionable and River was king. As an added bonus, Keanu Reeves's particular style of L.A.-enunciation acting actually worked in this instance.
NOAH'S ARC: JUMPING THE BROOM (2008)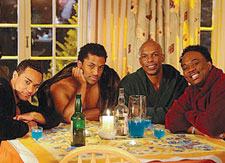 Noah's Arc
There are two reasons Noah's Arc: Jumping the Broom is so notable in the gay film canon. The first reason is the obvious one: the Logo channel-produced show jumped to the big screen after several successful seasons to continue the story of four friends who stick together through the good boyfriends and the bad. The fact that they're gay black men only makes it more groundbreaking. The second reason is that while the comparison to Sex and the City is inevitable, Noah's Arc creator and screenwriter Patrik-Ian Polk does something that his SATC counterpart, Darren Star, could not -- make a decent movie. Where SATC stumbled in transforming from a half-hour show to a film, Noah's Arc ably managed the transition, creating a stand-alone story for newbies and veterans alike. Addressing issues specific to the black gay community as well as the gay community at large, Polk's film deserves recognition for its quality, achievement, and pure entertainment value. Sometimes it's a soap opera, and sometimes it stands on a soapbox, but it's consistently enjoyable.
OUTRAGE (2009)
''There is a right to privacy but not a right to hypocrisy,'' says Rep. Barney Frank (D-Mass.) in Kirby Dick's absorbing documentary. The line that could serve as a subtitle for the movie and for those like the District's Michael Rogers whose activist-journalism is depicted the film. Running through the history of outing to and including the as-yet unanswered questions about former Florida Gov. Charlie Crist (R), the film includes interviews with out politicians like Frank and D.C. Councilmember David Catania (I-At Large) and politicos like former Human Rights Campaign Executive Director Elizabeth Birch and writer Andrew Sullivan. Passed over by GLAAD for any of its awards, the film did catch the attention the National Academy of Television Arts and Sciences, which gave it a 2010 Emmy nomination for Outstanding Investigative Journalism -- Long Form.
PRIEST (1994)
Antonia Bird's 1994 drama was one of the first to fully explore the struggles of priests with gay proclivities. In addition to its lead narrative about an outed British Catholic priest and his crisis of faith, the film explored other controversial theological issues facing the church from a liberal perspective. Naturally, this led church officials to protest the film and even call for a boycott of Disney, parent company of the film's distributor Miramax. Though some critics and viewers found Priest to be heavy-handed and preachy, the movie is especially appealing and compelling for provoking thought about hot-button topics, such as whether homosexuality and Catholicism have to be mutually exclusive practices, and whether priesthood celibacy is appropriate in the modern era -- foreshadowing a real-life discussion on the topic when the Catholic sex-abuse scandals hit nearly a decade later. The film also offered affirming representations of gay people at a time when mainstream pop culture was just beginning to look beyond a narrow focus on gay stereotypes and the AIDS crisis. The sex scenes between lead actor Linus Roache and Robert Carlyle may be tame -- and watered down for the U.S. version, with at least one nude shower scene excised -- but the fact that expressions of gay love were presented at all, in a realistic, non-exploitative way, was ahead of its time.
TARNATION (2003)
Jonathan Caouette was a filmmaker long before he even realized he was a filmmaker -- shooting himself as a pre-teen performing overwrought, "semi-drag" routines, capturing on Super 8 and video everyone around him, documenting his daily routine. Eventually he put the pieces together -- combining them with an unflinching quest to connect with and perhaps save his mother, Renee -- and Tarnation was born. In the world of cinema, Tarnation is a singularity -- the spontaneous result of an unharnessed creative spirit. The movie is a thunderously emotional, avant-garde head trip depicting not only Caouette's evolution into a fully formed gay man, but the harrowing mental deterioration of his mother, subjected to years of shock treatment as a girl. It's a testament to the days of art-house filmmaking, informed as much by Jean-Luc Godard as it is by master documentarian Frederick Wiseman. Caouette hasn't been heard from since Tarnation's release, yet a quick trip to IMDB reveals that a sequel may be in the offing this year. We can only hope the gifted Caouette can still hit the high note he did with his astonishing debut.
THE IRON LADIES (2000)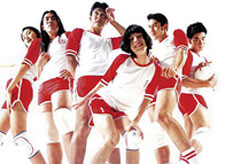 The Iron Ladies
At its best, Thai culture is playful and sweet. On both fronts, The Iron Ladies delivers as a sort of The Bad News Bears meets The Adventures of Priscilla mash-up. It also goes a bit further, though, in that this story of a volleyball team manned mostly by gays, transsexuals and transvestites, who win a national championship is based on the true story of the 1996 national Thai amateur volleyball champs. With loads of mirth, this Siamese celebration tells that story in ways that are silly, sentimental and worth cheering for. Notably, the movie earned a level of success worthy of the team it portrays, taking the Audience Award for Best Feature at both the 2001 San Francisco International Lesbian & Gay Film Festival and New York Lesbian and Gay Film Festival.
THE KIDS ARE ALL RIGHT (2010)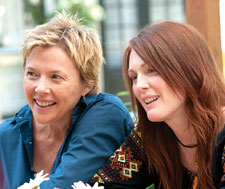 The Kids Are All Right
Lisa Cholodenko's Oscar-nominated film about lesbian moms and their kids both delighted and angered the gay community. Cholodenko, who co-wrote the script with Stuart Blumberg, has been praised for portraying a same-sex household in a natural, unassuming manner. The film tackles weighty issues with humor and levity, allowing for the more serious moments to stand out without being depressing. Yet, the project has also been vilified for plot points that veer wildly off course and ultimately negate the reasons it deserves praise in the first place. What isn't up for debate is the quality of the performances given by Annette Bening and Julianne Moore. Both have scene-stealing moments that define the film, and make suffering through the wonky storyline worthwhile. While the film might not have been nominated for Best Picture if there weren't currently 10 films filling the category, Bening is well-deserving of her Best Actress nod. Most importantly, the film deserves to be lauded for being recognized as a film about lesbians rather than a lesbian film.
THE CELLULOID CLOSET (1995)
Like And the Band Played On just two years before it, The Celluloid Closet took a work of written history and translated it to the screen -- in this case, very appropriately, given that Vito Russo's work chronicled both Hollywood's portrayals of homosexuals onscreen and the closeted lives of the homosexuals who made the movies both in front of and behind the camera. Of course, the movie poster for the documentary says a lot about Hollywood — Harvey Fierstein and Lily Tomlin are billed below such straight (but supportive) luminaries as Susan Sarandon, Tom Hanks and Whoopi Goldberg. Still, The Celluloid Closet ranks as one of the few films that should be required viewing not only for anyone who cares about LGBT issues, but for anyone who cares about how our entertainment culture subtly — and sometimes overtly — shapes our opinions of those we consider ''others.''
THE ROCKY HORROR PICTURE SHOW (1975)
Right out of the gate, The Rocky Horror Picture Show bends gender: The lush, red screen-sized lips mouthing the words to Science Fiction Double Feature are clearly those of a woman, but the voice is almost certainly... male? (It is, though one could argue Richard O'Brien's singing voice is devoid of gender entrapments.) From there things just get more gendery-bendery in the screen adaptation of O'Brien's insane -- and insanely great -- stage musical. It's shocking schlock on a stick, and none of it makes much sense -- you just kind of have to go with the narrative's goofy flow. By the time we get to the climactic "floor show," sanity has pretty much run screaming from the building. Tim Curry commands his every moment onscreen as Dr. Frank-N-Furter, serving up a magnificent, high-octane camp performance. He's (almost) matched by starchy Barry Bostwick and saucer-eyed Susan Sarandon as the crisp-and-clean couple Brad and Janet who unearth their buried-libidos under Frank-N-Furter's erotic tutelage. And then there's blond bombshell Peter Hinwood, scorching the screen in little more than a gold lamé speedo and Mercury boots. Hinwood -- who left acting after Rocky to become an antique dealer -- is the kind of studpuppy who would make even the most deeply closeted gay man stand up and shriek, "Toucha, toucha, toucha me! I wanna be dirty!"
VICTOR/VICTORIA (1982)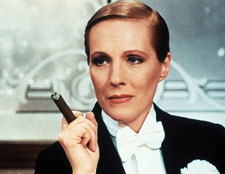 Victor Victoria
At the start of the '80s, Blake Edwards honed in on the conceit of the classic cross-dressing comedy, Some Like It Hot — two men pretending to be women — and took it up a notch for Victor/Victoria. A notch? Being Blake Edwards, he actually went all the way to 11 in the story of a woman pretending to be a man pretending to be a woman in order to be a star on the decadent stages of pre-war Paris. In retrospect, the comedy feels retrograde, but for its time it broke ground in putting forth a sympathetic gay main character (Robert Preston, in an Academy Award nominated role), and slyly undermining the chiseled masculinity of James Garner, who falls for Julie Andrews' cross-cross-dresser. The art deco design of the performances still sparkle (and likely inspired some of Baz Luhrmann's more lurid concoctions). The slapstick and farce is occasionally too broad, but they are often inspired, notably in the finale drag performance by Preston that brings down the house, both onscreen and in your living room. Of the late Edwards's many excursions into the comedy of gender and orientation, Victor/Victoria sits gleefully at the top.
YOSSI & JAGGER (2002)
As the United States spent years arguing and battling over ''Don't Ask, Don't Tell,'' we were often reminded how so many of our allies, such as Israel, had already allowed open service by gays and lesbians without ill effects. True, as far as it goes, but that doesn't mean that each of those armies was a utopia for gay soldiers. Yossi & Jagger is a love story set in the Israeli army between a commanding officer, Yossi (Ohad Knoller), and his second-in-command, Jagger (Yehuda Levi). This is not director Eytan Fox's deepest or best film — that would be, so far, the brilliant Walk on Water — but it is an important and stirring exploration of love in the military. It may not track well to the American military experience — Israel is a nation of compulsory military service for all, which changes the tenor of service — but it is a sweetly disarming tale that earns its right to tug at your heartstrings.
ZERO PATIENCE (1993)
LILIES (1996)
It's fitting that this list starts with And the Band Played On and ends with Zero Patience, because while the two films share the AIDS epidemic as a subject, they couldn't be further apart than A and Z. Where Band is didactic, Zero Patience is unabashedly polemic. Director John Greyson rehabilitates the story of Gaëtan Dugas — the flight attendant and alleged ''Patient Zero'' who some claimed initially spread HIV to Canada and the U.S. — as an AIDS musical that tries to demolish the myths and hysteria about the disease. Many films claim be radical, few actually are. Zero Patience is one of those few. Also worth catching is Greyson's equally radical approach in Lilies, a tragic love story in a 1952 prison, where the inmates present a play about three students – and their loves and denials – from 40 years earlier (all the roles are played by men). As the bishop forced to watch the play witnesses, there is power in everlasting love and the consequences of long-forgotten actions. It's stunning, lyrical masterwork.
Read the original 25 Gay Films Everyone Should See, from Feb. 19, 2009.
What are some of your favorite gay films? Take our survey.
---