Classical Music Preview
Concerts, Opera and Jazz for the Fall
The Barns of Wolf Trap
Vienna, Va.
703-218-6500
www.wolftrap.org
Jim Brickman -- The popular romantic singer returns for an intimate engagement (10/22 & 10/23)… Karla Bonoff -- Remember "Isn't it Always Love?" We do. And we still love it (10/24)… Karen Akers -- Chanteuse extraordinaire (10/31 & 11/1)… Lowen & Navarro -- Dynamite folk rock (11/13)… disappear fear -- Lesbian folk Sonia and straight sister Cindy (11/28)…
---
Black Rock Center for the Arts
12901 Town Commons Drive
Germantown, MD
301-528-2260
We're About Nine -- Youthful folk trio (9/18)… Silk City -- Mandolin, guitar and bass blend in a breathtaking variety of styles including bluegrass and original compositions (9/20)... Hickory Project -- The combination of award winning talent links the old and new in acoustic music (10/25)... Davinci's Notebook -- A cappella energy (11/20)… Lox & Vodka -- Klezmer for the spirit (12/18)…
---
D.C.'s Different Drummers
202-269-4868
www.dcdd.org
Symphonic Band Concert -- Annual fall performance, this year at St. Margaret's Episcopal Church (11/08)... Quilt Panels -- A joint commission between the Lesbian and Gay Chorus of Washington and DCDC, with a play by Robert Maggio inspired by the AIDS Memorial Quilt. At the Smith Center at University of Maryland (12/1)...
---
CLARICE SMITH PERFORMING ARTS CENTER
University of Maryland
College Park
301-405-ARTS
www.claricesmithcenter.umd.edu
David Salness, violin & Larissa Dedova, piano -- Entitled the "The Russian Revolution," the recital features music by Tchaikovsky and others (9/12)... Imani Winds -- Five outstanding musicians of African-American and Latin heritage, Imani Winds pushes the boundaries of the traditional wind quintet (10/7)... The Chamber Music Society of Lincoln Center with David Shifrin, artistic director and Andre Watts, piano -- Some of the biggest names in classical music all in one night (10/16)... SHARQ Arab American Ensemble -- performing traditional Arabic classical music (10/21)...
---
Gay Men's Chorus of Washington D.C.
202-338-SING
www.gmcw.org
You're A Good Man Charlie Brown -- Sporting an all male cast, Charlie Brown takes us on a journey from Baseball Season to Valentine's day through optimism, disappointment, insecurity, and always hope (Arena Stage at 14th & T, 10/3-5, 10/9-12 & 10/16-18)... A Brassy Sassy Holiday -- The Annual Holiday concert with special guests The Washington Symphonic Brass and DC Swing (Church of the Epiphany, 12/5 to 12/7)… Cabaret: Let Me Be the Music... -- Showcasing eight talented singers and the music of New York composer David Friedman (France and Armand Hammer Auditorium, 2/6/04 to 2/14/04)… Bye Bye Birdie -- This year's spring musical is sure to leave us swooning in the aisles (Lisner Auditorium, 3/26 to 3/28)…
---
GMU CENTER FOR THE ARTS
4400 University Drive
Fairfax, Va.
703-993-ARTS
www.gmu.edu/cfa
Ahn Trio: The New Ahn Plugged -- With a hip, sophisticated, contemporary image not typically associated with chamber music, these three sisters are exacting and exciting (10/4)... Virginia Opera: Madame Butterfly -- Puccini's timeless and tragic love story of a beautiful Geisha and an American naval lieutenant (10/24 and 10/26)... Virginia Opera: The Magic Flute -- Mozart's masterpiece combining fantasy, symbolism, political satire and humor (11/21 and 11/23)... Ute Lemper: All that Jazz -- With her sexy, sultry, uncompromising delivery Ms. Lemper makes "cabaret cool again" (4/18)...
---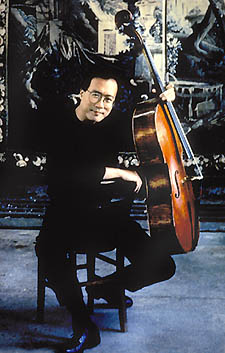 Yo-Yo Ma
KENNEDY CENTER CONCERT HALL
2700 F Street NW
202-467-4600
www.kennedy-center.org
Lang Lang -- The renowned pianist performs with the NSO under the baton of Leonard Slatkin (10/2 to 10/4)… Tchaikovsky Festival -- An abundance of events throughout the month of December, opening on 12/3 with an NSO concert conducted by Leonard Slatkin and featuring cellist Yo-Yo Ma, pianist Yefim Bronfman and violinist Gil Shaham... The Music of Lerner and Loewe -- NSO Pops, conducted by Marvin Hamlisch (11/28 & 29)…
---
Lesbian and Gay Chorus of Washington, D.C.
202-546-1549
www.lgcw.org
Not What you Think -- An a cappella ensemble of the LGCW, in concert (St. James Episcopal Church, 10/19)... Quilt Panels -- See DC Different Drummers Listing (12/1)...
---
LISNER AUDITORIUM AT GWU
730 21st Street NW
202-994-6800
www.lisner.org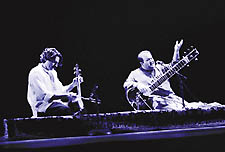 Ghazal
Spanish Harlem Orchestra: Musica de las Americas 2003 -- Called Harlem's answer to the Buena Vista Social Club, the Grammy nominated is reflection of the New York neighborhood that is the birthplace of salsa, Latin soul, boogaloo and countless other variations (9/13)... Ghazal -- Comprised of Indian and Persian traditional repertoire, Ghazal celebrates the differences as well as the similarities in traditional Iranian and Indian styles (10/24)... Cesaria Evora -- Cape Verde's finest and most popular female vocalist is Queen of Morna, a sweet soulful version of the blues fusing West African rhythms and European sensibilities with Caribbean and Brazilian influences (10/31)… Tom Jones -- What's new pussycat? (11/4)… Sounds of Flamenco: Enrique Morente -- Spain's legendary vocalist in a rare U.S. appearance (11/6)… The Blind Boys of Alabama -- With two Gospel Grammies and 22 recordings to their credit, the Blind Boys send the spirit soaring to dizzying heights in a foot stomping, hand-clapping holiday celebration (12/20)…
---
ROBERT E. PARILLA PERFORMING ARTS CENTER
Montgomery College
301-279-5301
www.Montgomerycollect.edu/PAC
The Sound of Music -- The hills are alive once again (9/20)... The Good Stuff: A Tribute to Charlie Byrd -- by The Joe Byrd Quintet (12/13)...
---
Strathmore Hall Arts Center
10701 Rockville Pike
North Bethesda, Md.
301-530-0540
www.strathmore.org
Washington Area Music Timeline featuring the Big Band -- Music of Claude Hopkins with The New Hots Jazz Orchestra (10/1)... Music in the Mansion, Sounds of SONOS -- The first of three concerts features jazz selections for saxophone and piano (10/3)... Joanne Kong & Paul Hanson, Broadwood Pianists -- performing works by Mozart, Schubert, Bizet, and Liszt (11/9)...
---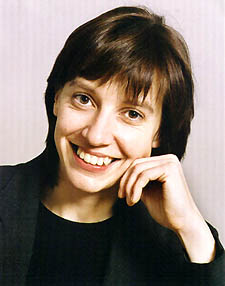 Claire Desert
Washington Performing Arts Society
202-833-9800
www.wpas.org
Yo-Yo Ma, cellist: An Evening of Latin American Music -- Featuring the Brazilian guitar-duo Sιrgio and Odair Assad, adding spice and romance to Ma's classical virtuosity (Kennedy Center Concert Hall, 9/23)... Ravi Shanker, sitar and Anoushka, sitar -- The proclaimed "Godfather of World Music" appears in D.C. for the first time in nearly ten years with his daughter, Anoushka (Kennedy Center Concert Hall 10/1)...Claire Desert, piano -- After winning prizes at the Senigallia Competition in Italy and the Santander Competition in Spain, and touring much of Europe, North America, and Japan Desert comes to the Kennedy Center (Kennedy Center Concert Hall, 10/18)...
---
Washington Opera
Kennedy Center Opera House &
DAR Constitution Hall
202-295-2400
www.dc-opera.org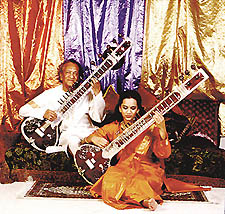 Ravi Shanker and Anoushka
DIE FLEDERMAUS -- Johann Strauss' classic features June Anderson as Rosalinde in her company debut (DAR, 9/11 to 9/17)… NORMA -- Vincenzo Bellini's masterpiece of a forbidden love and a woman scorned is set in Gaul and features Hasmik Papian in the title role (DAR, 10/7 to 10/20)… DIE WALKURE -- Incest, adultery and defiance frame this, the most popular of Richard Wagner's Ring Cycle operas. With Placido Domingo as Siegmunc, Alan Held as Wotan, and Linda Watson in her company debut as Bruunhilde. A new production. (DAR, 11/5 to 11/20)… MANON LESCAUT -- The Washington Opera returns a newly refurbished Kennedy Center Opera House with Puccini's dramatic powerhouse is stocked with recognizable arias and lush melodies. Conducted by Placido Domingo. (KCOH, 4/1 to 4/19)… LA CENERENTOLA -- Rossini's story of a young girl mistreated by her stepfather and stepsisters who finds love in the most unlikely suitor. (KCOH, 4/3 to 4/22)… LA TRAVIATA -- One of Verdi's greatest achievements turns 150 this year and the Washington Opera is pulling out all the stops in a double-cast production with direction by Marta Domingo (KCOH, 5/8 to 6/1)… A STREETCAR NAMED DESIRE -- Andre Previn will conduct his own adaptation of the sultry Tennessee Williams classic on select nights (5/15 to 6/2)…
---