Manji's Mission
Far beyond the sound-bite ''Muslim-reformist lesbian,'' Irshad Manji is on a mission to keep all minds open, active and questioning
Irshad Manji has new pieces in her life.
There's her new book, Allah, Liberty and Love: The Courage To Reconcile Faith and Freedom. Then there's her new job – new, at least, since her last book, 2004's The Trouble with Islam Today: A Muslim's Call for Reform in Her Faith – as director of the Moral Courage Project at New York University's Wagner School of Public Service.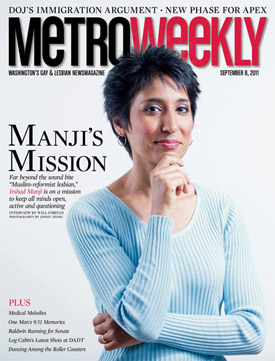 Irshad Manji
It all fits together nicely.
''When I put the finishing touches on The Trouble with Islam Today, I really had no idea whether I was alone in having these thoughts, or whether there's actually a growing community of reformist Muslims as well,'' Manji, 43, says from New York.
What she found was some support. And some expected vitriol, some serious threats. She also found some clarity for moving forward, especially in the aspirations of young Muslims for ''a positive vision of Islam'' who reached out to her for guidance on how reach that vision.
''I thought it was fascinating that for all the communication platforms that we've got right now, very few places exist for both young reformist Muslims and progressive non-Muslims who wish to support the reformists, but are afraid of being Islamaphobes or bigots,'' says Manji. ''There are very few places where they can turn safely for responses to these rather uncomfortable questions.''
This new book, pulling from many of the comments she's received, answers some of those questions. But it is also more universal than her past work, as is her post with the Moral Courage Project. Manji isn't just asking for Muslims to reform Islam. Today, Manji is asking everyone to open their minds, to examine the world critically, and to take a stand. And to keep examining, with the forethought that whatever stand you take today will almost certainly be amended tomorrow. In Manji's view, the case is always open, never closed. To help others do the same, she maintains a ''Guidance Council'' on irshadmanji.com to field questions.
Expelled from Uganda with her Indian-Egyptian family under Idi Amin's 1972 order that all Indians leave the country, she ended up in the Vancouver suburbs. She's worked in media and academia, been celebrated and cursed. She has a charisma and charm, however, that lights up even the likes of arch conservative Pat Buchanan.
''You saw that segment on Morning Joe?'' she asks, laughing. ''There was a little bit of flirty-ness going on there. I found it hilarious. If bringing out the best in Pat Buchanan – showing that there's a better side to him than most people see – if that's one thing I can do, I'm happy to be of service.''
Next Thursday, Sept. 15, she'll bring that charm and intellect to Washington's Library of Congress, where she'll discuss religious freedom with the first Muslim elected to Congress, Rep. Keith Ellison (D-Minn.) – and, more importantly, the audience.
METRO WEEKLY: What can we expect at this appearance at the Library of Congress with Rep. Ellison. Is he a friend?
IRSHAD MANJI: Keith is, in fact, a friend of mine. So much of a friend that, as you can see, I'm on a first-name basis with him. [Laughs.] He endorsed Allah, Liberty and Love with a beautiful quote, if I may just read it for you: ''In the Quran, God is not offended when the angels question him. In Allah, Liberty and Love, Irshad Manji asks powerful questions of God's self-appointed spokespeople. They will be affronted, but God is greater. Muslims like me cheer Irshad.''
Now, I must tell you – obviously this is on the record, a published quote on the back of my book – Keith has really stuck his neck out to support reformists like me. I know that he will get the backlash from moderate Muslims – who, in my view, are actually conservative Muslims – for allying himself with very liberal-minded Muslims like me. But Keith's own moral courage is something that I really admire.
MW: He seems to be a freethinker.
MANJI: He is a freethinker. What I'm saddened by is he, like me, has been sort of pulled through the mud by agenda-driven individuals and groups in this country who don't want to see him for all his nuance, but rather reduce his complexity to this or that label. That is something any public figure has to contend with, but in this post-9/11 time, I really hope that the kind of reconciliation that we can begin to move forward with is not just between Muslims and non-Muslims, but also between faith and freedom, recognizing that a Keith Ellison and an Irshad Manji are able to be free-thinking Muslims. That is not a contradiction in terms.
Also, something I'd like to bring up, is the reconciliation between honesty and respect. In our society – and I mean globally, not just here in the United States – the word ''respect'' has actually come to be corrupted. It's something that gays and lesbians, people of color, women – a majority treated like a minority – minorities of all stripes, all of us tend to put up our hands to those who have challenging questions and say, ''Nope. You must respect me.'' But that is a very twisted version of respect: having lower expectations of yourself than what you're capable of.
But let's get back to your first question, ''What can we expect at the Sept. 15 event?'' This really is the invitation for your readers to come on down and participate in an honest discussion. I emphasize the word ''honest'' here, because I'm not about ''interfaith dialogue.'' I'm not about a mere exchange of platitudes. I'm interested in really hearing what's going on in people's hearts. I want this space at the Library of Congress to be the one opportunity that those who do have politically incorrect questions about Islam, about multiculturalism, about faith in general, any of the issues, diversity, homosexuality…. Bring your most politically incorrect questions. Let's get them out. I would like it to be the kind of experience that even if people don't remember exactly what was said, they'll remember feeling less fearful than when they entered.
---