World AIDS Day 2011
Three generations reflect on the evolution of an epidemic
It is Dec. 1. It is time, again, to mark World AIDS Day. As with winter, soon to follow, one might say that AIDS is an epidemic that came in like a lion and – one hopes, eventually – goes out like lamb. As long as it just goes.
At the first World AIDS Day, 1988, Amari Ice was only a few months old. José Gutierrez was still in Mexico, studying to be a journalist. Pat Hawkins was already a six-year veteran in the fight against the disease.
As the sad marker returns, tens of millions have died. Millions more carry the Human Immunodeficiency Virus (HIV) understood to cause AIDS. Millions around the world continue to be infected annually. Far fewer than in years past, however, actually go on to develop AIDS. When the disease was newer, it was evident. In any gay neighborhood, one could find infected men bearing the lesions of Kaposi's sarcoma, suffering from wasting syndrome, or otherwise carrying some likely fatal burden. In 2011, that might seem a world away, with the infection once seen as precursor to soon-to-follow death, now often managed as a chronic disease, routinely undetectable.
The theme of World AIDS Day 2011 reflects that reality. Borrowing from a United Nations campaign, marking World AIDS Day this year means ''Getting to Zero: Zero new HIV infections. Zero discrimination. Zero AIDS-related deaths.'' When, exactly, humanity might get to that point is anybody's guess. That those goals seem even to be in sight, however, makes it clear that Hawkins's experience with the epidemic is not Gutierrez's, as his is not Ice's.
Hawkins, for example, is working with a number of locals in hopes of announcing plans for an AIDS memorial in the District during the AIDS 2012 global conference coming to D.C. in July 2012. Gutierrez, upon reflection, is simply surprised that he's been working against HIV/AIDS for more than 20 years. Ice, at 23, is confident that the epidemic will soon end and lives with no fear of the disease.
Most importantly, today's hopefulness in no way diminishes the sacrifices of the past. Rather, it was built upon them. World AIDS Day is a time to honor the former and be grateful for the latter.
ANSWERING AN EMERGENCY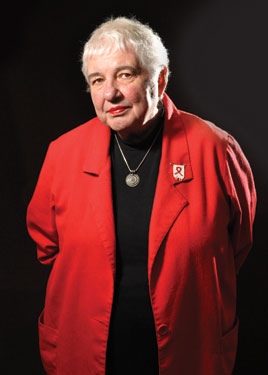 Pat Hawkins
(Photo by Todd Franson)
PAT HAWKINS NEVER went to war, formally, but she's come awfully close. And that's not just an analogy for her frontline service in the fight against HIV/AIDS.
''I spent some time on a kibbutz in Israel, studying the way children were raised,'' Hawkins, 71, says of her travels as a young woman. ''I was there in 1960, '61, so the bombs were falling. We were in the bomb shelter. I was right on the Sea of Galilee. People with machine guns would escort us up into the fields.''
Despite the bombs and guns, Hawkins doesn't recall the time with sadness and fear. Instead, she laughs, remembering the puzzled looks on her hosts' faces when she asked where she might celebrate Catholic Mass, everyone having assumed she was Jewish.
From there, Hawkins, originally from Grosse Pointe, Mich., settled in Washington, appreciating the politics, the activism and the proximity to Europe. In the 1960s, pursuing advanced studies in psychology and with a strong interest in social justice, there was plenty for her to do.
''While I was still in graduate school, still working on my degree, I got involved in vocational rehabilitation. I started working at Goodwill Industries, doing evaluations. I went from there to the D.C. government … and worked with juvenile delinquents and kids coming out of Forest Haven [asylum]. That was very exciting work. Then the 'war on poverty' came along.''
That war on poverty that launched with the Economic Opportunity Act – ''Poverty was considered a disability, if you can believe,'' Hawkins reflects – gave her the chance to form a comprehensive service center, covering a range of efforts from job training to one of the city's first methadone clinics.
But then came President Nixon and ''that was the end of the 'war on poverty,''' Hawkins says bluntly. It wasn't the end of her work, of course. Instead, Hawkins, living in southern Maryland, was approached by someone who asked if she might put to use what she'd learned in the city regarding substance abuse. That's exactly what she did.
''I opened, basically, a 24-hour crisis center, a hotline. We had a runaway shelter. We were actually in an old Nike missile base, with pig farms on one side of us and cows on the other.''
While the nearby livestock was obvious, the approaching epidemic was not. Hawkins saw her first AIDS patient in 1982, with no possible way of knowing what was to follow.
''This was someone who'd been in a hospital and had been discharged. They were kind of unclear about exactly what was going on. He presented that he was just very, very sick. He contacted us in crisis mode, being very depressed. My initial contact with him was dealing with some of his conflicts about his gay identity. There was quite a large underground gay community – as there is everywhere – but the proximity to the Navy base made things ever more scary for folks because a lot of military were part of that community, very frightened of being discovered. It was a very rural area and an intensely paranoid atmosphere. We were one place people could come, where they'd heard they could get support.''
In the coming months, Hawkins would learn of the AIDS diagnosis. So did this initial patient and the surrounding community. Everyone learned of AIDS, but there were far more questions than answers. Even greater than the questions was the fear and stigma. Hawkins remembers the extra steps she had to take to keep this client safe as panic entered the equation.
''His trailer – he lived in a trailer – was attacked by people throwing stones, so we moved him down to Anne Arundel County. That was my first case. Again, we didn't know it was AIDS when I first saw him. We just knew there was some kind of weird thing going on with him, and it later tuned out it was AIDS.''
With little more than the first layer of the mystery solved – a mystery that 30 years later still refuses to give up all its secrets – Hawkins remembers the first clients who already carried the AIDS diagnosis. Volunteering at Whitman-Walker Clinic, today Whitman-Walker Health, in 1983, Hawkins and her partner, Robin Halprin, met their first AIDS patients as a small group.
''When they left, we went around the whole office wiping things down,'' says Hawkins, illustrating both how much anxiety existed as well as how little information. The story also illustrates that some chose to listen to their better angels. ''At that point, we didn't know for sure how it was transmitted. We didn't have a test yet. It was scary. But we were wiping down and we looked at each other and said, 'This is crazy. If we're going to be seeing people, we can't do this all the time and be this anxious.' We stopped. We thought it was probably a virus and not [casually] contagious, but we didn't know that for a fact. But we were willing to take the risk.''
That willingness put Hawkins on a path of dealing with HIV/AIDS that continues today. Until AZT was approved in 1987, Hawkins says her job during those first years was largely ''helping people die.'' Though that could be a daunting task under any circumstances, Hawkins points out that those dying were often young, often having to come out to their families simultaneously, and often dying within hours of checking in to a hospital.
With AZT and a test for HIV, people began to live longer. In turn, her work at Whitman-Walker faced new sets of challenges, as case management provided newly needed services and benefits.
Laid off from her position as associate executive director for policy and external affairs in 2008, as Whitman-Walker struggled through restructuring, Hawkins continues the fight against HIV/AIDS, serving as executive director of the DC Community AIDS Network. She grants that the work today is a world away from those first years, with pharmaceuticals ending the onslaught, even if a cure remains elusive. Frustrations, however, remain.
''The sad thing is the people I see now who are dying are dying because of system failure,'' says Hawkins. ''That's part of what's driving me crazy. They're not dying because of a virus. They're dying because the system is breaking down. They can't get their [AIDS Drug Assistance Program help]. They don't get tested early enough. They're not aware they can get on medications to cut down the chances of transmitting the virus.
''There's not enough money. There's an ADAP waiting list in Virginia. These are system failures, education failures. These are not the virus anymore. I would say to anyone coming into this work: The system still needs a tremendous amount of improvement.''
To that, she adds for a new generation of people choosing to make their careers on the front lines of HIV/AIDS, that the chance to see a cure is feasible – and that they are building on hallowed ground.
''For the people just getting into this work, they fall in the footsteps of such incredible and heroic men,'' she says. ''The men who went to [the National Institutes of Health] and went through all those horrible experiments so that we'd have the drugs we have now. And all the men who volunteered, who were themselves sick, and watched death play out over and over again before it came to them. That kind of courage you don't get to see very often.''
To honor that courage, Hawkins will attend D.C.'s World AIDS Day candlelight vigil, Dec. 1. Long ago, she tried to remember everyone in a book she kept, recording the names of those she knew who died. After 500 names, she had to stop. She may laugh a bit remembering her days of conflict on the kibbutz, but revisiting the early years in the struggle against AIDS can bring tears.
''I just couldn't keep recording all those names. But they're in my head. I remember them. If you thought about all the people you lost every day, you wouldn't get through the day. But World AIDS Day is kind of a chance to just remember everybody. The vigil, I always go to that. It's a chance – a formal chance – to remember people. There isn't a day that goes by that I don't remember people.''
AN UNEXPECTED PATH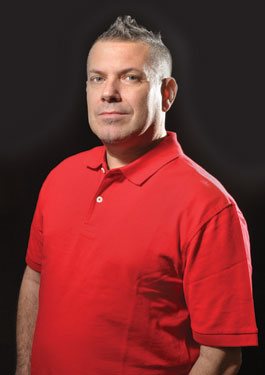 Jose Gutierrez
(Photo by Todd Franson)
AS PAT HAWKINS tapped into her reservoir of compassion to care for those suffering from a new and devastating illness, José Gutierrez was more worried about grades. From 1985 to '88, the young Mexican studied journalism at college in Monterrey, Mexico. His father's death, however, put his entire family on a different path, leading them to relocate to Atlanta, where his sister already lived.
In the late 1980s in Atlanta, Gutierrez, then in his 20s, saw some of his friends dying of AIDS-related illnesses. As a gay man, at that point in history, Gutierrez was on the front line, ready or not.
''I started volunteering with AID Atlanta,'' says Gutierrez, now 48. ''I was handing out condoms and bilingual brochures, and helping people get tested, especially in the Latino community in Georgia. [When I moved to Atlanta] I didn't know too much. We had a lot of misconceptions. We had just a little bit of information about the disease. We didn't know about prevention and medications – nothing. As soon as I started volunteering, I took different trainings.''
As Hawkins faced her share of fear and stigma in D.C. and Maryland – with some vandal going so far as to spray paint ''fag'' on her Waldorf, Md., mailbox – Gutierrez had his own measure of stigma to tackle in Georgia, working both inside cosmopolitan Atlanta and beyond.
''We were working in civic centers, in parks, churches, on the street with different communities,'' Gutierrez says of his early outreach work. ''That was dangerous. In the beginning, they didn't accept that people were talking about HIV, talking about prevention and things like that. When we were talking to Latinos, some people were scared because they were thinking about immigration issues.
''That was really difficult work to do, extremely difficult. That was a difficult time because we had a lot of people who were dying. We had a lot of people in denial. But I learned to be strong.''
Gutierrez's entry into the fight against HIV/AIDS – initially as a volunteer and then as an AID Atlanta employee – laid the groundwork for the next chapter: Washington. In April 1993, Gutierrez came to the nation's capital for the March on Washington for Lesbian, Gay and Bi Equal Rights and Liberation. HIV/AIDS was front and center at the event, with calls for greatly increased funding for anti-HIV/AIDS efforts, ''die ins'' in the streets, urgency and alarm.
''That was a very intense time with ACT UP and Queer Nation. I remember everybody on the street, the big protest. That day was a really intense day. That was a powerful time. There were a lot of people for the march, people protesting, people with rainbow flags. A lot of my friends had HIV and we didn't have a lot of funding to prevent it. There was a lot of energy. I decided that if I wanted to be a great activist, I would need to move to D.C. I decided during the march to focus my energy on helping the LGBT community with HIV prevention.''
Gutierrez had said good-bye to Mexico. Now he was saying good-bye to Atlanta, as well as to his plans of a career as a journalist. He moved to Washington in 1994 and has worked in HIV-related work ever since. He coordinated a condom program at the now-defunct LLEGO (national Latina/o LGBT organization). He's served as a research assistant at George Washington University, helping to craft bilingual questionnaires to learn more about community responses to HIV/AIDS. He's worked for the D.C. Department of Human Services and Whitman-Walker Clinic. He's attended HIV/AIDS conferences in Vancouver, Canada and Geneva. It's a path that's taken him, today, to La Clinica del Pueblo in Mount Pleasant, where he's worked since 2008 as a medical case manager, and where all of his clients are HIV-positive.
So much has changed in the course of the epidemic, but not everything, says Gutierrez.
''Now we have a lot of treatments, but the new target populations are different. Now you have a lot of youth, a lot of transgender. The communities and the needs change, and we need to educate people about stigma. I still see people who are rejected for being HIV-positive. In some cases, it's the families. We still have to educate ourselves in order to educate others.''
Whatever remains to be done, Gutierrez emphasizes the immense satisfaction that he gets from his work at La Clinica. He helps clients with food, housing and immigration issues. He shows people how to apply for ADAP, or helps them with medical insurance or legal issues.
But along with the satisfaction, there is the surprise.
''Sometimes I think about it and it's like, 'Oh, my God, it's been more than 20 years.' I can't believe it. If somebody had told me [in 1989, this would be my career], I would've said, 'You're crazy. I don't think I'm going to be working 20 years with HIV!' But it's true. It's almost 22 years working in the HIV/AIDS epidemic. I didn't know that the AIDS epidemic was going to be for a long, long time. Twenty years is enough.''
After two decades – and still with hopes of being a historian, having founded the Latino GLBT History Project – Gutierrez says the work has taught him to be more confident, more loving and more compassionate, as well as simply how fragile human beings are. Perhaps that's why he's ready to move on, even if he'll stay in the fight as long as he's needed.
''I'm very confident. I pray that we can find something to end the epidemic soon.''
FEARLESSLY FORWARD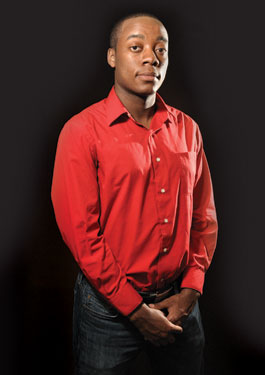 Amari Ice
(Photo by Todd Franson)
AS THE ELDEST of seven children, Amari Ice has always had to be a reliable sort of guy. As a program coordinator at Us Helping Us, People Into Living Inc., the same holds true. But unlike those who came to the HIV/AIDS fight so many years before Ice, he doesn't think about his reliability translating into helping people with the specifics of medications, grief counseling or similar issues. Instead, Ice wants people to lean on him in order to learn how to better lean on themselves. For Ice, ''empowerment'' is stronger than ''epidemic.''
''My job allows me to teach people and inspire people, to show people there are different ways to live, that they have the ability and the power to determine their own lives,'' says Ice. ''The information that I'm presenting to people through my programs are essentially those building blocks for empowerment. I'm empowering people to be able to live the life that they want to live.''
Ice's work may seem a bit nuanced compared to the work that's come before, but at 23 Ice is definitely of a new generation. Pat Hawkins had buried too many by the time Ice was born. José Gutierrez began volunteering with AID Atlanta when Ice was celebrating his first birthday. With graduation set for May 2012, majoring in communication and culture at Howard University, Ice is also just starting out professionally, though the full-time summer and current part-time commitment to UHU makes it likely that the HIV/AIDS organization will be at least the starting point for his post-graduation career.
And he likes the work. Very much.
''I coordinate two programs. One is called 'Many Men, Many Voices,' aka 'Noir Reflections.' It's a retreat-style intervention that targets black gay men, men of color. We take the group on a retreat in the mountains and we talk about identity, relationships and sexual health.
''The second program is 'D-Up.' It's a group-level intervention. We target people who are opinion leaders in the community, within their social group. We get those opinion leaders and we teach them about STD and HIV prevention. If you teach them to deliberately create and change social norms – in our case, specifically using condoms and protecting yourself – then people will listen. The issue is that people aren't talking about sex, about sexual health. People get told, 'wear condoms,' or whatever, but there's no in-depth discussion about sex.''
The world Ice works in is one where the alarms stopped sounding sometime ago. That steady drone has perhaps been replaced by less-frightening alerts chirping. Were it otherwise, Ice isn't at all sure he'd be in this HIV arena.
''I don't think I'd be suited for how it used to be, with the fear of death and dying,'' he guesses. ''That's not the type of thing that draws my personality. I'm more about helping people to live more empowered lives, versus assisting people in their process of dying.''
That might actually be gratifying news to some who came before, in that the culture of fighting HIV/AIDS arguably brought gay identity to the fore. With AIDS indirectly ''outing'' so many, it likely made it easier for Ice to come out at 12 – then again at 14, ''because my mother didn't believe me.'' And the fear that once lurked far beyond every gay ghetto, prompting parents to complain about HIV-positive students in public schools or lead neighbors to chase HIV-positive people from their homes, simply doesn't exist in Ice's world.
Is he scared of HIV? The answer is immediate. ''Scared? No. I'm not scared of it. It's not a fear. Not at all.
''When syphilis first came on the scene, people were dying from it and people didn't know what to do. Essentially, it's the same type of environment. Then penicillin gets developed and now we can cure it and it's not as big of a deal. After things have been around for a while and you learn to deal and cope with them, they aren't as intense as they were when they first started off. Anything that's new is going to have a lot more fast-moving energy around it than something that's been around for a while and we understand it a little more than we did when it first appeared.''
As was the case with Hawkins and Gutierrez, Ice cannot imagine that he'll be spending decades working in HIV/AIDS. He also believes that a vaccine or other sort of cure cannot be too far off.
''If we just look back 50 years ago and they way people lived in 1961, versus now, so much has progressed at such a faster rate over the last 50 years than the 50 years before that. Think of 1910 to 1960 and the advances in technology, medicine and humanity; versus the advancements from 1960 to 2010. We just keep getting faster and faster at figuring things out, it seems like. I'm sure that it's going to happen pretty fast.''
For now, however, Ice is thrilled with working to empower young men to make healthy choices for themselves, particularly – though not exclusively – with regard to HIV. And like Hawkins and Gutierrez before him, he says that in his case the fight is personal.
''Maybe November or December of last year was when I first had an experience with a friend of mine telling me they were HIV-positive. But between then and when I started working [at UHU], I've had seven friends who actually disclosed that to me. So it is kind of a personal thing, too, in that people I'm really close with have been affected by the disease. That drives me as well. I don't have the disease, so I don't think about it every day, all the time. But there are people I care about who have been affected, and I do this work for them too.
''Whenever you're close to someone and something happens to them, you take it personally. That's kind of what happened. It's like I thought, 'I wish there was something I could do.' It just so happened a few months later I was put in the position where I could do something.''
Whitman-Walker Health offers a World AIDS Day candlelight vigil in Dupont Circle, Thursday, Dec. 1, at 6 p.m.
---