Albert's Champion
It took 30 years for Glenn Close to bring Albert Nobbs from stage to screen, in the process devising an indelible, unique character
(Page 3 of 3)
MW: I think the best moment in the film is when Albert and Hubert don dresses and stroll the beach. It's a profoundly exhilarating scene. It's the film's pinnacle sequence.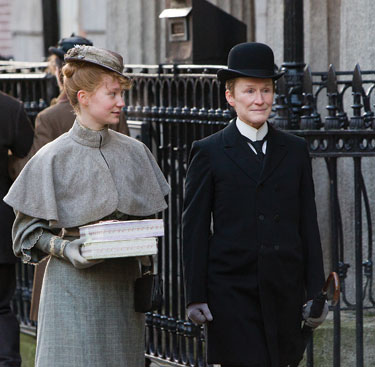 Albert Nobbs
CLOSE: I love that moment. That was the scene that I couldn't wait to act. Coming out of that door looking like two men in drag -- I hadn't ever done that before. [Laughs.]
MW: Psychologically, do you think Albert is ultimately a man or a woman?
CLOSE: I've only ever thought of Albert as a woman, but I think she's come to a point where she realizes that if she just gets back into a dress, what's she going to do? She wouldn't have a job. So she's more comfortable now in that other disguise than she is in clothes that would make her be able to walk freely down the street [as a woman]. So I think in some ways she has become a hybrid.
I think she's an unfinished person. When Hubert says, ''You can be whoever you are. Whatever you are now, is okay, whatever that is. If you need someone to share a life with you, you can find it." But I think at that point Hubert honestly doesn't understand how few tools Albert has in order to make that happen herself.
MW: In 1995, you played Margarethe Cammermeyer in the TV movie Serving in Silence. Have you spoken with Col. Cammermeyer since the 2011 repeal?
CLOSE: Yes. I was invited to go down and be with her in Washington. I just was working and I couldn't get away. But that was quite a moment when the president signed whatever he signed to rescind that.
MW: I'm a firm believer that all film, all television, all popular culture helps to pave the way ultimately for social change. So, in essence, your work personally contributed to the cause. Can you reflect on that for a moment?
CLOSE: Well, I believe it was an important contribution to make. I believe with every molecule in my being that people should be free to be who they are. Certainly in this country, but also everywhere. And I think one of the ways I can contribute positively is by what I choose to do.
That was one of the moments in my career when [a script] came to me and it was so well-written and obviously was something that was important, that I said, ''Well, I wonder what kind of flak I'll get? Will it affect my career, and blah, blah, blah.'' And whenever I start having thoughts like that I think, ''Okay, what's the alternative? Not do it?" I don't think so.
Albert Nobbs (Rated R, 113 minutes) is now playing in area theaters.
Continue reading:
---