The Pride of Thomas Roberts
The out MSNBC news anchor will be in DC this weekend to help SLDN celebrate its 20th annual national dinner
Nearly six years ago, MSNBC's Thomas Roberts told attendees at the National Lesbian and Gay Journalists Association that he was gay. It was, he says, something his friends, family and co-workers already knew.
But it was still a rarity then for a television anchor or news show host, even locally, to be out.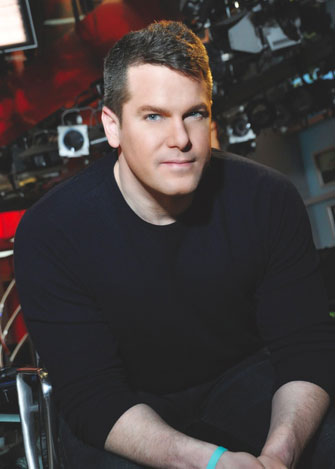 Thomas Roberts
(Photo by Michael Young)
Less than five years later, though, Roberts – who worked for CNN when he publicly came out – already was getting used to his seat at MSNBC, where he hosts the 11 a.m. weekday hour on the cable news network.
This weekend, the Maryland native will be in the District, serving as the emcee for Servicemembers Legal Defense Network's 20th annual national dinner on Saturday, March 3.
SLDN Exective Director Aubrey Sarvis, for whom this will be his last dinner at the helm of the organization, tells Metro Weekly that, ''Thomas has been a force in the coverage of LGBT military servicemembers.''
In light of the end of ''Don't Ask, Don't Tell'' this past September, Sarvis notes, this is the first year when lesbian, gay and bisexual active servicemembers will be able to attend the dinner, be out and not face fear of reprisal.
Saying they are ''honored'' to have Roberts as their emcee, Sarvis says, ''He is an outstanding journalist who brought a great deal of professionalism and integrity to his coverage of the repeal debate.''
Metro Weekly talked with Roberts Feb. 24, after he had come into the office on his day off to shoot a cameo scene for a summer movie release – and one day after the Maryland Legislature passed marriage-equality legislation.
METRO WEEKLY: When were you approached about emceeing this year's SLDN dinner?
THOMAS ROBERTS: They approached me a couple of months ago and I jumped on the opportunity right away. My dad served in the Army. I was paid for by Army health insurance so I only cost my parents 25 bucks. They love to tell that story: I was a cheap baby.
MW: From the perspective of somebody who has been out publicly now for nearly six years, how do you see the changes that are happening from the military to marriage and so on?
ROBERTS: I think they're fantastic. I was actually in Maryland yesterday for a speech for the United Way Emerging Leaders Conference and it just so happens that last night marriage equality passed the Senate in Maryland. I'm from Maryland, I couldn't be more proud of Gov. [Martin] O'Malley and my home state. But I still think that people, in being honest about who they are, it's still a ring of fire for people to walk through, whether you're giving committed service to our country in one of our branches of service or just in everyday life.
But now I think we see a world that is opening its arms to a loving and understanding embrace. We still have a lot of work to do. We just need to keep shining a really bright light on where any inequality exists and what can be done to change it. And I couldn't be more pleased to be invited, to be a part of this.
MW: And that's part of how you talk about what you do on TV.
ROBERTS: Yes, I couldn't be happier that I get 60 minutes a day on MSNBC to add voice to the voiceless in this country. As a proud member of the LGBT community, I devote a lot of time and so does my executive producer. We agree on a lot of these social justice issues – that they need to be discussed and debated and talked about – and we try to bring as many as we can in the 60 minutes that we're granted a day to try to make that difference.
When you think about the fact that we can lead a show with a string of youth bullying – where kids are jumping off bridges or stringing themselves up in their own closets – and then end the show with the fact that in a state like Maryland marriage equality passed. When you're showing that big of a chasm between what you can lead a show with and how you can end a show, it's hard to not make a connection [about] the big disconnect that exists right now in this country.
So, we take great pride in the fact that we have this 60 minutes a day, and we try to use it in the best and brightest way that we can to educate, inform and inspire.
MW: One of the questions that people in the LGBT movement have been faced with recently is whether or not marriage equality is getting too much coverage and other issues like the fact that the Employment Non-Discrimination Act is still sitting in Congress and the fact that for a lot of people those issues, you already referenced, with bullying, those issues – ''Are you physically safe? Do you have a job?'' – are still out there.
ROBERTS: I think they're all part of the conversation. When we have states like in Maryland or like we have in Washington state where we can see the movement of positivity going, it's good to be able to report on forward motion.
You do make a great point, though. There is still so much to be discussed, still so much to be debated. When a group like One Million Moms – that's not even a million moms – can launch an attack against Ellen DeGeneres, for her to be challenged and try to get her fired being a spokesperson for an American brand like J.C. Penney, just shows you how much more conversation needs to be happening in this country about those states where you still can be fired for being LGBT. It's a huge conversation that still needs to be had in this country.
Not to discount anything else with marriage equality or what's happening with the full repeal of ''Don't Ask, Don't Tell'' and how that moves the conversation along to what the federal benefits should be for our married service members. However, all these conversations deserve equal footing in the national conversation.
MW: What times, when you are on the air, do you feel that who you are is an important part of the story?
ROBERTS: I'm lucky enough to be invited into the viewers' homes on a daily basis. Do I want to be a stranger in that person's home? No. Am I proud of who I am when I leave this building, as well as who I am when I'm in this building? Absolutely. And should the two match up? Absolutely. I don't come in here and try to be one thing and leave and go be someone else. And I don't mind having people at home know that. I think that's important and people respect knowing who they're inviting into their home. And just by doing so, just by allowing me in their homes, someone that may not believe in marriage equality or may not think that they know a gay person or have gay friends, you know, lo and behold, they do.
I think by me just being who I am and showing up, I think that that lends honesty to the conversation and I try not to shy away from that.
MW: Do you think that's important across the board? I don't want to get into any specifics about other people, but do you think that that's an issue that other personalities should be considering?
ROBERTS: Oh, where are you going?
MW: I'm not asking to go person by person. But do you think that it's a responsibility of a person on air or do you think that's just a decision that you've made?
ROBERTS: It's easy for me to stand on the other side of having decided to be publicly out six years later and act self-righteous about it, but I'm confident that this is the place where I need to be. I don't want to cast aspersions or judgment on anybody else. I'm just glad that I'm where I am. And that, while other people may choose to stay more off the radar on this, that's their choice.
Would I personally want to be out there being at the forefront of these issues and not having people know who I really was? No. I like the fact that people know who I am. And if they don't, they can Google me real fast and figure it out.
I'm not perfect – by far not perfect – but I'm somebody who's waking up every day, I'm finding my own happiness professionally and personally, and I think that the kids in this country who are struggling need to know that. They need to have people that they can look at and be like, ''You know what, this is achievable, there is hope.''
MW: So, what's next for you?
ROBERTS: I'm completely happy with where I am right now and the opportunity that I get to be a part of this family and this network and I get to be exactly who I am and I don't have to make any apologies for it or hide. I feel such gratitude and am so privileged to be here. So, whatever comes from me next, as long as I'm here working with these fantastic people, a part of this fantastic brand, I will be a happy man.
MW: Speaking of being a happy man, I know that you announced your engagement to your longtime partner, Patrick Abner, after New York passed marriage equality.
ROBERTS: Correct.
MW: Are there specific wedding plans and, if so, in what state?
ROBERTS: Well, with Maryland thrown into the mix…. [Laughs.] We were considering doing it here in New York coming up in the fall. We'll celebrate 12 years together in September, and I don't like to change my anniversary date because I don't want to have to remember anything new, so I'd like to do it on our anniversary on Sept. 30.
So when it comes to the wedding plans, we were hoping for something in the fall. Then we ended up buying a condo and we moved into our condo that weekend [in 2011, following marriage-equality legislation passing in New York that summer], and so Patrick is like, ''You are nuts if you think we're going to move the same week and get married the same week and do all that stuff. We'll be divorced!''
So we put off doing it. He was absolutely right. He's always right. I'm very grandiose. My sister likes to call him the ''string to my balloon'' because he keeps me grounded. I get these big ideas, so he helps to keep me grounded and realistic: ''That's crazy, we're not doing that.'' So, this fall we'll be a year in our place. I think marriage equality in Maryland will not be happening this year, even when it's signed into law [and if the referendum does not succeed in preventing the law from taking effect]. It's 2013, right?
MW: Right.
ROBERTS: So, that will give us more time for this engagement thing to see if it works out. [Laughs.] But, I think almost 12 years together kind of makes it a done deal that we're compatible and we should do this thing.
Thomas Roberts hosts MSNBC Live weekdays, 11 a.m. to 12 p.m. Eastern time.
---