Fred Schneider Confidential
The B-52s singer answers our Coverboy questions
''It's the travel aspect that gets me,'' says Fred Schneider, of the grinds of summer touring. ''It's overnighters on a bus, the waiting, flying. Flying's no treat anymore. You might as well put wings on a Greyhound bus.'' Still Schneider and The B-52s continue to bring audiences a unique, spirited party sound – a sound rooted in the band's emergence during late '70s and refined in the '80s. The B-52s were part of a post-punk musical movement that not only defined their era but several eras to come. Songs such as ''Rock Lobster,'' ''Roam,'' ''Whammy'' and the soaring ''Revolution Earth'' are simultaneously classics and anthems for our time. Schneider, who is ''as old as dirt'' and has been with his partner ''since the stone age,'' is an avid fan of dinosaurs and all things vintage. He keeps up with technology – to a point. ''I'm the worst,'' he admits. ''I don't even now how to forward an attachment in an email. I still write things out longhand. I'm just computer illiterate.'' And yet, he concedes an affection for YouTube, just to ''see all the crazy shit.'' Laughs Schneider, ''I saw Honey Badger when it was only a half a million hits.''
What's on your nightstand?
A vintage avocado transistor radio, set to NPR. A vintage wooden box that holds earplugs and change. And a porcupine ceramic thing from the '50s that was my mother's. It's filled with quarters for the washing machine.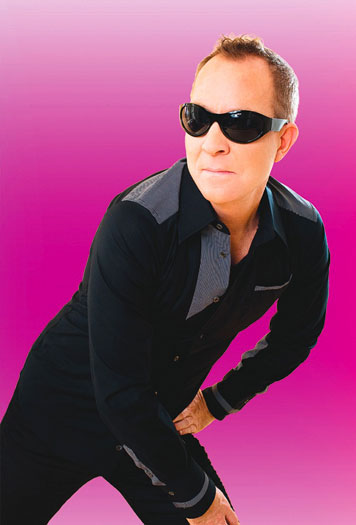 Fred Schneider
What do you keep in the nightstand drawer?
Just a ton of stuff. I couldn't even tell you all the stuff I have in the drawer.
What was your favorite cartoon as a kid?
Beany and Cecil. It was so surreal and silly. They would always have a map with nutty things on it.
If you could be any superhero, who would you choose to be?
God. To take control of the planet and fix it.
What do you think needs to be done to fix the planet?
All these right-wingers need to shut up and common sense needs to start prevailing.
Do you think that God could actually handle changing their minds, since they seem to be serving in the name of God?
Oh, I think God's moved on to another planet. He gave up on this one. He's in another galaxy now.
Who's your greatest influence?
It'd be a tossup between Dr. Seuss, Charles Knight, who painted my favorite dinosaur paintings and books, and Soupy Sales.
What's your greatest fear?
Becoming incapacitated.
Pick three people, living or dead, who you think would make the most fascinating dinner guests imaginable.
Paul Sereno, a paleontologist who has made some amazing discoveries, Soupy Sales, back in the day, and I'll bet Dinah Washington would be a hoot.
What would you serve them?
A good vegetarian meal. Catered by a good vegetarian cook.
How would you describe you dream guy?
It's my partner.
Define good in bed.
Just going for it and having a great time.
Who should star in a movie about your life?
Oh, lord. It would have to be somebody really silly. Wanda Sykes.
Who gets on your nerves?
Mitt Romney and right-wingers. Republicans.
What is your biggest turn on?
The whole package.
What's your biggest turn off?
Right-wingers.
What's something you've never tried but you've always wanted to do?
Well, fly to Mars, but now that it looks dead as a doornail, I don't think I'd want to go there. So just a quick tour of our solar system. Still, I guess after a while if you've seen one asteroid, you've seen them all.
Name something you've tried that you never want to do again?
It was in a Burmese restaurant, and they were called stink beans. And they really tasted as bad as their name.
Who's your favorite musical artist?
Now? That's a tough one. I like Hot Chip and Chromeo and Simian Mobile Disco, but as far as all-time favorites, I don't know if they'd qualify.
So who is all-time?
Martha and the Vandellas.
What position do you play in the big baseball game of life?
The comic announcer.
What's your favorite food to splurge with?
Even though it's fattening, a really good sourdough rye with olive oil on it.
What's your favorite season of the year?
Well I work every summer touring, so I'll say fall.
What kind of animal would you be?
A rhinoceros. They're prehistoric-looking and just interesting.
What kind of plant or vegetable would you be?
Well, some people already think I'm a vegetable.
What kind of car would you be?
A DeSoto Firedome. Back when I was a kid you'd say, ''When I grow up, I'm gonna smoke Oasis cigarettes, drive a DeSoto, have eight kids.'' [Dryly.] Ha, ha.
What are you most grateful for?
The fact that I have a career. [Laughs.] Considering that I dropped out of college and I have no skills.
State your life philosophy in 10 words or less.
Be a good person. Enjoy life. Leave a small footprint.
The B-52s play Wolf Trap, in Vienna, Va. on Thursday, July 19, at 8 p.m. Also on the bill: Squeeze. Tickets are $25 to $42. Call 703-255-1900 or visit wolftrap.org

---