Cinematic Details
Patrick Watson is no one-man, chamber-rock band
Patrick Watson creates what you could call ''chamber-rock music'' – something like a more expansive and happier Antony & The Johnsons, or a dreamier, more instrumental Rufus Wainwright.
But make no mistake: Patrick Watson is no one-man band.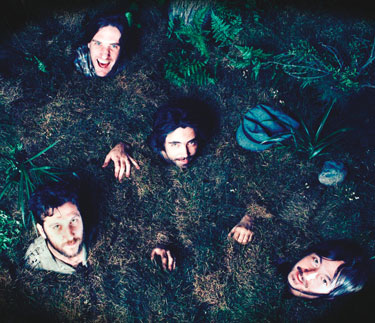 Patrick Watson
(Photo by BrigitteHenry)
''When we started, we didn't think we were going to be a band. We were [just] doing a multimedia project,'' explains Watson, who studied classical and jazz composition in his home base of Montreal and started his career composing incidental music for film and TV. He had initially corralled guitarist Simon Angell, percussionist Robbie Kuster and bassist Mishka Stein to play the music he recorded to accompany a photography book. They got along so well they never stopped performing. ''It happened by accident,'' the singer says. ''By the time we realized we were a band, people knew us through my name.'' And so the name stuck.
Watson, born in California, the son of a U.S. Air Force pilot, started singing in a choir when he was only 7, after the family had moved to Quebec. These days, in his eponymous band, he often sings in that same boy's voice. ''I don't know when the falsetto voice came,'' he says. ''I don't even look at it as falsetto. I never really think about it when I sing.''
It's certainly a beautiful voice however you think of it, whether in a high or low register. And the band's new Adventures In Your Own Backyard offers awe-inspiring, cinematic tunes, intended to help listeners appreciate the here-and-now details of their lives. ''Started as lovers, don't know where it's gonna end,'' Watson and a choir sing in his falsetto on the grand ''Into Giants,'' as the music focuses on the beauty of love, not the anxiety about the future. Watson is the principal lyricist and melodist, but the four collaborate on the music.
Watson expects the band's next album will incorporate multimedia, such as ''integrated video with music – not music videos necessarily, [but] almost documentary-esque studio music.''
Certainly it will still reflect the singer's eclectic tastes, including his classical training, early film work, folk influences such as Pete Seeger and Crosby, Stills & Nash, and experimental rockers Radiohead, Bjork and Grizzly Bear.
''I like to take little pieces of puzzles from all different styles of music and mix them,'' he says.
Patrick Watson performs Wednesday, Sept. 5, at 7 p.m., at Nightclub 9:30, 815 V St. NW. Tickets are $15. Call 202-265-0930 or visit 930.com.

---