(Page 3 of 3)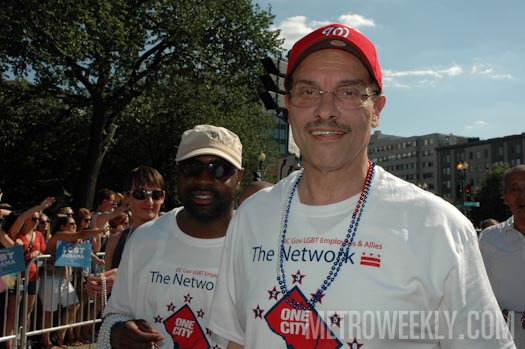 MW: Another front line in the fight against HIV in D.C. is The DC Center, particularly with regard to gay men. I was speaking with Executive Director David Mariner recently about their failed bid to secure a permanent space in the D.C.-owned Reeves Center. What can you do to help?
GRAY: I've been to the center. I know David well. I've been to meetings at the center with him and members of his board. And I know they did make an effort to get space in the Reeves Center. I think they got outbid by a restaurant. What I will do is ask Jeff [Richardson, director of the Mayor's Office of GLBT Affairs] if he will work with them and work with [Department of General Services] and try to identify a space for which they would be interested in the District of Columbia. I know they want to be as centrally located as they can. They want to be near Metro. And we'll make every effort we can. I know where they are now they've not had a lease.
MW: It's tenuous.
GRAY: Very tenuous.
MW: Displaced by development, the center has sort of been a victim of the city's success.
GRAY: Going back to Congressman Chaffetz, the city is the fastest growing state in the nation, 2.7 percent is our rate of growth, a thousand new people every month. One needs to look at those factors when you evaluate the health and vitality of the city.
MW: Because we've touched upon statehood – something you've been arrested for – how might gaining statehood help, if at all, in the fight against HIV/AIDS?
GRAY: It would give us more leverage. As a state, we'd have two senators, a voting House of Representatives member. It would give us a stronger platform to promote those things that are important to us. Obviously, we wouldn't have to worry about our needle-exchange programs.
MW: How do you want D.C. residents to get involved with the International AIDS Conference, if at all?
GRAY: I think they should. I'd love to see them come to some of the events, virtually all of which will be conducted at the Washington Convention Center. And I want them to take the opportunity to learn more about what we're doing in the District of Columbia. And wouldn't it be a great opportunity to promote getting tested during that week? Wouldn't it be great this year to top the 122,000 that we had tested last year? Imagine if we said, ''This is going to be test week,'' and every one of us will get tested during this week in the District of Columbia. It would be a great impetus to make that happen.
MW: What sort of welcome do you want to extend to all those coming to the District for the conference?
GRAY: I want them to know that we deserve autonomy and deserve to be treated with the same respect as anybody else. I had a meeting yesterday with the British ambassador to the United States, and he commented on the irony of how America separated itself from Great Britain and the fact that here we are in the city that has exactly the same issue, taxation without representation. It's a great opportunity for us to educate the world about the injustices that go on here, and the fact that those injustices have an impact on every issue that we address. If we had autonomy, if we had statehood, we wouldn't be threatened with social riders on our budget every year. We'd approve our own budget. Needle-exchange programs now are commonplace across this country. Why should we have a specter of losing our needle-exchange program every year when the health effectiveness of needle-exchange programs has been demonstrated over and over and over again? We went through a period of years where we had to have a program that was privately funded, Prevention Works!, in the city to be able to operate what on its face makes absolutely good sense. I want people to understand the difficult hurdles we've had to surmount in order to do things that make perfect sense – that make good health sense, social policy sense, and that make good human sense.
MW: I often feel that many of those opposed to D.C. statehood are not as worried about the city's likely Democratic seats as they are about a jurisdiction as progressive as the District gaining prominence in any way.
GRAY: We could be accorded budget autonomy in isolation of statehood. We could be accorded legislative autonomy, where we pass our own laws, and still not necessarily have to be a state. Those who are fearful of increasing power or authority because of statehood, how do they explain that we still don't have legislative or budget autonomy? There's no acceptable explanation for that.
Those who are opposed to it, I'd like to hear their explanation for how they defend the democracy that defines America, but won't support democracy in our own nation's capital. People think it's ludicrous that we have a nation's capital that can't even participate, is not a franchise in our own national legislative body. It's rare. And in the democratic world, we're the only nation's capital that doesn't have a vote in our national legislative body.
MW: How will you be participating in AIDS 2012?
GRAY: As much as I possibly can. Certainly, I'm going to the major events. I'm going to get back with our folks in the Health Department who will be doing presentations around what we are doing and I'd like to be a part of that, because I think it's one thing to present a scientific presentation, but another thing to do the scientific aspect [while showing] that the leadership of the city is also committed to the directions that we're pursuing.
MW: Dr. Hawkins wanted me to ask you about a request for you to establish an AIDS-memorial commission.
GRAY: We have nothing to say about it at this point. We'll see whether there's an announcement to be made at the conference, but we're not at that stage yet.
MW: Is there anything you'd care to add about HIV/AIDS or the International AIDS Conference?
GRAY: I'm proud to be a part of the city that has really worked hard to address this issue. I think some of the best practices that exist nationally have had their start here in Washington. I'm really proud to be part of a city that came from an almost chaotic approach, a panic-driven approach to this condition, to now having a very organized approach, to having some of the world's leaders, frankly. Greg Pappas, who runs HASTA (D.C. HIV/AIDS, Hepatitis, STD and TB Administration), is internationally recognized as a leader on the issue.
It's wonderful to be able to say that we have commitments to health care coverage that will ensure that people who may be HIV-positive or who have AIDS will have health care insurance, can be covered and receive the care that they need. And, frankly, 20 years after we talked in terms of AIDS being a death sentence, we don't talk that way anymore. That day is over. It really is amazing, the progress that we have made.
MW: For people coming to D.C. for AIDS 2012 from parts of the world who may not have achieved the same level of progress, should they take hope from looking at the District?
GRAY: Yes. I hope that they will spend some time with us in our city to see how we got here. The advocacy piece of this has to be addressed, too. There are some very vocal, vigorous and effective advocates in this city around the issue of HIV and AIDS. And they certainly have been the impetus in making sure that the public sector does its job.
For more information about the XIX International AIDS Conference, running July 22 to 27 at the Walter E. Washington Convention Center, 801 Mount Vernon Place NW, visit aids2012.org. During the conference, visit MetroWeekly.com for regular coverage.