Mayor Vincent Gray reflects on the International AIDS Conference
Special Issue: AIDS 2012
In 2008, during the XVII International AIDS Conference, held in Mexico City, one speaker helped set the tone. Ron MacInnis, a D.C. local, who was working as the director of policy and programs at the International AIDS Society (IAS), organizer of this global conference series, told an audience, ''It's blatantly discriminatory to single out people with HIV. It's stupid and ridiculous. These restrictions are really impeding our ability to control HIV and AIDS.''
Just what was MacInnis calling stupid and ridiculous? A decades-old ban that prevented HIV-positive people from legally entering the U.S. without a special waiver. At about the same time, the George W. Bush administration had begun work to remove the ban, finally removed by President Obama in 2010. With the ban on its way out, the IAS announced in 2009 that it would be returning to the U.S. – for the first time since 1990 – setting the stage for the XIX International AIDS Conference, aka AIDS 2012, to make a D.C return (held here in 1987) July 22 to 27, under the theme ''Turning the Tide Together.''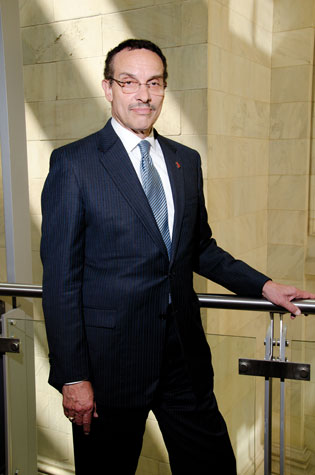 Mayor Vincent Gray
(Photo by Julian Vankim)
Organizers are expecting about 20,000 delegates from around the globe to convene on the Walter E. Washington Convention Center. ''It is a chance to assess where we are, evaluate recent scientific developments and lessons learnt, and collectively chart a course forward,'' reads the AIDS 2012 overview. While that might sound pretty straightforward, this is not evaluating and strategizing about building a new rocket or some similarly esoteric endeavor. It will be heavy on science, but it will be the science of saving lives. It will be the science learned in a pandemic fight that has left millions dead and affects millions more.
No one knows that better than Washingtonians. Through the years, District residents – with the nation's highest infection rates – could witness the virus's lethality, though the gay community, through the African-American community, and beyond. Washingtonians had front-row seats for protests and die-ins and the late Sen. Jesse Helms's house wrapped in a giant condom.
Locals also were on the front lines of progress.
''The annual report just came out,'' says Pat Hawkins, who holds a doctorate degree in counseling and counselor education, whose work dates back to the very beginning of the pandemic. The report she cites is the 2011 District of Columbia HIV/AIDS, Hepatitis, STD and TB Epidemiology Annual Report. ''Looking at that data, it's just like day and night in terms of what we've done. Cutting back on late testers, getting people into care sooner.''
Hawkins also sits on D.C. Mayor Vincent Gray's Host Committee for the XIX International AIDS Conference.
''I give him a tremendous amount of credit,'' Hawkins says of Gray with regard to the fight against HIV/AIDS, both of them entering that fight at roughly the same time. ''He has been the first mayor we've had who's actually spent part of his career working on HIV/AIDS. He was responsible for the AIDS initiatives when he was director of the Department of Human Services. I think he has always kept that sense of urgency, that sense of commitment about AIDS.''
Ahead of AIDS 2012, earlier in July Mayor Gray took some time to talk about his experience with the HIV/AIDS epidemic in the District. High-level resignations entered the conversation, though no discussion of calls for his own – that particular controversy, involving workers in his 2010 mayoral campaign, was still a week away. As AIDS 2012 opens, it's a week behind him. Further back is his time as the director of the city's Department of Human Services, as the executive director of the faith-based Covenant House shelter for homeless youth, and as a City Council member and chairman. For now, all eyes are looking forward to the XIX International AIDS Conference.
METRO WEEKLY: Personally, professionally, how have you seen the HIV/AIDS epidemic evolve?
MAYOR VINCENT GRAY: Given the number of years that I've been involved with this issue, we've seen it evolve from a disorganized approach, almost a panic type of approach, to one that's much more organized, one that has much more focus not only on treatment, but also on improving the quality of life for HIV-positive people, for people with full-blown AIDS. And really organizing the government's resources better than they have been in the past. When I was the director of [the D.C. Department of Human Services], we worked with the Commission on Public Health to create the first five-year strategic plan to address this issue.
MW: Do you recall the year?
GRAY: I think it was 1992. It was a long time ago.
MW: When the house was on fire.
GRAY: Absolutely. We were already seeing substantial increases in levels of infection here in the city. Treatment was sporadic and unorganized. So, to see where we are today, 20 years later, is personally gratifying for me – but also recognizing that we've still got a long way to go. We're doing a better job of treating, but we can't rest until we get to the point where we have a cure or we have prevention programs that are really stopping it.
MW: Dr. Pat Hawkins, who really gives you her stamp of approval–
GRAY: That's not easy to achieve, either. [Laughs.]
MW: She told me a little about you and HIV/AIDS activist Hank Carde, who had been on a hunger strike. What happened?
GRAY: Hank was phenomenal. He was the advocate's advocate. What he was concerned about was he felt the resources that we had begun to acquire through federal grants were not being translated into actions quickly enough. And I think he was right. There was a lot of bureaucracy during those days. He was sitting out in front of this building, and someone came and told me. I said, ''You know, I'm not going to ask somebody to go do this. I'm going to go down there myself, because at the end of the day he's going to have to feel like he's talking to someone who has some capacity to make changes.'' So we literally sat out in front of this building in the rain and I said, ''Look, Hank, you've got me, everything I can possibly do to make this work. Frankly, we need you. We need your advocacy. We need your commitment. We need your firsthand experience with this epidemic, somebody's who's HIV-positive.'' I think he had full-blown AIDS by that time. We sat out there for a long time. Finally – I'll never forget that as long as I live – finally he agreed to come in. And I made a commitment to him that we would get those grant dollars out into the community, and we did. He was quite an advocate. I followed Hank, interacted with Hank, quite extensively in the aftermath.
MW: This happened when you were a councilmember?
GRAY: No, I was director of DHS. As a matter of fact, one of the awards I got that really means a lot to me, still, is from Whitman-Walker Clinic [now Whitman-Walker Health]. I got the award for Public Employee of the Year, which meant a lot to me, because this was such a difficult problem we were addressing, and many people in public service were very suspect in terms of their commitment to solving this issue. To get that award was huge to me. Still is today.
MW: Living in D.C. as long as you have, it would've been hard not to lose someone you knew personally.
GRAY: Melvin Boozer. Melvin actually was a candidate for vice-president of the United States at one time. We went to the same Dunbar High School. He was a brilliant guy, went to Dartmouth, was very much an activist.
MW: When you were at Covenant House, working with homeless youth, were there many LGBT youth? Were there many HIV-positive youth?
GRAY: Yeah. We had an open-door policy. We weren't going to turn anyone away. What a hypocritical thing that would've been to do. We provided shelter, transitional living, education, vocational training – and everybody was treated equal. It didn't matter whether you were HIV-positive or not. Of course, for youth we knew had a problem, we made sure they were connected with health care. We'd try to get them connected to the services of Whitman-Walker and the others that existed.
MW: Looking at the latest annual HIV/AIDS report, there are good numbers, but always progress to be made. What do we need for that? Less stigma? Is that why you get publicly tested for HIV?
GRAY: You've got to get out there and make the statement. I do that every year. With the increasing sophistication of testing, you get the results in a matter of minutes.
MW: What else do we need to fight HIV in D.C?
GRAY: We've got to continue with what I call ''the big four.'' Education, testing, counseling, and then for those who may be HIV-positive or have AIDS, we've got to continue treatment.
I think we have a great team of people working in our Health Department now, led by Dr. [Mohammad] Akhter. One of the things we've done, too, is within our own health care system we have broken down this perception that AIDS or HIV is served over there. It now is a much more mainstream issue. You see the greater integration with other efforts in the health infrastructure. The commission that I appointed after becoming mayor really was working to do that, to try to do a couple of things: treatment on demand, which gets people quickly served; and then treating the whole person. You don't just treat AIDS, and then treat everything else somewhere else. A much more integrated approach is very important. In fact, one of the things that I want to see is that the day will come when we don't have ''AIDS organizations,'' that it becomes an inherent part of our health care approach so that anywhere you go [for health care], anybody can expect to be served with dignity and effectiveness.
MW: When it comes to health care, would you say D.C. is leading the way?
GRAY: I don't think there's any question. When you look at the statistics, which have been looked at extensively in the wake of the litigation, the Supreme Court's view of the Affordable Care Act, we're one of the top states, if you will, in providing care, in providing coverage – almost 95 percent of our adults have coverage now, and 97 percent of our children. We are leading in terms of children who are covered, and we're second in the nation in terms of adults. Now that's not the answer, but it does open the door to be able to receive care. Of course, by 2014, we should be at a stage where there should be no one who doesn't have access to health insurance. But then we've got to make sure there's access. It's one thing to have health care insurance; it's another to have services that are reasonably, equally available to you across the city.
MW: As a resident, one thing that frightens me about services in the District is congressional interference. The Washington Post – shortly after former Council Chairman Kwame Brown (D) resigned, I believe – quoted Rep. Jason Chaffetz (R-Utah), a member of the House committee with D.C. oversight, saying, ''City leaders keep arguing for more autonomy, but it's hard to get there when so many keep getting indicted.''
GRAY: That's ridiculous. It's a nonsensical non sequitur.
MW: He's sort of the antithesis of everything D.C. residents vote for. So, when Chaffetz says something like that, I think of Congress blocking needle exchange, blocking for years my own domestic partnership. How do you respond to a statement like that?
GRAY: I just did. It's a nonsensical non sequitur. And it's ridiculous. First of all, if you look at the Congress itself, how many members have left the Congress [due to corruption]? They didn't suggest the Congress should lose some of its autonomy.
If you look at the issues we're talking about now, the District is a national leader. Yes, we do have an epidemic. And, frankly, we're going to live with epidemic-level statistics for a while, one of the principle reasons being we've found ways to extend life. People will live with this condition for a very long time. That needs to be understood. The data need to be looked at in terms of whether we're stemming new incidences of people being tested as positive, having full-blown AIDS. We haven't had a case of pediatric AIDS since 2009; 122,000 people have been tested – the most ever in the history of this city; 4-5 million condoms have been distributed across the city. When you look at the transmissions through IV drug use, down from, like, 150 a few years ago to, like, in the 40s…. If he really was serious about this, he would look at the data and not make ridiculous statements like that.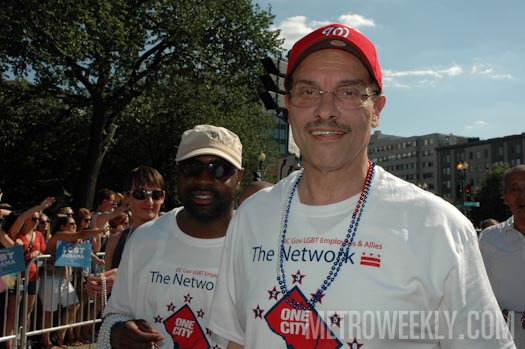 MW: Another front line in the fight against HIV in D.C. is The DC Center, particularly with regard to gay men. I was speaking with Executive Director David Mariner recently about their failed bid to secure a permanent space in the D.C.-owned Reeves Center. What can you do to help?
GRAY: I've been to the center. I know David well. I've been to meetings at the center with him and members of his board. And I know they did make an effort to get space in the Reeves Center. I think they got outbid by a restaurant. What I will do is ask Jeff [Richardson, director of the Mayor's Office of GLBT Affairs] if he will work with them and work with [Department of General Services] and try to identify a space for which they would be interested in the District of Columbia. I know they want to be as centrally located as they can. They want to be near Metro. And we'll make every effort we can. I know where they are now they've not had a lease.
MW: It's tenuous.
GRAY: Very tenuous.
MW: Displaced by development, the center has sort of been a victim of the city's success.
GRAY: Going back to Congressman Chaffetz, the city is the fastest growing state in the nation, 2.7 percent is our rate of growth, a thousand new people every month. One needs to look at those factors when you evaluate the health and vitality of the city.
MW: Because we've touched upon statehood – something you've been arrested for – how might gaining statehood help, if at all, in the fight against HIV/AIDS?
GRAY: It would give us more leverage. As a state, we'd have two senators, a voting House of Representatives member. It would give us a stronger platform to promote those things that are important to us. Obviously, we wouldn't have to worry about our needle-exchange programs.
MW: How do you want D.C. residents to get involved with the International AIDS Conference, if at all?
GRAY: I think they should. I'd love to see them come to some of the events, virtually all of which will be conducted at the Washington Convention Center. And I want them to take the opportunity to learn more about what we're doing in the District of Columbia. And wouldn't it be a great opportunity to promote getting tested during that week? Wouldn't it be great this year to top the 122,000 that we had tested last year? Imagine if we said, ''This is going to be test week,'' and every one of us will get tested during this week in the District of Columbia. It would be a great impetus to make that happen.
MW: What sort of welcome do you want to extend to all those coming to the District for the conference?
GRAY: I want them to know that we deserve autonomy and deserve to be treated with the same respect as anybody else. I had a meeting yesterday with the British ambassador to the United States, and he commented on the irony of how America separated itself from Great Britain and the fact that here we are in the city that has exactly the same issue, taxation without representation. It's a great opportunity for us to educate the world about the injustices that go on here, and the fact that those injustices have an impact on every issue that we address. If we had autonomy, if we had statehood, we wouldn't be threatened with social riders on our budget every year. We'd approve our own budget. Needle-exchange programs now are commonplace across this country. Why should we have a specter of losing our needle-exchange program every year when the health effectiveness of needle-exchange programs has been demonstrated over and over and over again? We went through a period of years where we had to have a program that was privately funded, Prevention Works!, in the city to be able to operate what on its face makes absolutely good sense. I want people to understand the difficult hurdles we've had to surmount in order to do things that make perfect sense – that make good health sense, social policy sense, and that make good human sense.
MW: I often feel that many of those opposed to D.C. statehood are not as worried about the city's likely Democratic seats as they are about a jurisdiction as progressive as the District gaining prominence in any way.
GRAY: We could be accorded budget autonomy in isolation of statehood. We could be accorded legislative autonomy, where we pass our own laws, and still not necessarily have to be a state. Those who are fearful of increasing power or authority because of statehood, how do they explain that we still don't have legislative or budget autonomy? There's no acceptable explanation for that.
Those who are opposed to it, I'd like to hear their explanation for how they defend the democracy that defines America, but won't support democracy in our own nation's capital. People think it's ludicrous that we have a nation's capital that can't even participate, is not a franchise in our own national legislative body. It's rare. And in the democratic world, we're the only nation's capital that doesn't have a vote in our national legislative body.
MW: How will you be participating in AIDS 2012?
GRAY: As much as I possibly can. Certainly, I'm going to the major events. I'm going to get back with our folks in the Health Department who will be doing presentations around what we are doing and I'd like to be a part of that, because I think it's one thing to present a scientific presentation, but another thing to do the scientific aspect [while showing] that the leadership of the city is also committed to the directions that we're pursuing.
MW: Dr. Hawkins wanted me to ask you about a request for you to establish an AIDS-memorial commission.
GRAY: We have nothing to say about it at this point. We'll see whether there's an announcement to be made at the conference, but we're not at that stage yet.
MW: Is there anything you'd care to add about HIV/AIDS or the International AIDS Conference?
GRAY: I'm proud to be a part of the city that has really worked hard to address this issue. I think some of the best practices that exist nationally have had their start here in Washington. I'm really proud to be part of a city that came from an almost chaotic approach, a panic-driven approach to this condition, to now having a very organized approach, to having some of the world's leaders, frankly. Greg Pappas, who runs HASTA (D.C. HIV/AIDS, Hepatitis, STD and TB Administration), is internationally recognized as a leader on the issue.
It's wonderful to be able to say that we have commitments to health care coverage that will ensure that people who may be HIV-positive or who have AIDS will have health care insurance, can be covered and receive the care that they need. And, frankly, 20 years after we talked in terms of AIDS being a death sentence, we don't talk that way anymore. That day is over. It really is amazing, the progress that we have made.
MW: For people coming to D.C. for AIDS 2012 from parts of the world who may not have achieved the same level of progress, should they take hope from looking at the District?
GRAY: Yes. I hope that they will spend some time with us in our city to see how we got here. The advocacy piece of this has to be addressed, too. There are some very vocal, vigorous and effective advocates in this city around the issue of HIV and AIDS. And they certainly have been the impetus in making sure that the public sector does its job.
For more information about the XIX International AIDS Conference, running July 22 to 27 at the Walter E. Washington Convention Center, 801 Mount Vernon Place NW, visit aids2012.org. During the conference, visit MetroWeekly.com for regular coverage.
---