(Page 4 of 4)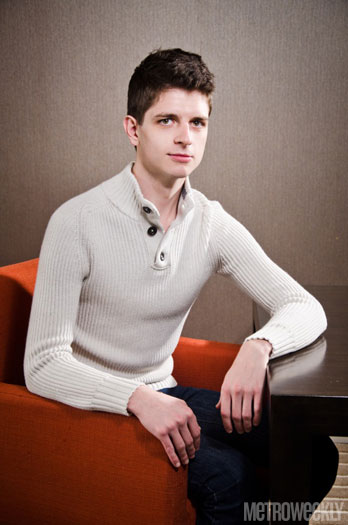 Timothy Warguleski
What initially started as a simple Facebook message to friends, morphed into Tim's restaurant co-workers recruiting random customers to vote for him. Then several of those customers encouraged their friends to vote as well. Several of his friends and family back home in rural Northwestern Virginia also drafted co-workers and acquaintances to the cause.
''It was a really good feeling to get all that camaraderie behind me,'' he says. ''Once the word gets out [that I made the top three], all of Winchester – and Markham and Marshall and Upperville, Va. – might just come flooding to Town on Friday. I'm not kidding.
''I don't know whether you know these towns, but they're small country places – so when people are legitimately concerned about that gay guy they met that one time, possibly the only gay person they've ever met…. I'm excited.''
Meet Tim at Metro Weekly's 2012 Coverboy of the Year Party at Town, 2009 8th St. NW, Friday, Dec. 14, at 11 p.m.
Second Runner-Up Prize Package
· $175 Cash
· Arena Stage -- 2 Tickets to Good People
· Blowoff -- 2 Admissions to Event on Jan. 12 at the 9:30 Club
· CD/DVD Grab Bag -- Ladyhawke Anxiety, Missy Higgins The Ole Razzle Dazzle, Diamond Rings "I'm Just Me" single, P!nk "Blow Me One Last Kiss" single
· DC Eagle -- $25 in Drink Tickets, Anniversary Coffee Mug
· Gay Men's Chorus -- 2 Tickets to Xanadu (3/15)
· Hollywood Tans DC -- 1 Free Week of Tanning in HT60 Booth
· HRC Store -- $25 Shopping Spree at D.C. Store
· JR.'s -- $25 in Drink Tickets
· Landmark Theaters - 2 Passes
· L'Enfant Café -- $50 Gift Certificate
· Mova -- $25 Bar Tab
· Number Nine -- $25 Bar Tab
· SKIN -- $100 of Professional Skin Care Products
· State Theatre -- Merchandise Pack
· Town Danceboutique -- $50 in Drink Tickets Good for Fridays or Saturdays
· Ziegfeld's/Secrets -- $50 Cash
Our thanks to all those nightspots, restaurants, businesses and performing arts venues who graciously provided prizes to this year's Coverboy winners. Certain restrictions may apply to some prizes. Prizes are non-transferable.