Pride Surprise
Capital Pride kicks off 2013 with an unveiling
After you'd gotten your dose of Deborah Cox, once the beer garden ran dry, it might've seemed as though Capital Pride 2012 was packing up and going home. It's a nice thought, but not the case. Pulling off one of Washington's largest annual events means the folks behind Pride are short on downtime.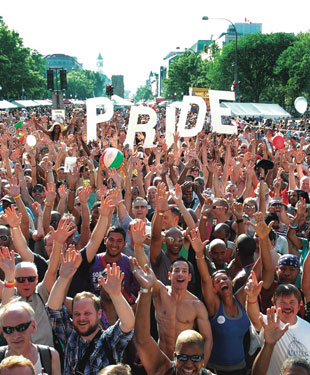 Pride Festival 2011
(Photo by Randy Shulman / Metro Weekly)
''Since the end of the 2012 celebration in June, we've been meeting monthly,'' confirms Ryan Bos, Capital Pride's executive director. ''We never stopped.''
While all that work paves the way to all that fun in late spring, it also leads to new ideas – one of which makes its debut Thursday, Jan. 24.
''We will unveil the theme of the 2013 Pride celebration,'' says Bos of the new January ''Pride Reveal'' event, granting that some folks may have already guessed the theme. Still, who doesn't appreciate an excuse for a party? And this one is pretty swanky, providing a beautiful view from atop the W Washington D.C., in the hotel's P.O.V. venue.
High above the District, along with the unveiling of the 2013 Capital Pride theme, Bos promises a full evening of festivities, with other news of what's in store for this year's event, culminating in the Capital Pride Parade, Saturday, June 8, and the Festival, Sunday, June 9.
''It's going to be a combination of things – cocktails, mix and mingle, hors d'oeuvres – and our Pride Partners will have the opportunity to highlight what they have in store.''
Just as Washington has come to count on Capital Pride's June events, Bos says the January unveiling may become a permanent fixture of the annual calendar.
''This is completely new,'' he says. ''Our hope for the event is to get people excited for the upcoming year.'' Quite likely for years to come. '
Join Capital Pride Thursday, Jan. 24, from 6 to 9 p.m. at P.O.V. at the W Washington D.C., 515 15th St. NW. For more information, call 202-719-5304 or visit capitalpride.org.
---