Blown Up
Rich Morel & Bob Mould celebrate a decade of beer, bears and Blowoff beats
"We are like two peas in a pod."
Bob Mould wrote these words of his friend and colleague, Rich Morel, in his 2011 autobiography, See a Little Light. ''Rich and I hit it off right away, talking so easily and enthusiastically about gear, music and life.''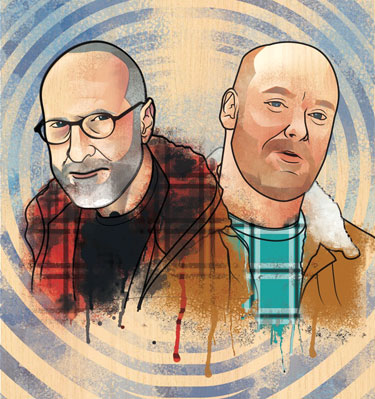 Bob Mould and Rich Morel
(Photo by Illustration by Linas Garsys)
The two were introduced in early 2002, at a party in New York celebrating the release of Queen of the Highway, the disco-rock record from Morel's eponymous band. Partly as a result of their strong, instant connection, Mould would soon resettle in D.C. and start working on music with Morel. Less than a year later, the two started Blowoff, a name that nods to Mould's earlier career as a writer for pro-wrestling but has since taken on a meaning all its own. The party was simply intended as a creative and social outlet for the duo, nothing more, yet it has become a nationally known event that attracts all kinds of people, but especially bears. The husky, hirsute types often dance shirtless to alternating sets of house music and indie-rock by Mould and Morel, who essentially taught themselves how to DJ for the party, which Mould playfully calls a ''gay bear disco.''
Besides its no-attitude vibe and slightly off-the-beaten-path music, Blowoff also stands out for its live visuals and videos, courtesy of Nick Lopata, and for its animated drawings and posters of manly, muscular men by Linas Garsys. ''It was very much like a '40s Russian propaganda poster,'' Morel says of Garsys's artwork. ''They were absolutely gorgeous, right from the very first one up to this day.''
Since 2006, the party has touched down in cities across the country, from Atlanta to Dallas to San Francisco, where the 52-year-old Mould has lived for the past few years. This year alone the duo will take Blowoff to New York, Chicago and Provincetown, Mass. But D.C. remains home. ''That's been a great home,'' says Mould of the 9:30 Club. ''Everybody over at that club has been good to us all these years.''
All that Blowoff travel has to be juggled with the demands of the musicians' solo careers, which are each arguably as hot now as they have ever been. Over the past year, Mould, the lead singer of seminal '80s punk band Hüsker Dü as well as popular '90s post-punk group Sugar, has taken network television by storm in support of last year's album Silver Age. He's performed on David Letterman's and Conan O'Brien's late-night talk shows, and will add Jimmy Fallon's show to his roster later this month. (Also, his song ''Dog on Fire,'' performed by They Might Be Giants, is the theme song to The Daily Show with Jon Stewart.) Mould is also finalizing plans to once again hit the summer festival circuits in the U.S. and Europe.
Morel, meanwhile, is gearing up to tour with his new rock band Deathfix in support of a strong, self-titled debut, due Feb. 26 on storied D.C. punk label Dischord. Among other dance remix and production work, Morel, 50, who has produced with the old D.C. dance dynamo Deep Dish a decade ago and Cyndi Lauper in recent years, has also returned to the top of Billboard's Dance/Club Play Songs chart with his Pink Noise remix of Kerli's ''The Lucky Ones.'' And in addition to Blowoff, Morel throws and spins for another semi-regular D.C. and Baltimore party called Hot Sauce.
Last week, just a few days after the actual 10th anniversary of Blowoff – Jan. 26, 2003 – the two reflected on the party's success and its impact on their lives, and gay and club culture in general.
METRO WEEKLY: You didn't set out to create a behemoth when you started Blowoff at Velvet Lounge in 2003.
RICH MOREL: Bob presented the idea of DJ'ing a party event in D.C. Which was a good idea, because at that point I was really a studio rat. I was always just working on music. I lived in this town for 10 years and really didn't know anybody.
BOB MOULD: I remember saying to Rich, ''I don't know anybody here. It'd be nice to meet people and get out and play music.'' I remember the first Blowoff. We went to a party-rental place and got folding chairs. Are people going to want to sit? Are people going to want to dance? What are we doing? We had laptops, we had a DJ rig. I had never DJ'ed – beat-matching DJ'ed – that whole side of things is still pretty new to me. I was a DJ at a college radio station, but DJ'ing rock is really different from DJ'ing house and electronic music. I remember those first six months was a lot of just learning how to do this thing, and what kind of music to play. We were just basically throwing this party with no goal in mind other than to have a party and maybe meet people, who might be into the kind of music that we liked, whether it was electronic or indie-rock.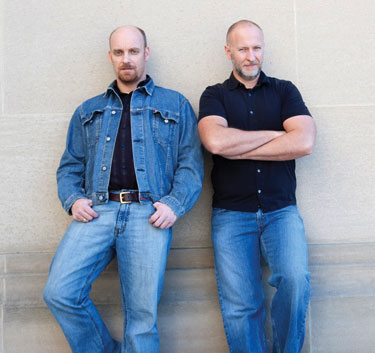 Rich Morel and Bob Mould
(Photo by Todd Franson)
MW: How did you pick the Velvet Lounge to launch the party?
MOULD: Rich knew the guy who booked Velvet, because he had played there with Morel the band. So that's the way we got to Velvet.
MOREL: It seemed like a good-sized room to do that kind of event. I don't know why we chose Sunday night, but we started on Sunday nights. And it worked. It seemed to fit, and it was a lot of fun.
MOULD: We did six events at Velvet Lounge. We started the last January Sunday night in '03, and then we did January through June. And then, remember we had that thing in July of '03, we had built everything up, and were starting to get press, and then the Velvet Lounge got closed down the night before on a health violation? We made emergency fliers, and had friends standing in front of the Velvet Lounge, telling people who were getting out of taxis, ''Go to the 9:30 Club.'' We were downstairs in the Back Bar. We had called every club in town. We probably called 10 clubs, and I think it was Chad, one of the managers at the 9:30 Club at the time, who said, ''We can put you guys in the Back Bar, down in the basement.'' It's not very big. We had one of those portable party PAs.
MOREL: Actually, we hadn't reached out to Chad. He'd just heard because we had called every other club in town, and he called us. [Laughs.]
MW: And then you decided to stay put in the 9:30 Club Back Bar?
MOULD: After that emergency Blowoff, we came back in September after Labor Day. And then we started doing it weekly. And we did it every week for about a year, if I'm not mistaken.
MOREL: That was like a real learning experience. If you're doing something weekly, a DJ event, you really have to feed the music machine. So I was constantly listening to music. It affected things I was doing outside of Blowoff just because of the amount of music I was listening to in order to find music to play. And showing up every week and doing that was kind of crazy. We kind of really cut our teeth on it.
MOULD: Yeah, and that started to build a really good following. There was a core of maybe a hundred people that came – some came every week, some came once a month. And then they started bringing people.
MW: When did shirts start coming off?
MOULD: I think it was sometime that fall. It was almost like, ''Let's see how much we can get away with in here.'' It just sort of happened naturally. I remember people started getting a little looser and a little more into the party thing. It was really fun to watch that evolvement, to watch how things went. Again, when we started getting 100 people, and then 150 people, it was like, ''Wow, this is getting really big.'' And we never really had an eye on upstairs at this point.
MOREL: And also I think the capacity there was 40. So it was really packed, and it was like a really crazy house party. Because it's not a very big space, and we were doing a lot more people in there than I think was the capacity. Not to get anybody in trouble at this point.
MOULD: [Laughs.] Well, we were doing it in shifts.
MOREL: [Laughs.] Yeah, it was in shifts.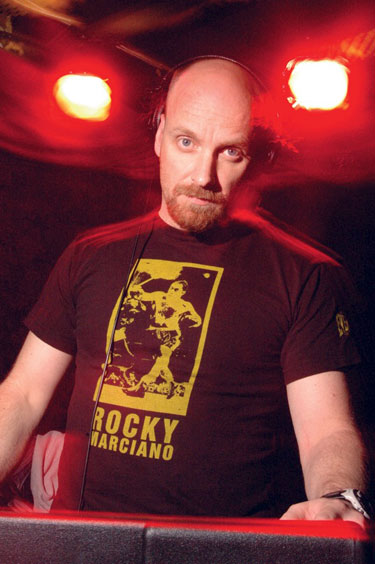 Rich Morel
(Photo by Todd Franson)
MW: A couple years into the party you started hitting major events on the gay calendar around the country.
MOULD: We went to Minneapolis for Pride weekend one year. We did a party at the Minneapolis Eagle. They had a big dance club in the basement. That was a big out-of-town trip. And I have a lot of history in Minneapolis. So it was funny for me personally to be going back to a town where I learned how to play punk rock but came back as a gay DJ. It was sort of weird.
By this time we were up in the main room at the 9:30 Club. When we went upstairs, I suggested that we get this big screen and do rear projection, because it seemed like a very pro-wrestling kind of thing to do. Nick Lopata got involved. Nick was doing a lot of film and video stuff. He came on board. So we started renting that huge screen that we still use to this day. That was a big thing. I don't think that had been done that way in gay discos or the gay party world ever.
MOREL: We kept the DJ rig where it was, front and center, in front of the stage on the floor. And then that also closed the stage up immediately behind us as well, with the images and the visuals. It just gave the room a much tighter dynamic, and a more visual dynamic.
MOULD: And that's when it really turned big. We were getting close to a thousand people as it was, but I think when we brought the visuals in, that really took it to a different level. I think that's when people were like, ''Wow, we've never seen anything like this before. They're not showing porn.'' It's very artistic, it was very tasteful. It was all conversational as well.
It went from this circular dance party, to then people were watching the visuals, and they were watching us DJ. And then I think we had to start DJ'ing a little more aggressively maybe. It was more like we were performing as DJs.
MOREL: Which is now the standard for DJs.
MOULD: Yeah, now when you go to see Calvin Harris or whoever DJ, they're doing the same thing that we were doing.
MW: There are definitely people who go to Blowoff who prefer one style of music, or music mixed by one of you, over the other, whether it be Bob's penchant for indie-rock or Rich's progressive house base.
MOREL: Bob has said before, the beauty of the party is if you don't like the set you're hearing, it will change in an hour.
MW: Although you do have to pay attention to how the crowd is reacting.
MOULD: There's a balance to that. If you pay too much attention – if you drop, oh say, Madonna, and people go bonkers, then you're thinking, ''Oh wow, that's what they want to hear." There's a fine line between playing what people want to hear and playing what you want them to hear. I think there are ways to do both and still have a pretty credible set, and a good set list at the end of the night. Of course you want to feel the vibe of the room, but you also don't want to kowtow too terribly much to things. I like to think people come to listen to us because they trust our instincts with music.
MW: Have you heard stories of people meeting and dating as a result of Blowoff?
MOULD: Yes.
MOREL: Yes is the perfect answer!
MOULD: You get a lot of fun folks who show up at Blowoff. It would be hard not to have a good time, and possibly meet somebody. And then come back with them two months later.
MW: At the risk of getting too personal, both of you are in relationships, and both are with different partners than when you started Blowoff. Did either of you meet your current boyfriend at Blowoff?
MOREL: Yes, but a long time ago. It's a long story that's not worth getting into here, but yes.
MOULD: Mine would be a no, although my current partner did come to a Blowoff in 2003 as a friend. He was in town visiting me and my partner at the time. I knew him long before Blowoff started.
MOREL: [Laughs.] This party is getting way too confusing.
MOULD: [Laughs.] Yeah, and this is the part of the interview where it's always uncomfortable.
MW: Why do you think there's such a strong connection between Blowoff and bear culture, which have grown in leaps and bounds alongside each other?
MOREL: If you look at us, it sort of makes sense. It wasn't a pre-thought – it was just who we were, and who we were hanging with was just a natural evolution.
MW: Bob, in your book you do talk about the first time you went to DIK Bar, where you essentially discovered your bear identity. This was after Blowoff had already started.
MOULD: Oh, my God, that was a magical night. [Laughs.] It was my bear coming-out night!
MOREL: Are you talking about Bear Happy Hour at the Dupont Italian Kitchen?
MOULD: Yes! Oh, my gosh! Yeah, it was back in '04. I had heard about the bear thing, but it didn't really jump up on my radar until I had been single for a couple months and was a little more wide-eyed about gay life and gay culture and gay history in general. So yeah, that worked out real well for me personally. There's been bear culture for decades, there's been gay club culture for decades. But maybe that idea of a big dance night where you can take your shirts off, maybe that wasn't – I could be wrong – but maybe that wasn't part of the bear culture before Blowoff. Maybe that was reserved for the classic, stereotypical twink, or the guys with abs, who want to be in clubs to take their shirts off. I don't know. Does that sound like a possibility?
MOREL: That does actually sound about right. Especially if you're looking back when we were first starting out, the guys and the vibe of it. It wasn't conservative in a political sense, but it was a lot of guys who were coming to a club environment that probably hadn't before, because they didn't really like what was going on in the other clubs. And this was a club environment that they felt comfortable in, because of both the music and the crowd. It was a natural progression that people would start undressing.
MOULD: The more I think about it, I'm really proud of the more artistic approach that we brought to the culture, but if anything is to be remembered about the first 10 years about what Blowoff is, it's this idea that we're just coming up with now: It really freed up a lot of guys who were maybe self-conscious and didn't fit in. It freed them up to have that experience that they saw and maybe weren't having before.
MOREL: I think the music played a lot into it too, because we tapped into a lot of guys who really dug indie-rock and grew up on indie-rock. They liked pop music as much as anybody, but they also had this common bond over rock. So the combination of all of that, with the bear body image, just happened.
MW: Let's talk about your individual music careers. Bob, let's start with you. I know you made your debut on Letterman last year. Had you done other nighttime TV talk shows before that?
MOULD: Hüsker Dü was on Joan Rivers back in '87. I was on MTV pretty regularly '92, '93, '94 with Sugar. But as far as performing on network TV, not a whole lot.
MW: Is it harder to do than other types of performances?
MOULD: Letterman was wild because that's that moment when you know that millions of people are watching what you do. You know it's different from doing a show for a thousand people. It's akin to being in a fistfight on the street. Because you just start and then three-and-a-half minutes later, you're done. And you're sort of looking like, ''What happened? Did I get my ass kicked? Did I knock somebody out?'' It's a really crazy adrenaline rush. I've played for a hundred-thousand people before and that's one thing. But when you're in a cold room with all these cameras pointing at you, and it's going out to millions of people, it really does feel like you're in a fight. I didn't remember any of it.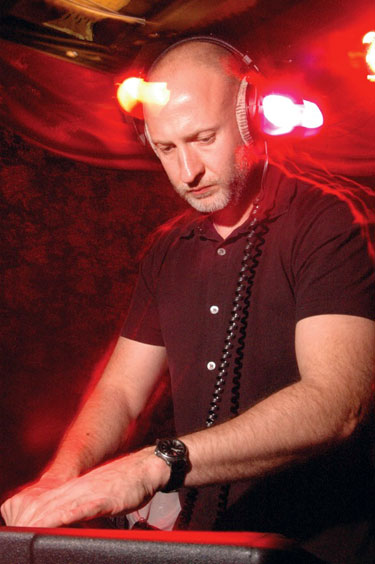 Bob Mould
(Photo by Todd Franson)
MW: Have you thought about what sparked all of this television exposure now? You've been on the music scene for decades, after all.
MOULD: A bunch of things. I think the autobiography helped to galvanize the core audience. I think that sent the first signal. I think the Disney Hall tribute in November of '11 showed maybe the influence that my work has had on people. I think the Sugar reissues was sort of a momentous thing – the Copper Blue was a really big record 20 years ago, and it still means a lot to people. So by putting that out there, and then having the good fortune of a really strong complementary rock record -- Silver Age -- to come out right behind it, was good planning I guess. I think there's also been an early '90s alt-rock revival, and maybe I caught some of that. Just right place, right time. We all do what we think is really great work, and sometimes nobody notices. Other times, the timing is right.
MW: Rich, this year you'll be making your return to the stage at California's famed Coachella Festival, after first appearing there a few years ago as part of the Bob Mould Band.
MOREL: Yeah, my band Deathfix. We're starting our U.S. tour on March 8th. We're going out for almost four weeks, but it's sort of split up with a couple breaks in between. And then we're going to be playing Coachella in April, which is really exciting for us, because this is for our first release. It's two weekends in April. And then after that we have tentative things that aren't locked down. So whenever we are trying to schedule a Blowoff, it's confusing. But it's a great situation to be in.
MW: Talk a bit about Deathfix.
MOREL: It's something I started with Brendan Canty, who was originally in Fugazi. We've since added Mark Cisneros and Devin Ocampo on bass and drums. We recorded the album last year, and now are in the middle of rehearsing for the tour and getting set for the release. I'm completely delighted with the record, because it's a real collaborative effort with all four of us. And it's a great live experience. When we play, a lot of stuff is improvised. It's new ground for me on that front. And it's been really exciting. I'm eager to get out on the road and show up in people's towns.
MW: I understand Canty was also in the Bob Mould Band. I guess that makes Bob the connector?
MOREL: Bob is the connector. Didn't you read the press release? [Laughs.] He introduced me and Brendan. In 2005.
MW: But on top of that you still have your Pink Noise remix and production work as well?
MOREL: Yeah, I'm doing a new song with Jody Watley. A club record. We're writing it together. I had sent her a track a year ago, and then she did vocals and sent it back. And now I'm working on a proper mix. And I brought in my bass player from Deathfix, Mark Cisneros, to play basically Chic-sounding bass, which sounds amazing on it. So that's in the works now. I'm not sure when that's going to come out. She sounds awesome on it. I mean, you know her voice the minute you hear it. She just sounds fantastic. '
MW: Are you still working with Cyndi Lauper? I know she's got her musical Kinky Boots with Harvey Fierstein coming to Broadway this spring.
MOREL: Yeah, I wrote a couple songs with her for that musical. She has a reality show now too. So there's a lot happening with Cyndi. I'm not presently working with her on anything. '
MW: You mean you're not part of the reality show?
MOREL: I was on the phone in the reality show. I didn't see it, but I got messaged that there was a phone conversation happening and I was the person on the other end of the phone. So my voice has been on it, that's all I know. [Laughs.]
MW: Back to Blowoff, I wanted to ask both of you if you think you'll be throwing the party 10 years from now?
MOREL: Absolutely, if we're having as much fun and it's as successful as it is now.
MOULD: It's been a great 10 years. We've just had such a great time, and D.C. has always really been the home for us in this. New York has been great. San Francisco, we had four years where it was really solid. Now we're giving it a rest, because there are a lot of other parties that are in the spotlight right now. San Diego's been great. Chicago every year over Memorial Day [and International Mr. Leather] is awesome. Bear Week in Provincetown in July is huge for us.
But D.C. is home. That's where we started this thing, and people have been so supportive here. We didn't know this party would get big, we didn't know the party would have the influence that it seems to have had on gay nightlife. We didn't see any of that coming, so, 10 more years of it? Sure, why not?
I know since Blowoff started and got real popular there have been other parties that started traveling a lot. I'm really content with what we've got. I think we keep it pretty special, and I think people appreciate that. It feels like we're sort of an anchor event for a lot of the bigger get-togethers, like IML and Bear Week.
MW: Any chance for new Blowoff music in the future, even another Blowoff record?
MOULD: Yeah, at some point it would be good to get back together and try to write a couple things.
MOREL: That would be great.
MOULD: When Rich and I started working on what became the first Blowoff album, we had fucking no clue as to what we were actually trying to do, again. I think that's with all of this stuff. You just get together and you try to figure out strengths and weaknesses and similarities and things like that. And you end up with these songs. Since we've known each other and worked together for 10-plus years, I think there's like a bigger vocabulary, a bigger knowledge base to work with, so it could be really fun.
MOREL: Also, I think this is the longest that I've consistently worked with somebody, 10 years. That's a long haul.
MOULD: Same here. My first band back in the '80s had an eight-year run. Since then I've been real fortunate to work with a lot of different great musicians, but 10 years is the longest working relationship I've had.
And it's been a wild 10 years. I think we helped to change nightlife in D.C. And I think it might have helped the neighborhood become a little gayer over there.
The 10th anniversary Blowoff is this Saturday, Feb. 9. Doors at 11:30 p.m. Nightclub 9:30, 815 V St. NW. Tickets are $12. Call 202-265-0930 or visit 930.com or blowoff.us.
For more information on Bob Mould, visit bobmould.com. For more on Rich Morel and Deathfix, visit morelworld.com.
---