The Goddess of Gay Days
Perennial gay favorite, Judy Tenuta brings comedy -- and accordion -- to Florida fete
There's something about Judy Tenuta and gay audiences. There is a mysterious connection that's kept the two intertwined for the duration of her comic career, launched in the 1980s. Is it her Grammy-nominated comedy recording, Attention Butt Pirates & Lesbetarians -- recorded at Christopher Street West's L.A. Pride festival? Maybe it's her roles in gay movies Going Down in LA-LA Land and Butch Camp? Her 2012 e-book, Full Frontal Tenudity?
Whatever it is, that popularity has translated into countless appearances at gay events, signature accordion in tow. One upcoming gig will have Tenuta celebrating spring amid the boys and girls of Gay Days Orlando. She seems pretty excited about it. Then again, Tenuta is pretty excitable.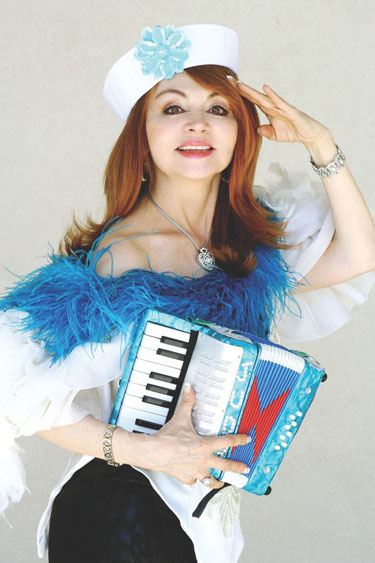 Judy Tenuta
METRO WEEKLY: What can you tell me about Gay Days Orlando?
JUDY TENUTA: I don't know! It's a bunch of gay guys running around in thongs and feathers. I thought every day at Disney was ''Gay Day.'' Everyone who works for Disney is gay, and you know it.
MW: It does seem festive.
TENUTA: Not ''festive'' – they're gay! Hello? Let's just sing all day and do musicals.
MW: With Disneyland, Tokyo Disneyland –
TENUTA: I love 'em all! I was just at Disneyland for Christmas. Oh, my God, I had the best time.
MW: Do you have a favorite ride?
TENUTA: I love It's a Small World. It's just happy. What I love about Disney is all the characters running around, the way it's decorated. I love all that stuff. And, oh, the fireworks! I love the fireworks. And they have the water thing. ''Fantasmic''? It's just fantastic. We usually go around Christmas and the Fourth of July.
MW: So, not a roller-coaster kind of goddess?
TENUTA: I went on that mountain….
MW: Space Mountain?
TENUTA: Enh….
MW: Matterhorn?
TENUTA: Yes! Matterhorn! It's fun – once. But I can't go on like seven times in row like I used to when I was, like, 18. I used to go on roller coasters all the time. But, hello, once you're past 50…. I'll watch all the crazy teenagers go over and over and then throw up.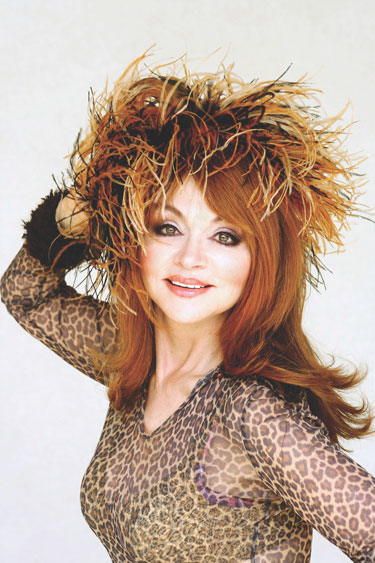 Judy Tenuta
MW: Do you have kids?
TENUTA: No, just the men I date.
MW: What are you doing with your show these days? What are you talking about? Still playing accordion?
TENUTA: But of course I still have to punish people with the accordion! It's so funny, I just did this show, taped it for this cable thing. They said, ''We want to mike your accordion.'' Please, haven't people been punished enough? It's not like I'm a full-fledged musician. Anyway, this is for you. [Performs her song, ''Party in Your Pants,'' over the phone, playing accordion.]
MW: Oh, my God. You just did that for me!
TENUTA: I did it for you!
MW: You just made my week, Judy Tenuta.
TENUTA: [Laughs.] Aw, sweet. It's the funniest thing. You don't realize how people are kind of such great fans. I was in Hawaii doing a show a few years back, at a Westin. They had this big hall I was performing in. Before I went onstage, I was in this kitchen – a beautiful kitchen, almost like a ballroom itself. So, I'm back there with the manager, one other person, and the chef comes right up to me. He kneels down and he says, ''May I kiss your accordion?'' I said, ''Oh, my God, you're awesome! You are messed up!''
MW: And you let him kiss it?
TENUTA: Of course! Oh, my God, are you kidding me? It was hysterical. You would've cracked up.
MW: Are they still dating?
TENUTA: Believe me, he would've been in his glory if I'd left it there. [Laughs.] As I said, I was heading to stage and couldn't give it to him. But I've gifted certain places with accordions. One is in Michigan. One is in Cleveland. There's one in Orlando – my prom gown and my accordion at Universal Studios.
MW: When you're traveling, how do you pack the accordion? Do you buy it a seat?
TENUTA: No. I've downsized. I have a petite accordion. We don't want to hurt the goddess back. Actually, it fits into my suitcase, which I usually try to put in the overhead. I still try to bring it onboard with me, because they goof it up when I check it. They bang everything around.
MW: Do you like being on the road?
TENUTA: Only if I have a band of gay men to help adore me.
MW: Have you performed on any gay cruises?
TENUTA: I had so much fun! I love 'em! I was invited on a gay cruise [RSVP's Caribbean cruise on Holland America Line's Zuiderdam] in 2008 and they said, ''You can bring your mom.'' Isn't that great? I performed the very first night and it was so fantastic. I loved it, loved it, loved it. Then, the next several nights, I just enjoyed myself. They had different shows, different things going on. The third night, the boat was really rocky, but I thought it was kinda fun. [Laughs.] And they gave my mom a separate suite. Isn't that great? We just had the best time. I loved it. And the different ports? ''Hey, Judy, wanna come spelunking?'' It was so much fun.
MW: You weren't trapped with any stalker fan?
TENUTA: Oh, no, no, no. They were sweethearts. They were so sweet and so respectful of my mom. They would take her arm. You know how the gay men are, they're fantastic. And the gay women, too.
MW: Is that your idea of a perfect vacation, a cruise?
TENUTA: I do enjoy a nice cruise. I love Paris – but only in beautiful weather, not in the winter. Even though the French are rude, it's beautiful there. [Laughs.] And it's always great to go to Hawaii.
MW: So, window or aisle?
TENUTA: I've got to have the aisle. I have to have a quick exit to the bathroom. It's not so much that I go, but I don't want to climb over big, fat hoarders. I don't want to be climbing over people.
Oh! The last flight I took, I had a lady, I'd say 40-something, with like a 7-year-old. It was late at night, you're trying to sleep, and this cow decides to read aloud to her son – who was playing on his iPad and not even listening to her. And she's going, ''And then the cow….'' And I go, ''Excuse me. First of all, it's late and everyone's trying to sleep. And your son isn't even paying attention.''
MW: How did she react?
TENUTA: She was a bitch! ''Are you trying to restrict my son's education?'' He's trying to do it! Your son already hates you. Can you blame him?
Judy Tenuta performs as part of Gay Days Orlando on Saturday, June 1, at the host hotel, Doubletree by Hilton Orlando at SeaWorld. General admission tickets are $25, VIP $60, available at gaydays.com.
Read more:
---