(Page 3 of 3)
JULY
THE LONE RANGER -- Why will this be the flop of the season? Let's count the ways. First: Johnny Depp is playing the Lone Ranger's comically stereotypical Native-American sidekick, Tonto. Second: Disney allegedly sunk a quarter-billion dollars into the movie's problematic, oft-delayed production. Third: It's a movie about the Lone Ranger! (7/3)
THE WAY, WAY BACK -- Nat Faxon and Jim Rash, the Oscar-winning co-writers of The Descendants, haven't revealed much about their follow-up movie about a 14-year-old boy who spends his summer working at a water park. If it's even half as awkward, funny and endearing as their debut, though, it will be a highlight of the year. Steve Carell, Sam Rockwell, Liam James, Toni Collette and Amanda Peet star. (7/3)
GROWN UPS 2 -- Nope. (7/12)
PACIFIC RIM -- When giant monsters rise from an underwater rift in the Pacific Ocean, scientists devise a plan to build massive robots in hopes of saving the world. Pacific Rim is Guillermo del Toro's first directing credit in five years, and he's calling it his "beautiful poem" to monster movies. It looks every bit as inventive and awesome as the Mexican director's previous work, but wildly more ambitious. Charlie Hunnam, Idris Elba and Rinko Kikuchi star. (7/12)
R.I.P.D. -- After a cop dies in the line of duty, he's resurrected to join the R.I.P.D. -- the Rest In Peace Department -- to track down the man who killed him. The comic miniseries that inspired this movie is best remembered for its campy, whimsical style, but don't count on too much of that carrying over to the big screen. Ryan Reynolds, Mary-Louise Parker and Jeff Bridges star. (7/19)
THE WOLVERINE -- Hugh Jackman's grumpy, slashy mutant antihero is back for another movie of his own. Allegedly based on Frank Miller and Chris Claremont's iconic limited comic-book series in the early 1980s, this follow-up to X-Men: The Last Stand finds Wolverine in Japan, where he faces off against a Yakuza crime boss. (7/26)
AUGUST
THE SPECTACULAR NOW -- Keep your eyes on this one. A hit at Sundance, The Spectacular Now is about the budding romance between an alcoholic high-school senior and the girl who challenges his reckless, live-in-the-moment philosophy. Under the able guide of James Ponsoldt (Smashed) and (500) Days of Summer scribes Scott Neustadter and Michael H. Weber, this curious-looking teen romantic-comedy has a lot of potential. Shailene Woodley and Miles Teller star. (8/2)
ELYSIUM -- If I could only pick one movie to see this season, Elysium would be it. The first release from director Neill Blomkamp since District 9, this ambitious sci-fi movie quite literally casts income inequality and class warfare into space. More than a century from now, the wealthiest humans live on a space station called "Elysium," while the rest of humanity lives in squalor on a crime-ridden, overpopulated Earth. As we saw in District 9, Blomkamp excels as plumbing metaphors for social injustice to invigorate the worlds he creates. Expect him to do much of the same with Elysium. Matt Damon and Jodie Foster star. (8/9)
KICK-ASS 2 -- Kick-Ass was of the weirdest, most profane, all-around peculiar superhero movies ever made. This sequel won't raise eyebrows in the same way -- it's too sexed up, and slightly more traditional -- but it does have one thing the first did not. Jim Carrey, comedy's man of many disturbing faces, plays a psychotic, born-again Christian vigilante named Colonel Stars and Stripes. So, at least it's got that going for it. (8/16)
NO RELEASE DATE SET, BUT WORTH WATCHING FOR
TRANCE -- Danny Boyle's last two movies, Slumdog Millionaire and 127 Hours, were great but highly uncharacteristic for the director. This is a return to the sort of twisted, complex thriller he clearly loves to make. In Trance, an art thief hires a hypnotherapist to help cure his amnesia and recover the priceless painting he stole. James McAvoy, Rosario Dawson and Vincent Cassel star.
ONLY GOD FORGIVES -- The first time Ryan Gosling and director Nicolas Winding Refn worked together, they made Drive, a shockingly cool, ethereal movie. Their second act is a similar sort of crime thriller that casts Gosling as an American in Thailand who has to dole out justice to the man who killed his brother. On the merits of Gosling and Refn alone, Only God Forgives could be one of the best movies of the year.
SHORT TERM 12 -- Destin Cretton's indie drama won accolades at South by Southwest, earning plaudits both for its lovely storytelling and Brie Larson's breakout performance as a 20-something working at a foster care facility. Will it get a wide release before the end of the summer? Here's to hoping it does.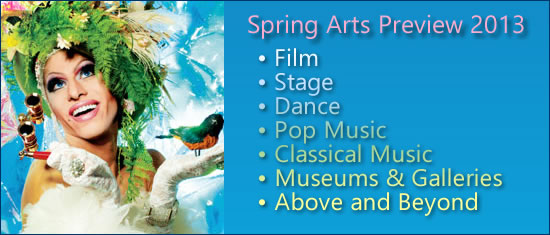 ---