Where do your film tastes lead you in warmer weather? Is it time for a buddy movie, romance or blockbuster adventure flick? Whatever you're craving, Hollywood's got your flavor. Be wary, however, as there's likely to be a miss for every hit. Keep your sun-block and cinematic discretion at the ready, apply liberally.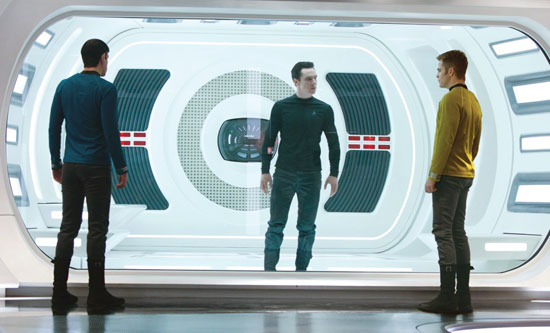 Star Trek Into Darkness
MARCH
SPRING BREAKERS -- "Springggg breakkkk forrrrevvvverrrr." Harmony Korine's latest calculated scandal-maker meanders between being the sort of movie you've never seen before and the sort of movie you never want to see again. One-time Disney stars Selena Gomez and Vanessa Hudgens play college girls who get roped into the scummy criminal life of a Florida rapper named Alien (James Franco). Yes, it is as ridiculous as it sounds. (3/22)
OLYMPUS HAS FALLEN -- There are two action movies out this year about terrorists seizing the White House and holding the president hostage. One of these movies is directed by Roland Emmerich. This is not that one. (3/22)
ON THE ROAD -- Read the book, skip the movie. (3/22)
ADMISSION -- Tina Fey and Paul Rudd star in a romantic comedy about a Princeton admissions officer who thinks the gifted high-school student she's recruited might be the son she gave away for adoption years ago. Blerg. (3/22)
G.I. JOE: RETALIATION -- Here's the thing about the sequel to a blockbuster movie: Nobody needs to know what it's about. Retaliation probably has something to do with Joes and Cobras and whatever new toys Hasbro wants to unload this summer, but that's not putting anybody in the seats. The Rock and Bruce Willis, though? That'll do it. (3/28)
THE HOST -- Twilight with aliens. (3/29)
THE SAPPHIRES -- An Australian musical comedy, set in the late 1960s, about an Aborigine girl group that sings for U.S. troops in Vietnam. Think That Thing You Do! meets Dreamgirls, with a sprinkle of M*A*S*H thrown in for good measure. (3/29)
TYLER PERRY'S TEMPTATION -- I can convince you to not see this movie in five words: Kim Kardashian is in it. (3/29)
APRIL
UPSTREAM COLOR -- Seven years ago, Shane Carruth made a small movie about time travel. He called it Primer, and it broke nearly every rule there is about storytelling, exposition and narrative coherence. It was also the only movie he made -- until now. All we know is that it's inspired by Henry David Thoreau's Walden and that the plot involves the life cycle of "an ageless organism." Nonetheless, it appears to be as technically and artistically brilliant as Carruth's debut. (4/5)
JURASSIC PARK 3D -- Okay, Hollywood. It was cute when you started re-releasing great movies in 3D a few years ago. It was a decent gimmick. You've had your fun -- it's time to stop. (4/5)
EVIL DEAD -- Scratch that -- in Hollywood, gimmicks never die. This remake of Sam Raimi's cult classic appears to have twice the horror and half the wit of the original. (4/5)
THE PLACE BEYOND THE PINES -- Ryan Gosling, Bradley Cooper and Eva Mendes star in a crime drama about a motorcycle stuntman who robs banks to provide for his wife and newborn son. There's talent behind the camera, too -- Derek Cianfrance, of Blue Valentine fame, writes and directs. (3/5)
ROOM 237 -- Heeeeere's Stanley! The documentary, presented in nine segments, spellbindingly dissects the themes and motifs of The Shining. Interpreting one of the most baffling horror movies ever made is no small feat -- theories about Kubrick's intent range from allegories about the Holocaust to proof that the moon landing was faked -- but whatever the reading, Room 237 will stick with fans forever. And ever, and ever…. (4/12)
TO THE WONDER -- Yes, Terrence Malick is an acquired taste. Yes, The Tree of Life was a difficult movie. And, yes, To The Wonder will be just as challenging to watch. That's still no excuse not to try. (4/12)
42 -- Chadwick Boseman suits up as famed baseball player Jackie Robinson in this biopic also starring Harrison Ford and Christopher Meloni. Shockingly, this is the first major movie about Robinson's life since 1950. (4/12)
OBLIVION -- Tom Cruise stars as a former Marine-turned-drone-repairman who works on the scarred remains of Earth, decades after an alien invasion nearly destroyed the planet. Dystopian sci-fi, in all of its bombast, is an oddly fitting frame for Cruise's nonstop intensity. Joseph Kosinski (TRON: Legacy) directs. (4/19)
PAIN & GAIN -- Could it be? Is this … a decent-looking Michael Bay movie? Mark Wahlberg and Anthony Mackie play meatheads-turned-kidnappers in this swollen true-crime story, inspired by a 1999 story in the Miami New Times. Pain & Gain will be small by Bay's gargantuan standards -- he hasn't made a movie with a smaller budget in nearly two decades. (4/26)
THE BIG WEDDING -- An ensemble comedy based on the 2006 French movie Mon frère se marie, the movie pits Robert De Niro against Diane Keaton as a divorced couple forced to feign a happy marriage at their son's wedding. Justin Zackham (The Bucket List) directs, so expect an awful lot of unthreatening, warm humor. (4/26)
THE ANGELS' SHARE -- A Scottish comedy by Ken Loach about a ne'er-do-well slacker who schemes to steal a cask of priceless whiskey. It was very well received at Cannes, so keep your eyes out for it. (4/26)
AT ANY PRICE -- Zac Efron is still trying to be a ''very serious actor.'' In this family drama, he plays a young man who doesn't want to take over his father's farm. Instead, he'd rather be a race-car driver. Sounds like a wise career choice. (4/26)
GIMME THE LOOT -- Adam Leon's debut feature about two Bronx teens who try to tag an iconic New York landmark with graffiti made a big splash at South by Southwest last year. A year later, it's finally getting a wide release. Funny, quirky, and downright unique, Gimme The Loot could be the surprise hit of the season. (4/26)
MUD -- Matthew McConaughey's renaissance continues with this Mark Twain-inspired coming-of-age drama from Jeff Nichols (Take Shelter), where two boys stumble upon a fugitive and vow to help him escape the bounty hunters hot on his trail. If Stand by Me were made for an art-house crowd, it'd look like this. (4/26)
MAY
IRON MAN 3 -- The first surefire blockbuster of the season. At this point, we all know the drill: Robert Downey Jr.'s sarcastic wit, the best special effects money can buy, and a handful of mind-numbing action sequences. That doesn't make it any less riveting. (5/3)
THE ICEMAN -- Michael Shannon stars as Richard Kuklinski, a notorious Mafia hit man who killed more than 100 men between 1948 and 1986 while raising his family in suburban New Jersey. Ray Liotta, Winona Ryder and Chris Evans co-star. (5/3)
THE GREAT GATSBY -- Baz Luhrmann is the perfect director to adapt F. Scott Fitzgerald's metaphor-thickened ode to the American dream. Seriously, both of these guys are about as subtle as a train wreck -- which is appropriate, to say the least. Leonardo DiCaprio, Carey Mulligan, Joel Edgerton and Isla Fisher star. (5/10)
STAR TREK INTO DARKNESS -- J.J. Abrams returns to the USS Enterprise for a victory lap before switching his nerd allegiances to Star Wars. Chris Pine, Zachary Quinto and Benedict Cumberbatch star. (5/17)
STORIES WE TELL -- This is an odd, wonderful sort of documentary. Filmmaker Sarah Polley turns the camera on herself and her family -- namely, the complicated marriage from which her family sprouted. Polley's insistence on making her private life so public invigorates the portrait of her family, which has helped make Stories We Tell a darling of the festival circuit last year. (5/17)
FAST & FURIOUS 6 -- The Fast and the Furious came out 12 years ago. Since that first movie's debut, the series has grossed more than a billion-and-a-half dollars. The lesson? It pays to be mediocre, so long as you look good while you're doing it. (5/24)
THE HANGOVER PART III -- Are you excited to see this? You must be drunk. (5/24)
BEFORE MIDNIGHT -- It's that time of the decade. Eighteen years after Before Sunrise, and nine years after Before Sunset, Richard Linklater, Ethan Hawke and Julie Delpy return to play our hearts like harpsichords. This movie will be supremely important to anyone who saw the first two, and supremely inconsequential to everyone else. I encourage you to be a part of the former group. (5/24)
THE EAST -- An environmental terrorism thriller heavy on political commentary, The East appears to be a radical fantasy about punishing the corporations who poison the planet and its most vulnerable inhabitants. Zal Batmanglij (Sound of My Voice) directs; Brit Marling, Ellen Page and Alexander Skarsgård star. (5/31)
NOW YOU SEE ME -- Louis Leterrier directs this slick-looking heist mystery about a Las Vegas super-group of magicians who rob a bank on a different continent during a magic show. Jesse Eisenberg, Mark Ruffalo, Isla Fisher and Woody Harrelson star. (5/31)
JUNE
AFTER EARTH -- Centuries after humanity abandons Earth, a father and son (played by Will Smith and Jaden Smith) crash land on the now unrecognizably hostile planet during a scouting mission. The catch? After Earth is directed by infamous director M. Night Shyamalan. The surprise? It doesn't appear to be as terrible as his last few movies. (6/7)
THE INTERNSHIP -- Vince Vaughn and Owen Wilson play a pair of salesmen who apply for internships at Google after finding themselves unemployed in the digital age. Insensitive jokes about a weak job market in the wake of a recession, an anachronistic fear of technology, and an awed reverence for Silicon Valley? Yikes. (6/7)
MAN OF STEEL -- Forget the Superman you've seen in movies for years. Zack Snyder's Man of Steel aims to rekindle the chief conflict of the world's most famous superhero: How can humanity trust an outsider to defend it? This is easily the most intriguing mainstream movie of the season. If it works -- and many have a hunch that it will -- it will do for Superman what Christopher Nolan's ''Dark Knight'' trilogy did for Batman. Henry Cavill and Amy Adams star. (6/14)
THIS IS THE END -- What would happen if a group of Hollywood's funniest young actors were stuck in an apartment together during the apocalypse? Seth Rogen, Jonah Hill, James Franco, Jay Baruchel, Danny McBride and Craig Robinson play vaguely fictional versions of themselves in this ironic sci-fi comedy. (6/14)
MONSTERS UNIVERSITY -- Pixar's favorite scary beasts return in this prequel to Monsters Inc., which tells the story of how Mike Wazowski (Billy Crystal) met Sulley (John Goodman). The original movie was one of the most inventive in Pixar's impressive collection, so while the studio doesn't have an excellent track record with sequels, the returning cast and stellar crew suggest this will be a worthy exception. (6/21)
WORLD WAR Z -- Based on a bestselling book by Max Brooks, this bloated-looking globetrotter of a zombie movie stars Brad Pitt as a United Nations employee interviewing survivors of the undead plague. While Brooks's book told a thrilling, complex story, the early trailers for World War Z suggest that director Marc Forster may not be able to tie it all together as adeptly. (6/21)
THE HEAT -- A buddy cop movie starring Sandra Bullock and Melissa McCarthy, directed Paul Feig. Leave it McCarthy and Feig -- two of Hollywood's funniest, who made magic together in Bridesmaids -- to make a tired comedy premise seem worthwhile. (6/28)
WHITE HOUSE DOWN -- Remember when I told you that there are two action movies out this season about terrorists seizing the White House? Well, this is the other one. It's directed by blockbuster king Roland Emmerich, so it's also the one you'll want to see. (6/28)
I'M SO EXCITED -- Very little is known about Pedro Almodóvar's first comedy in seven years, but on the strength of his name alone it will be worth catching. So, what do we know about it? The movie is almost entirely set on an airplane, it stars Almodóvar regulars Penélope Cruz and Antonio Banderas in minor roles, and it looks utterly delightful. (6/28)
JULY
THE LONE RANGER -- Why will this be the flop of the season? Let's count the ways. First: Johnny Depp is playing the Lone Ranger's comically stereotypical Native-American sidekick, Tonto. Second: Disney allegedly sunk a quarter-billion dollars into the movie's problematic, oft-delayed production. Third: It's a movie about the Lone Ranger! (7/3)
THE WAY, WAY BACK -- Nat Faxon and Jim Rash, the Oscar-winning co-writers of The Descendants, haven't revealed much about their follow-up movie about a 14-year-old boy who spends his summer working at a water park. If it's even half as awkward, funny and endearing as their debut, though, it will be a highlight of the year. Steve Carell, Sam Rockwell, Liam James, Toni Collette and Amanda Peet star. (7/3)
GROWN UPS 2 -- Nope. (7/12)
PACIFIC RIM -- When giant monsters rise from an underwater rift in the Pacific Ocean, scientists devise a plan to build massive robots in hopes of saving the world. Pacific Rim is Guillermo del Toro's first directing credit in five years, and he's calling it his "beautiful poem" to monster movies. It looks every bit as inventive and awesome as the Mexican director's previous work, but wildly more ambitious. Charlie Hunnam, Idris Elba and Rinko Kikuchi star. (7/12)
R.I.P.D. -- After a cop dies in the line of duty, he's resurrected to join the R.I.P.D. -- the Rest In Peace Department -- to track down the man who killed him. The comic miniseries that inspired this movie is best remembered for its campy, whimsical style, but don't count on too much of that carrying over to the big screen. Ryan Reynolds, Mary-Louise Parker and Jeff Bridges star. (7/19)
THE WOLVERINE -- Hugh Jackman's grumpy, slashy mutant antihero is back for another movie of his own. Allegedly based on Frank Miller and Chris Claremont's iconic limited comic-book series in the early 1980s, this follow-up to X-Men: The Last Stand finds Wolverine in Japan, where he faces off against a Yakuza crime boss. (7/26)
AUGUST
THE SPECTACULAR NOW -- Keep your eyes on this one. A hit at Sundance, The Spectacular Now is about the budding romance between an alcoholic high-school senior and the girl who challenges his reckless, live-in-the-moment philosophy. Under the able guide of James Ponsoldt (Smashed) and (500) Days of Summer scribes Scott Neustadter and Michael H. Weber, this curious-looking teen romantic-comedy has a lot of potential. Shailene Woodley and Miles Teller star. (8/2)
ELYSIUM -- If I could only pick one movie to see this season, Elysium would be it. The first release from director Neill Blomkamp since District 9, this ambitious sci-fi movie quite literally casts income inequality and class warfare into space. More than a century from now, the wealthiest humans live on a space station called "Elysium," while the rest of humanity lives in squalor on a crime-ridden, overpopulated Earth. As we saw in District 9, Blomkamp excels as plumbing metaphors for social injustice to invigorate the worlds he creates. Expect him to do much of the same with Elysium. Matt Damon and Jodie Foster star. (8/9)
KICK-ASS 2 -- Kick-Ass was of the weirdest, most profane, all-around peculiar superhero movies ever made. This sequel won't raise eyebrows in the same way -- it's too sexed up, and slightly more traditional -- but it does have one thing the first did not. Jim Carrey, comedy's man of many disturbing faces, plays a psychotic, born-again Christian vigilante named Colonel Stars and Stripes. So, at least it's got that going for it. (8/16)
NO RELEASE DATE SET, BUT WORTH WATCHING FOR
TRANCE -- Danny Boyle's last two movies, Slumdog Millionaire and 127 Hours, were great but highly uncharacteristic for the director. This is a return to the sort of twisted, complex thriller he clearly loves to make. In Trance, an art thief hires a hypnotherapist to help cure his amnesia and recover the priceless painting he stole. James McAvoy, Rosario Dawson and Vincent Cassel star.
ONLY GOD FORGIVES -- The first time Ryan Gosling and director Nicolas Winding Refn worked together, they made Drive, a shockingly cool, ethereal movie. Their second act is a similar sort of crime thriller that casts Gosling as an American in Thailand who has to dole out justice to the man who killed his brother. On the merits of Gosling and Refn alone, Only God Forgives could be one of the best movies of the year.
SHORT TERM 12 -- Destin Cretton's indie drama won accolades at South by Southwest, earning plaudits both for its lovely storytelling and Brie Larson's breakout performance as a 20-something working at a foster care facility. Will it get a wide release before the end of the summer? Here's to hoping it does.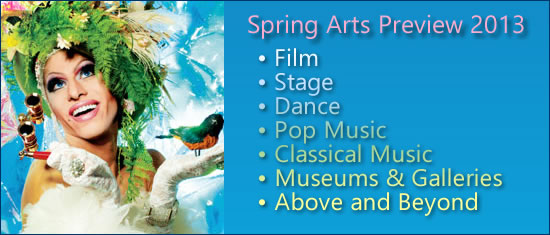 ---