Pride's Wonder Woman
Other superheroes come and go, but Lynda Carter's smile and twirl make her an icon with staying power
(Page 2 of 3)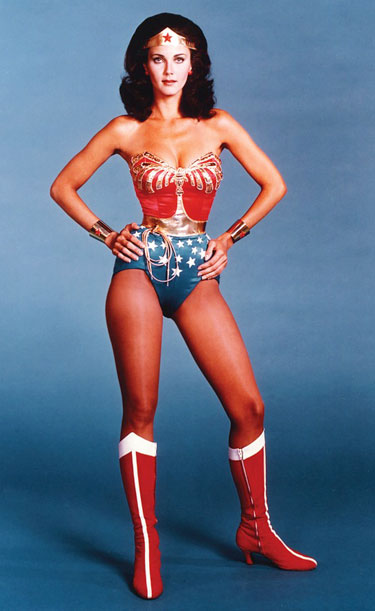 Lynda Carter as Wonder Woman
(Photo by courtesy of Lynda Carter)
But what's really more remarkable is how far [the LGBT community has] come. It's been a long fight. We can make a difference if we speak with one voice. It's about coming together and looking at our nation and seeing that everyone should have equal rights. You don't have to be a straight, white Anglo-Saxon to have civil rights. And so that's kind of the way that I've always viewed it. You can't help that you're tall, you can't help if you're short, you can't help what your skin color is.
MW: It's just who you are.
CARTER: Yeah! You look at my son's generation, he's 25 now. When he was a small child, the kids would be in the backseat and he'd say, ''Oh, you're so gay!'' And I said, ''Do you know what that is?'' And he said, ''Yes, Mom, of course I do.'' And I said, ''You know so-and-so, they're gay. And so-and-so, they're gay, too.'' ''They are?'' ''Do you like them any less?'' ''No!''
It really is about parents teaching their children. And it's not an issue for the younger generation, it doesn't seem to be an issue as they become adults. Not with the groups that I know. I know there's still bullying in school.
MW: Actually, you live in a state now, Maryland, that has marriage equality. I'm assuming nothing apocalyptic has happened in your household since then.
CARTER: [Laughs.] That's a great line, I love that! In 10 or 20 years, people are going to say, ''What was the big deal about that?'' Certainly, I think this generation doesn't care one way or the other.
You're still in Virginia. How bad is it there?
MW: It's really going to depend on what happens in November because we've got the trifecta of far-right, anti-gay, anti-women Republicans running with Ken Cuccinelli. I'm in Falls Church, this really diverse and friendly area, but the rest of the state is possibly going to elect people who want to turn back the clock. It's just so weird. You're in Potomac, and it's just a quick drive for me to go there or into D.C., but it just feels more isolated than ever in Virginia.
CARTER: Yeah, Virginia is the South. One of our best friends grew up gay in the South. I think it's very tough.
MW: Well, Pride season is a time when a lot of young people start taking their first steps out of the closet. Talking to Wonder Woman, I have to ask what super power would you give them to help them as they come out?
CARTER: I could say the lasso of truth, but I don't really think that's it. I know it takes courage.
MW: I think courage for a lot of people is a super power. It's something that people don't necessarily start off with and they have to find it.
---