(Page 2 of 4)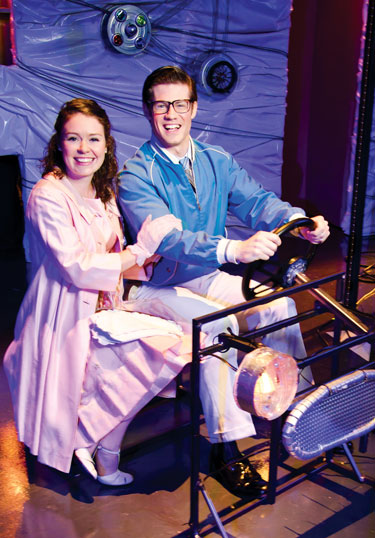 The Rocky Horror Show at Studio Theatre
(Photo by Julian Vankim)
"You've got to be brave when you do something like this," says the soft-spoken, New York-based actor. "I like it because it really pulls together my notion that Frank is equal parts male and female. He's a one and a six on the Kinsey scale. I find him to be an ultra-sexualized character. Full decadence, full 'sex, drugs and rock and roll' is all he knows and all he wants."
For Frank N. Furter, Ranney pushed the limits of what is usually done with the character in other productions. For one thing, the designer refused to deploy the color red. Also, notes Ranney, "I never envisioned our Frank N. Furter as having facial or body hair. But meeting Mitchell completely changed that. He just brought that to the character and it felt so right." He coyly points out that there is still a nod to Curry's original character. "Curry wore a pearl choker. Here we have lots of strands of pearls around Frank's neck," he grins.
There are other departures. Rocky, for example, is not scantily clad in gold-lame bikini briefs, but rather extra-scantily clad a thin pink thong that pretty much shows off his backside. "I've worn less onstage," laughs Will Hayes, the buff actor who portrays the show's namesake creation. Hayes says it would have been easy for 2ndStage to just recreate the movie and that, "It's a risk to try and do something more with the play." Jarvis reinforces that notion.
"The musical has been reduced to camp," he says. "And I think in 1973 when Richard O'Brien wrote it and that company put it together in that tiny theater in London, it was dark, sharp satire and shocking for its time. So to bring it to 2013 is a unique challenge and I think one not many theaters have dared to do."