Shock Treatment
Studio Theatre's 2ndStage Reinvents ''Rocky Horror''
"Our production lacks a certain amount of modesty," purrs Collin Ranney, costume designer for Studio Theatre's 2ndStage production of The Rocky Horror Show. "There's a lot of tits and ass, for lack of a better term."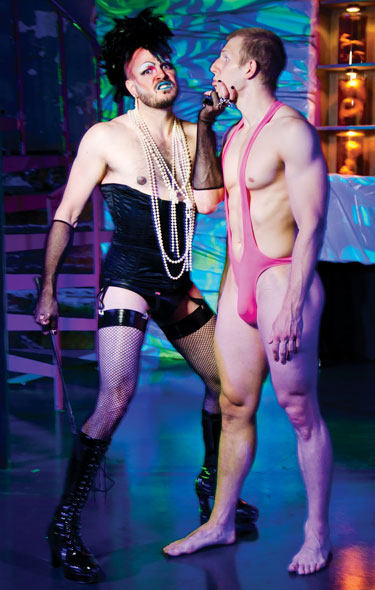 The Rocky Horror Show at Studio Theatre
(Photo by Julian Vankim)
He's not kidding. For this new production, a brazen, hyper-sexualized reimagining of the original stage production -- but more importantly, The Rocky Horror Picture Show, the film adaptation that's been seared into our brains as a result of nearly 40 years of constant exposure -- sex, kink and extreme gender ambiguity reign supreme.
"The movie was filmed in the '70s and our sexual mores have changed," says Alan Paul, who co-directed the production with Keith Alan Baker, founder of 2ndStage. "What was shocking then was a transvestite like Tim Curry. That's not so shocking anymore.''
"We wanted to evoke the same feeling in 2013 that people felt seeing the movie in 1975," he continues. "Which requires different things -- like more sex. We were trying to rationalize what Frank N. Furter's lab was and why he'd come from outer space to Earth. And we thought it was a lab where they're studying human sexuality in all its forms. So we put sex in the foreground."
That would explain the abundance of dildos Giorgos Tsappas built into the walls of the elaborate, dual-tiered set that fills the stage of The Metheny.
"We are pushing it somewhat," agrees Baker. "We are looking for the darker aspects of drugs and sex and rock and roll. So we are pushing everything toward the darker side. Mitch wanted to do a different interpretation of Frank. And so we looked at the idea of cult leaders and what that means, whether it's sex or it's S&M or it's leather. We wanted to look at the idea of followers gravitating toward a charismatic leader, and how far people are willing to go."
Mitch is Mitchell Jarvis, who has stepped into the formidable high-heels of Frank N. Furter, the iconic "sweet transvestite from Transexual, Transylvania." It's not an envious position to be in, as Tim Curry's magnificently raucous, star-making performance is forever etched into our collective consciousness. It's one of those all-time great performances, and anyone else tackling it is going to have to very quickly claim it as their own. But by the time he reaches the show's big torch-song closer, "I'm Going Home," Jarvis has pretty much claimed the character in his own way. If he doesn't make you forget Curry altogether, he certainly has found a new way for audiences to see the character. It's less camp and vamp, more scamp and tramp.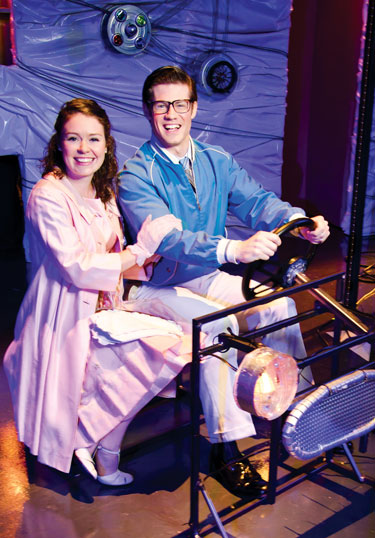 The Rocky Horror Show at Studio Theatre
(Photo by Julian Vankim)
"You've got to be brave when you do something like this," says the soft-spoken, New York-based actor. "I like it because it really pulls together my notion that Frank is equal parts male and female. He's a one and a six on the Kinsey scale. I find him to be an ultra-sexualized character. Full decadence, full 'sex, drugs and rock and roll' is all he knows and all he wants."
For Frank N. Furter, Ranney pushed the limits of what is usually done with the character in other productions. For one thing, the designer refused to deploy the color red. Also, notes Ranney, "I never envisioned our Frank N. Furter as having facial or body hair. But meeting Mitchell completely changed that. He just brought that to the character and it felt so right." He coyly points out that there is still a nod to Curry's original character. "Curry wore a pearl choker. Here we have lots of strands of pearls around Frank's neck," he grins.
There are other departures. Rocky, for example, is not scantily clad in gold-lame bikini briefs, but rather extra-scantily clad a thin pink thong that pretty much shows off his backside. "I've worn less onstage," laughs Will Hayes, the buff actor who portrays the show's namesake creation. Hayes says it would have been easy for 2ndStage to just recreate the movie and that, "It's a risk to try and do something more with the play." Jarvis reinforces that notion.
"The musical has been reduced to camp," he says. "And I think in 1973 when Richard O'Brien wrote it and that company put it together in that tiny theater in London, it was dark, sharp satire and shocking for its time. So to bring it to 2013 is a unique challenge and I think one not many theaters have dared to do."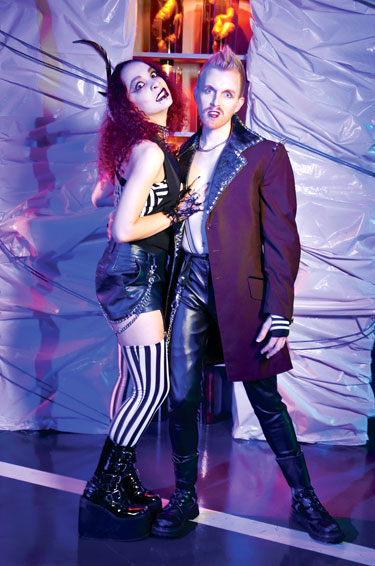 The Rocky Horror Show at Studio Theatre
(Photo by Julian Vankim)
Among those changes: a deeper exploration of Brad's homosexuality, awakened by Frank in an admittedly amusing sequence that alludes to the film and then takes things much further. Let's just say a rather surprising sex toy comes into play and leave it at that.
"Brad has strong homosexual experiences and he doesn't necessarily hate them," says Tim Rogan, who plays the oddly earnest Brad, who, along with his unnaturally perky fiancée, Janet (Jessica Thorne), undergoes a profound life-change after spending a night at Frank N. Furter's castle. "Whether he wants to follow those feelings or reject them is something we really wanted to explore." The point is driven home, rather seductively, during Brad's solo number, "Once in a While," a song few are familiar with, as it was cut from the film.
The production's ace in the hole is, without doubt, Sarah Marshall, who takes on the dual role of the Narrator and Dr. Scott. Marshall is clearly having the time of her life here, bringing her treasured timing to both parts, evoking big, significant laughs where lesser actors might evoke crickets. Asked if she had worries about taking on her iconic roles – especially Charles Gray's deliciously dry, judgmental narrator -- Marshall simply grins: "It's not iconic to my mind. It's not iconic to me."
As for the audience participation, the production is going with the flow.
"We're not encouraging it, but we're not discouraging it," says Baker. "We're trying to let it happen if it happens and deal with it." Both he and Paul point out that there is no throwing of rice or squirting of water allowed, as it proves a hazard to the actors onstage. Still, on opening night, last Sunday, July 14, there was no audience interaction. Everyone was too caught up in the sheer nylon fishnet fun.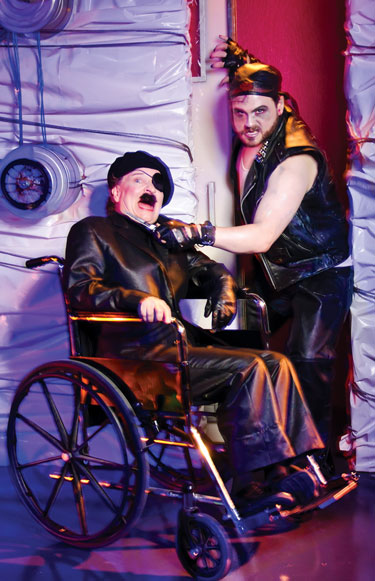 The Rocky Horror Show at Studio Theatre
(Photo by Julian Vankim)
This particular production of Rocky Horror -- which Baker proudly vaunts as 2ndStage's 25th Anniversary Event -- pretty much dispenses with everything you know and love about the movie. Even ''The Time Warp'' has been modified slightly ("They literally do the steps that are in the song," says choreographer Michael J. Bobbit, "but not like they were done in the movie") -- and gives it a touch of shock treatment. Sure, it's still Rocky Horror -- Richard O'Brien's infectiously catchy songs remain the musical's core strength -- but in the hands of Studio, it becomes so much more. It becomes a sexual spectacle.
"I think Rocky Horror has this way about it," says Ranney, "of letting people forget about their inhibitions. It allows people to allow themselves to let loose a little bit about sexuality, and sexual pleasure in general. It's about these characters' journeys of finding their sexuality, and I think that's what people respond to and that's what makes the show universal."
The Rocky Horror Show runs through Aug. 4. Tickets are $40 to $45. At the Studio Theatre, 1501 14th St. NW. Call 202-332-3300 or visit studiotheatre.org.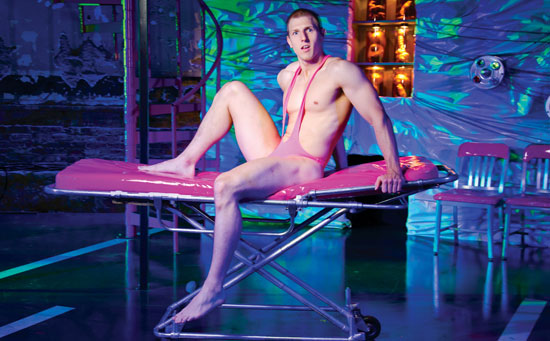 The Rocky Horror Show at Studio Theatre
(Photo by Julian Vankim)
---