Change at BHT
Larry Stansbury stepping down as executive director of Brother Help Thyself
Several months from now you may not find Larry Stansbury of Brother Help Thyself working from his office on 14th Street NW. You may not find him working at all.
Instead he might be busy decorating his kitchen. Or focusing on his health by resting.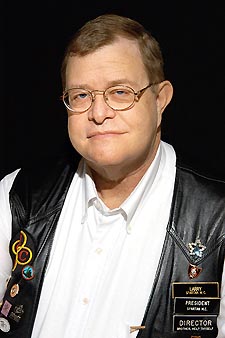 Stansbury
(Photo by Todd Franson/file photo)
Brother Help Thyself (BHT), a fundraising coalition that represents local leather/Levi social groups and raises funds for gay and AIDS-related organizations, announced last week that Stansbury accepted a position as executive director emeritus. He will remain as executive director until a suitable replacement is found, a decision that came about as a result of Stansbury's own health concerns.
''Over the years, I've had three kidney transplants and a mild heart attack,'' he says. ''And I'm still ticking.
''There just comes a time...where it just makes more sense to...say, 'You know, it's time for somebody else to do this.'''
In addition to his health, Stansbury says he also wants to spend some time on home projects: ''I'd like to finish re-doing my kitchen at home.''
But that shouldn't imply that Stansbury is leaving BHT behind -- he's not.
''I won't have to be responsible on a day-to-day basis. I have lots of other priorities, things that I'd like to do, that I'm still involved in. But [it won't be] as intense as what I do on a daily basis here.''
Stansbury says he will continue to contribute to BHT, Spartan Motorcycle Club and other community organizations and events, such as Capital Pride. He has been active with Capital Pride since the early '70s, most recently as a safety and security volunteer.
In the time that Stansbury has worked for BHT, the organization has grown from contributing less than $2,000 a year, to last year's totals of more than $2 million, benefiting organizations such as Whitman-Walker Clinic, the Sexual Minority Youth Assistance League and Food & Friends.
He's also played an important role in BHT's sponsorship of the annual gay gathering at Paramount's Kings Dominion amusement park in Doswell, Va., for more than a decade.
Stansbury recently collaborated with Jeff Wessler on BHT's second annual fundraising calendar featuring some of Washington and Baltimore's most physically appealing men.
''Let's face it, there's some hot men in it,'' he says. ''And I don't know anybody who doesn't like to look at hot men.''
Stansbury, who has worked for BHT for the past 25 years, quips: ''I'm probably the longest surviving executive director in town. Based on most of them that I know, and I've been around for a long amount of time.''
---