Four Years Later, a Beginning
Trial begins in Robert Wone murder case with opening statements and emotional testimony from his widow
Defense attorneys for three men facing charges in the Robert Wone murder case re-affirmed their client's innocence in opening statements Monday, calling them victims of a prosecution that became fixated on their sexual orientation.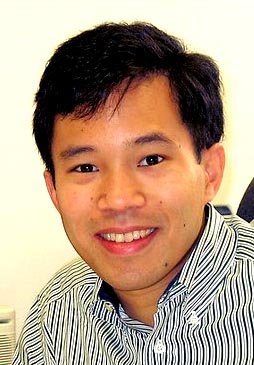 Robert Wone
The three men – Joseph Price, Dylan Ward and Victor Zaborsky – are standing trial on felony counts of obstruction of justice, evidence tampering and conspiracy in the murder of attorney Robert Wone. Wone was found stabbed three times in the housemate's Swann Street home on August 2nd, 2006; although no-one has yet been charged in his murder.
Price and Zaborsky are domestic partners, and Price has admitted in statements to police that he and Ward share an ''intimate, personal'' relationship.
In an assertive opening statement, Price counsel Bernie Grimm accused the government of becoming ''mired and infatuated in a theory based on ignorance.'' Ward's attorney, David Schertler, echoed this claim, saying the government ''tried to create evidence to fit a preconceived theory.''
Assistant U.S. Attorney and lead prosecutor Glenn Kirschner outlined the government's case in a lengthy opening statement charging the three with covering up for the person or persons who killed Wone – someone known to the defendants, the government says.
''In the short term, these men have gotten away with it. The murder has not yet been solved,'' Kirschner said, noting that it still remains an open investigation almost four years later.
There were a few moments of drama on the opening day – such as when Kirschner unfurled the blood-stained towel allegedly used to stanch Wone's wounds – and a surprise or two. One of them was a claim by Schertler that a knife missing from Ward's room, and alleged by the government to fit the stab wounds, was never in Ward's possession but in fact in Seattle.
Legal teams, media and family packed Judge Lynn Leibovitz's courtroom, with overflow rooms set up for audio feeds.
Katherine Wone, Robert's widow, was the first to take the stand for the prosecution. In quiet but emotionally powerful testimony, Wone described the sometimes awkward relationship she shared with Price, despite her husband's long-standing friendship with Price, an attorney and local GLBT activist. Robert Wone was straight.
Wone described a call she received just after midnight after her husband's death from Price, saying Robert had been stabbed ''in the back.'' (Robert Wone was stabbed three times in his chest.) She also described a meeting she had with Price before Robert's funeral, in which Price recounted to her what had happened, making three stabbing motions with his hand punctuated with ''uh, uh, uh,'' when she asked him to stop.
''It was as if I opened a book to its most terrifying page and wanted to slam it shut,'' she said.
The defense has tried to portray the three as being ''good friends'' with Robert Wone. However, Kathy Wone suggested that Robert was merely ''friendly with his friend's friends.''
Legal teams estimate the trial may take five weeks – a figure that Judge Leibovitz said she considers too long. The defendants last week waived their right to a trial by jury, and Leibovitz prodded both sides to remember they were ''arguing to me…not them,'' motioning to the packed audience in the courtroom.
Doug Johnson is a blogger at WhoMurderedRobertWone.com, which is providing extensive daily coverage of the trial of Joe Price, Victor Zaborsky and Dylan Ward on charges of obstruction of justice in the investigation of the murder of Robert Wone.
---