Pittsburgh Proud
Doug Pamplin wins Mr. MAL 2011 title as weekend makes its debut in a new space
Some might say that 2011 was the year Mr. Mid-Atlantic Leather took the easy way out.
Doug Pamplin, competing at the Mr. MAL contest as ''Mr. D,'' brought down the house when he worked the Staples ''Easy'' button into an off-the-cuff answer during the contest's question-and-answer segment. Asked how he would fulfill the wishes of a contest judge with an office-supply fetish, Pamplin concocted a fantasy involving a blindfold made of Post-it notes, paper-clip nipple clamps, a rubber-band cockring and a marker.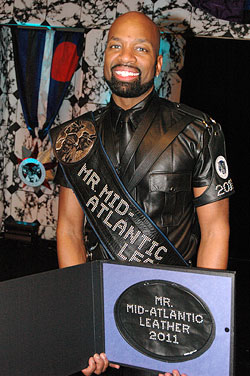 Doug Pamplin
(Photo by Ward Morrison )
''And if it gets a little too hard,'' Pamplin concluded, ''you can reach for that fucking Easy button.'' The audience of roughly 750 people, packed into a ballroom of the Hyatt Regency Washington on Capitol Hill, erupted in sustained cheering.
Through a winning combination of poise and humor, the 42-year-old native of Pittsburgh clinched the title of Mr. Mid-Atlantic Leather 2011, beating out a strong field of seven contestants. Among other duties, Pamplin will represent the nation's second-largest leather event at the world's largest, International Mr. Leather, held annually in Chicago.
You could say this year's Mid-Atlantic Leather weekend, Jan. 14 to 17, hit the Easy button too. Organized by the Centaur Motorcycle Club, the event went off with only ''a few little bumps,'' according to MAL chair Patrick Grady. This despite an all-new, all-encompassing setting: a new host hotel in a different part of town, twice as big as the Washington Plaza Hotel off Thomas Circle, home to MAL the past 15 years.
Grady, the Centaur MC's new vice president, estimates 1,800 people attended MAL at the Hyatt. That's a bit more than last year and more than the hotel was expecting. ''Everybody was happy,'' says Grady, noting that MAL will be returning to the Hyatt in 2012.
In his step-down speech, Mr. MAL 2010 Matt Bamford disclosed that during his title year his father was diagnosed with a terminal illness and his grandmother died. And then, only five minutes before going onstage Sunday, he got a phone call that his grandfather had died. It made an already emotional moment even more so.
Later, Pamplin teased, with tears in his eyes, ''There's no crying in leather!'' The newly sashed Mr. MAL was overcome with sentiment as a long line of well-wishers waited to hug him and pose for pictures.
During an interview after the contest, Pamplin noted that leathermen and leatherwomen are far more compassionate than people give them credit for. The leather community, for example, was an early champion of issues including AIDS and breast cancer. For his part, Pamplin, who's been part of the leather community for six years, will focus his Mr. MAL platform on the issue of hunger.
---