First Out
Frank Bruni named first out gay op-ed columnist in New York Times' history
A development that may surprise some, based on assumptions about The New York Times opinion pages, came on Monday, May 23, with the naming of Frank Bruni as a new op-ed columnist for the daily newspaper.
From the Times: "Mr. Bruni, 46, is the first gay op-ed columnist in The Times's 160-year history. He said he would take on a wide variety of subjects in his writing." Bruni joined the newspaper in 1995.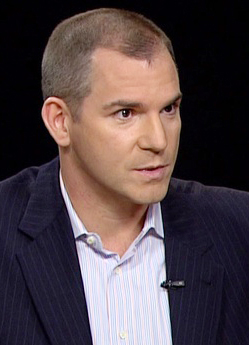 Bruni
According to the internal message announcing Bruni's move, Times opinion-pages editor Andrew M. Rosenthal wrote that Bruni will be writing both in the Sunday Week in Review section, which is being reorganized, and on a weekday, likely Thursdays.
Cathy Renna, a longtime LGBT activist who has worked in public relations and owns her own PR firm, talked with Metro Weekly about the news.
"I'm thrilled that The New York Times finally has an openly gay regular columnist in the op-ed section. Frank Rich was about as gay-friendly as one could possibly be, but it's wonderful to have someone who is an out journalist.
"Frank Bruni may not think it's a milestone, but I would disagree with him," she said. "Frank Bruni has written about so many different topics, I just think – gay or not – The New York Times could use such a diverse set of experiences on its op-ed pages."
According to Bruni's Times profile, he has been the restaurant critic for the Times since April 2004. Before that, however, he "had been the Rome bureau chief from July 2002 until March 2004, a post he took after working as a reporter in the Washington, D.C., bureau from December 1998 until May 2002." While in the D.C. bureau, Bruni covered Congress and, subsequently, the presidential campaign of then-Gov. George W. Bush and the beginning of the Bush administration.
Bob Witeck, another longtime LGBT activist who has worked in Congress and in public relations, noted the importance of the Times' place in journalism.
"Consider that The New York Times arguably is one of the world's most respected media voices, with an impressive, though not perfect, record of LGBT inclusion in the newsroom and in the news. Naming their first openly gay opinion writer may then be considered overdue, given this record.
Looking at Bruni specifically, Witeck added, "However, choosing Bruni is a home run with his freshness, wit, solid writing and reporting gifts. He is disarmingly honest and fearless too, which we will welcome in the pages of the Times."
The Washington Post, meanwhile, has out gay opinion writer Jonathan Capehart, profiled recently in Metro Weekly, among its ranks – although he does not have the regular print columns that Bruni will have.
In a comment provided to Metro Weekly, Capehart welcomed the news, writing, "Frank Bruni will be a great addition. It's wonderful that he's openly gay. More importantly, his career of reporting on politics, social issues, diplomacy and international affairs at The Times will make for informed writing and enlightening reading."
Renna noted that Bruni "has a somewhat irreverent take of things at times," adding, "He's filling some big shoes here" – a reference to Rich's work.
She went on: "I think there's going to be a lot of eyeballs looking at him. Frank Rich was one of the most astute – if not the most astute – columnist on LGBT issues in the nation. It will be interesting to see if the first openly gay New York Times columnist uses the role to fill some of that gap now that Frank Rich has left."
---