Teaching Acceptance
Having seen the heartbreak of parents rejecting gay kids, Caitlin Ryan's mission is to keep families together
To hear Caitlin Ryan talk about her 40-year career helping families come to terms with LGBT children is to be reminded how much things have changed.
Ryan was an early LGBT organizer with an appreciation of the impact health policies could have on communities. At the outbreak of the AIDS epidemic in the 1980s, Ryan saw what was happening to gay Americans across the country and wanted to help.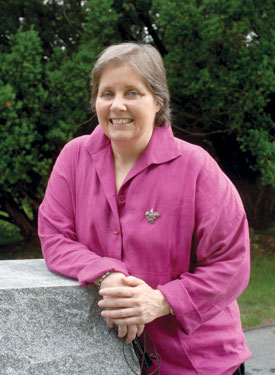 Caitlin Ryan
(Photo by Photo courtesy Family Acceptance Project)
''I realized early on that health is where great disparities could occur,'' says Ryan.
As the AIDS epidemic grew worse and worse, it often fell to Ryan to stand at the bedside of young people dying of AIDS-related illnesses.
''Many young gay people would move to other communities so they could live lives without shaming their parents,'' Ryan says. ''Parents often learned within minutes that their child was gay and that they were dying of AIDS. I told myself that if I ever had an opportunity to do something about it, I would.''
And Ryan has. Working as director of the Family Acceptance Project at San Francisco State University since 2002, Ryan and her team have published groundbreaking work on the relationships between young gay people and their families that is changing the way parents handle their kids' coming out.
According to Ryan, who will speak July 22 in D.C. at the National Association of Social Workers Conference, a lack of awareness of the critical role families play in the lives of LGBT youth has created a crisis for many families.
''One of our most important findings is families make a difference,'' says Ryan, adding that the level of rejection kids are subjected to has a dramatic effect on depression, suicide rates and even HIV-transmission risk.
For many, families are still perceived as the enemy, with the view for decades being that parents are ''unsupportive at best and toxic at worst,'' according to Ryan. However, by teaching parents how to modify their behavior Ryan has started to change decades' worth of preconceptions.
Recently, Ryan has turned her focus to religious families. In a pamphlet published earlier this year, Ryan and her colleagues have offered a resource to help Mormon households with LGBT kids. Similar guides are planned for Jewish families and African-American ministers.
Ryan says that many religious parents feel forced to choose between their child and their faith.
''This is a terrible problem,'' Ryan says. ''For many of these families, they may have chosen their faith. But it shattered their family.''
Perhaps the most important point advanced by Ryan's research is that, despite how negative their initial reactions may be, parents often reject their child's sexuality because they want to protect them. They are not intentionally trying to hurt the child, but are acting out of care and concern.
''Our message is a very powerful one: We cannot continue to exclude families or see them as the enemy. We may be angry, but this is an opportunity to change that and to engage families in a way that feels comfortable to them,'' says Ryan.
As more and more parents seek out Ryan's guidance, change appears within reach.
''We see families can change and grow when they understand how to help that LGBT child that they love,'' Ryan says. ''This work is making a difference. It's keeping families together.''
---