Just two years ago, the tea party movement threatened to upend the balance of power within the Republican Party.
Conservatives were angry, not just with a Democratic president they believed to be anti-American, but with a Republican Party that would not stand up to him.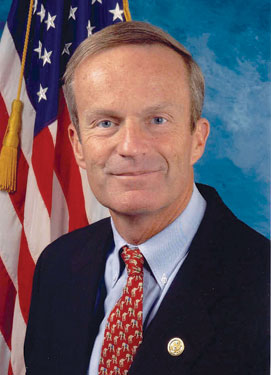 Rep. Todd Akin
(Photo courtesy of US House of Representatives)
In summer 2009, many took to the streets protesting outside the U.S. Capitol as health care reform worked its way through Congress. More importantly, they organized and voted, ushering in a new era of divisiveness that ended the careers of many Republican establishment politicians who spent years in Washington building relationships with those on the other side of the aisle.
As Republicans convened in Tampa, Fla., Aug. 27 to 30, to finalize their national party platform and nominate Mitt Romney for president, the movement that began as a threat to the Republican establishment appears to have solidified the power they sought two years ago.
Romney's selection of Wisconsin Rep. Paul Ryan — a man 23 years his junior — as his running mate symbolizes that. Although Ryan was first elected to Congress in 1999, he has become a hero of the tea party movement.
Ryan's budget plan, which would dramatically reduce the size of the federal government and tackle the deficit by slashing entitlement programs such as Medicare and Medicaid, has been a rallying call for Republicans who wish to truly alter how government functions in modern America.
Sal Russo, co-founder of the political action committee Tea Party Express, told The Wall Street Journal that this year's convention was a ''triumphant tea-party convention.''
While Romney still causes trepidation among tea party faithful for his fluid political views, Ryan's selection was viewed as a nod to their cause. When the tea party emerged in 2010, many questioned if its fringe characteristics would ever be embraced by the broader Republican Party, or if the movement would break off into a third party and siphon away conservative votes from Republican candidates.
Now that the two factions have become one, this November is not only an opportunity for Republicans to reclaim the White House, but also to secure a majority in the Senate. Riding a wave of voter discontent over health care reform and Washington insiders, tea party Republicans took over the U.S. House of Representatives in 2010. This November, they hope to do the same in the upper chamber.
There are 33 Senate seats up for grabs this November with 21 of those seats currently held by Democrats, who traditionally have been more friendly toward gay issues.
Although divisive social issues have gotten little play this election year with many Republicans running on job creation and a stagnant economy, their election would usher in a majority that is just as conservative socially as it is fiscally.
Perhaps nowhere is that more apparent than in Missouri, where Republican Rep. Todd Akin started a firestorm in August after he opined that women rarely get pregnant from ''legitimate rape'' because ''the female body has ways to try to shut that whole thing down.''
The tea party supporter's comments brought a backlash from Democrats and Republicans alike and endangered his bid against Democrat Clare McCaskill's Senate seat, who had been trailing in the polls.
Akin's factually unfounded opinions about rape turned a Senate race in the heartland into a national story.
Shortly after Akin's comments, the Human Rights Campaign, which traditionally supports Democratic candidates, also jumped into the fray and used the national spotlight shone on Akin as a means to draw attention to his broader record on social issues, including gay rights.
In a statement, Human Rights Campaign President Chad Griffin said that Akin's "shockingly cold ignorance to the victims of rape" extends to his views of LGBT people as well.
"Over the last decade, Akin has been one of the leading voices in the House working against the best interests of LGBT people – he's against any kind of relationship recognition for same-sex couples; he's made remarks that are demeaning to LGBT families; he voted against the historic repeal of 'Don't Ask, Don't Tell,' and he refuses to support workplace protections," Griffin said. "Todd Akin is no friend to anyone who has experienced discrimination and is looking to their elected officials to protect their rights under the law."
However, despite being encouraged to drop out of the Senate race by top Republicans, including Romney, as well as receiving a direct chiding from President Barack Obama, who called Akin's comments ''offensive,'' Akin decided to stay in the race and take his chances. He has, however, accused Republican National Committee Chairman Reince Priebus of having a ''personal vendetta'' against him.
Akin is only one of dozens of anti-gay candidates hoping to tip the balance of power in the Senate.
In Michigan, former Republican Rep. Pete Hoekstra hopes to unseat Democratic Sen. Debbie Stabenow, and, much like Akin, has generated controversy.
For many Americans, Hoekstra may best be remembered for a racially charged attack ad against Stabenow that ran in Michigan during the Super Bowl. In that ad, which opens with the sound of a gong, an Asian actress rides up to the camera on her bike in a rice field.
In thickly accented English, she says, "Debbie spend so much American money. You borrow more and more from us. Your economy get very weak. Ours get very good."
Responding to broad criticism, Hoekstra claimed the ad was not meant to be racially insensitive, telling Fox News that a young woman in China speaking English was actually ''quite an achievement.''
Hoekstra was first elected to the House in 1993. In 2010 he decided not to run for re-election and campaigned for governor of Michigan instead. After failing to secure his party's nomination, Hoekstra now hopes to return to Capitol Hill and bring with him a record that has been consistently against gay rights.
Indeed, during Hoekstra's 18 years in the House he was a co-sponsor of the 1996 Defense of Marriage Act, which forbids federal recognition of same-sex marriage and has been deemed unconstitutional by multiple federal courts, and he has consistently supported a constitutional amendment banning marriage equality.
According to Hoekstra's campaign website, he has voted 93 percent of the time with the Family Research Council. Alternatively, Stabenow, his opponent, has never voted with the FRC. FRC President Tony Perkins played an integral role this year writing the plank of the Republican Party's national platform opposing marriage equality.
In previous races, Hoekstra has earned endorsements from former Sen. Rick Santorum (R-Pa.) and James Dobson of Focus on the Family for his support of, among other things, a ban on gay adoptions in the District of Columbia and support for allowing employers to engage in sexuality-based discrimination.
Hoekstra himself refused to adopt a written nondiscrimination policy for his congressional office in 2002.
The HRC's Congressional Scorecard awarded Hoekstra a 0 percent rating for seven different sessions of Congress, only giving him a 10 percent during his last term for voting against a motion to delay passage of the Local Law Enforcement Hate Crimes Prevention Act.
Hoekstra is one of several candidates endorsed by the Tea Party Express political action group this election season.
In Texas, tea party favorite Ted Cruz has not only earned an endorsement from the group, he has also been showered with praise from other conservatives.
In October, Cruz appeared on the cover of National Review, which described him as the ''next great conservative hope.'' Cruz also earned a speaking slot at the Republican National Convention.
The first Hispanic solicitor general in Texas, the 41-year-old Cruz is running for the seat being vacated by retiring Republican Sen. Kay Bailey Hutchinson.
Although Cruz's record is not as expansive as other Senate candidates, few question where he stands on gay rights. Cruz supports ''traditional marriage'' and has expressed support for DOMA.
During the Republican Senate primary, Cruz criticized Republican Dallas Mayor Tom Leppert for marching in the city's annual gay pride parade.
"When a mayor of a city chooses twice to march in a parade celebrating gay pride, that's a statement – and it's not a statement I agree with,'' Cruz said during a February debate.
Other tea party Senate candidates include Tom Smith of Pennsylvania and John Raese of West Virgnia, who both support a constitutional amendment banning marriage equality. In Ohio, 34-year-old Josh Mandel does not believe sexual orientation should be included in antidiscrimination bills and opposes same-sex partner rights, despite supporting them as student body president at Ohio State University in 2000.
And there are others, many whose views on key LGBT issues range from indifferent opposition to vehement hostility.
With the latest Gallup poll showing Congress's approval rating at just 10 percent – Gallup's lowest numbers in 38 years of polling – Democrats remain on edge that their slim majority of six senators could be lost.
Although Romney is far from a tea party favorite, his views on social issues are very much aligned with the majority of the movement and his selection of Ryan as his vice presidential nominee has secured tea party support for his presidential bid. In many ways, it has also validated the tea party's movement within the party.
In an interview with The Boston Globe, Adam Brandon, executive vice president of FreedomWorks, which provides support for tea party candidates, said Romney's pick signaled a broader shift in the focus of the Republican Party to key tea party issues, like deficit spending.
''There's a lot of people in the party who probably view us as useful idiots and hope we go away some day,'' Brandon told the Globe. ''But the truth of the matter is there's a growing recognition that we're becoming the base of the party.''