A U.S. magistrate judge Thursday found former Army Lt. Dan Choi, a gay rights activist who became famous for being discharged under the military's ''Don't Ask, Don't Tell'' (DADT) policy following his coming out on national television, guilty of failing to obey an order of a law enforcement agent during a 2010 protest against DADT where Choi chained himself to the White House fence.
Magistrate Judge John M. Facciola found Choi ''guilty beyond a reasonable doubt'' and fined him $100, which Choi loudly announced he was refusing to pay. As Facciola was exiting the courtroom, Choi asked Facciola to send him to jail, a request to which Facciola did not respond.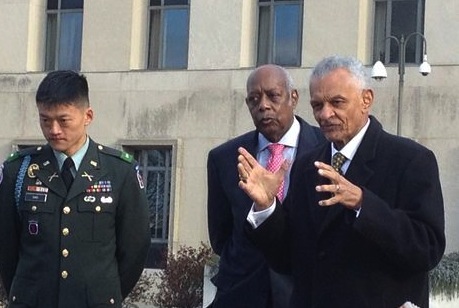 Dan Choi outside the U.S. district court prior to his trial, with Rev. C.T. Vivian (right).
(Photo by Rick Rosendall)
As Choi left the courtroom Thursday afternoon, the courtroom audience, filled with Choi's family, friends and fellow LGBT activists, burst into a round of applause as Choi loudly announced, from amid a pack of deputies from the U.S. Marshals Service, ''I am not guilty, and I am not ashamed, and I am not finished.''
The guilty verdict brought an end to a nearly three-year struggle for Choi, who, following his arrest with 12 other activists on Nov. 15, 2010, was charged in U.S. District Court with failing to obey a lawful order. But Choi had been arrested in March and April of 2010 during similar protests, for which he was charged in D.C. Superior Court. The D.C. Attorney General's Office later dropped those charges, in part because the office determined that the ledge on which the White House fence sits and where Choi and his fellow protesters had been standing did not constitute part of the sidewalk. The order issued by U.S. Park Police in all three incidents was for the protesters to ''leave the sidewalk'' around the White House.
Choi went to trial in August of 2011, but the case abruptly stopped and was indefinitely postponed for 19 months after Assistant U.S. Attorney Angela George informed Facciola she intended to file a writ of mandamus against him for allowing Choi's then-defense team of Robert Feldman and Norman Kent to investigate and pursue a defense of selective or vindictive prosecution by the government against Choi for actions related to his First Amendment rights.
Facciola had found there was prima facie evidence for vindictive prosecution, meaning enough evidence was presented to allow Choi's defense to pursue a claim. This would have allowed Choi's lawyers to ask the government to provide more documents and evidence investigating whether higher-level officials advised subordinates to try Choi in federal court as a way to try and silence him for the content of his speech.
But Chief Judge Royce C. Lamberth, the U.S. District Judge for the District of Columbia, ruled to issue the writ of mandamus, which prevented Facciola from taking into account whether prosecutors were treating Choi differently because he was openly gay and protesting, in full military uniform, the now-defunct DADT policy. This move essentially limited potential defenses available to Choi.
In court on Thursday, Choi represented himself, cross-examining witnesses and making a series of disjointed points in order to defend himself against the charge. But Choi seemed scattered throughout the exercise, at one point breaking down into tears as he showed the courtroom a video clip of ''The Rachel Maddow Show,'' the show on which he initially came out by publicly stating he was gay.
Following his tears, Choi got up and loudly told Facciola that he was ready for closing arguments. Facciola called a recess and ordered the parties to come back for closing arguments later that afternoon. Choi then had what several friends and observers characterized as a ''breakdown,'' during which deputies from the U.S. Marshals Service forced the audience to exit the courtroom.
According to Choi's fellow activist Staff Sgt. Miriam Ben-Shalom, who peered through the glass on the courtroom doors, Choi was on the floor of the courtroom during the episode. At one point, Choi was heard sobbing, ''I don't want to do this any more!'' before several marshals exited the courtroom, carrying Choi, by his arms, with his legs in the air as Choi cursed at them, even telling one of the deputies, ''Fuck you, you're a coward.''
''I think he's tired, he's been under pressure for so long,'' Ben-Shalom said of Choi's mental state.
Following the recess, Choi appeared in court, calm and solemn, telling Facciola, ''I have found rest,'' indicating he had finished his defense.
In her closing arguments, George argued that the order to leave the sidewalk had been given in accordance with U.S. Park Police regulations, was not content-based, and was done in the process of law enforcement. She also argued that it was not necessary to prove whether Choi had engaged in unlawful conduct.
Just before giving his closing argument, Choi faced the court, slowly saluted, turned to George and shook her hand very deliberately, and began his statements. Originally told by Facciola to limit his remarks to 30 minutes, Choi spoke for nearly 40 minutes, touching on various themes ranging from his service in Iraq to his actions, both in the United States and abroad, as a gay rights activist, as well as the First Amendment and freedom of speech, often reciting poetic verses in Arabic or quoting Thomas Jefferson throughout his speech before the court.
Choi also emphasized his own struggles with PTSD, telling the court it ''comes back to me when I am forced in my own country to prove my dignity and humanity.''
''I am part of a civil rights and global rights movement,'' Choi said. ''One that I will not stop being part of until the day I die.''
When Choi went over the time limit, Facciola tried to stop him, but Choi kept talking over the judge until Ben-Shalom stepped in and made Choi finish his remarks. Choi then stood as Facciola pronounced him guilty.
Following the trial, Choi shook hands with several of the audience members and hugged some close friends.
Capt. James Pietrangelo II, a fellow activist and lawyer who was arrested with Choi during multiple demonstrations against DADT, later told reporters that he believed Choi's guilty verdict would be overturned on appeal. According to Pietrangelo, the government failed to prove any of the six circumstances required to prove someone has failed to obey the order of a law enforcement officer, nor had it proven whether the order was lawful or that Choi violated any such order, as he was told to ''leave the sidewalk,'' not the fence ledge on which he had been standing.
Pietrangelo also said there may be an issue regarding whether Choi can be charged with violating a U.S. Park Police regulation that is not statute. Lastly, Pietrangelo claimed, there is a form of double jeopardy in which Choi could not be found guilty, stemming from Facciola's initial finding of prima facie evidence for vindictive prosecution.
''You can't start a trial after the first witness has been called, and then suspend it,'' he said, referring to the government's writ of mandamus, which effectively halted the trial and allowed the government to refine its case against Choi, when the government should have been forced to either move forward with the timely prosecution of the case, or drop the charges against Choi.