''I don't think of dying. I think of being here now.''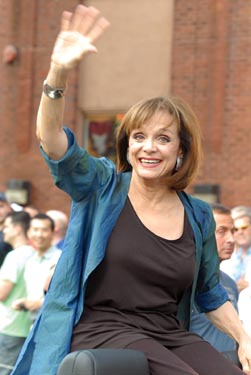 Actress Valerie Harper, 73, as quoted by People magazine regarding her diagnosis of terminal brain cancer.
Harper is best known for her role as the 1970s TV character Rhoda Morgenstern on the Mary Tyler Moore Show and its spin-off, Rhoda. In the mid-1980s she starred in the family sitcom Valerie, and since then has made numerous appearances in guest starring roles including a recent episode of The Simpsons.
In 2009, Harper served as celebrity grand marshal for D.C.'s Capital Pride Parade. She told Metro Weekly then that she was proud of being a early supporter of the gay community:
''[Being gay] is something to be celebrated.... It's just so stupid to me, I don't get it. It's so, so arrogant to say, 'Curtail your life for my comfort.' When the Christian right does that, they're asking people to live in secrecy or not live at all. 'You curtail your life, you lessen yourself, you diminish everything and live in secret for me to be comfortable.' It's so, so... anti-human.''