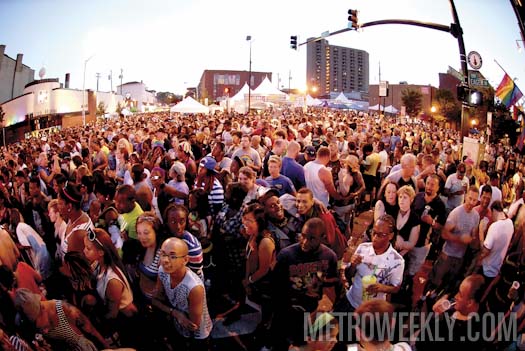 Baltimore's gay business community recently experienced an online kerfuffle over the city's annual Pride Block Party.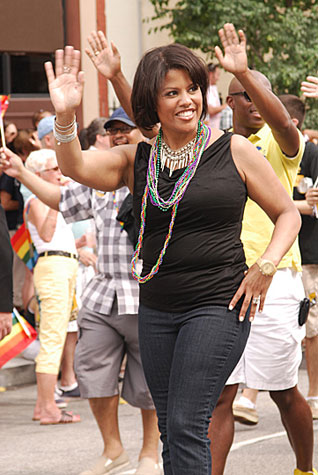 The raucous, outdoor event is a production of the the city's LGBT community center, and it regularly draws a large, diverse crowd. This year it is scheduled for Saturday, June 15, 2013. The party will be preceded by a High Heel Race, and a Parade featuring the city's mayor, Stephanie Rawlings-Blake, as Grand Marshal. The Block Party then runs for several more hours with a main stage featuring singers, bands, drag performers and other acts. Community organizations, artisans and food vendors will cater to the large crowd in an adjacent parking lot. Open-air dancefloors have been included in the recent past.
The whole shebang has become a grand tradition in the heart of the city's well-known gayborhood (Mount Vernon, near Charles and Eager Streets). Two long-established gay bars, The Hippo and Grand Central, are located in the middle of the action, and on the north edge of the crowd is a popular restaurant called City Cafe.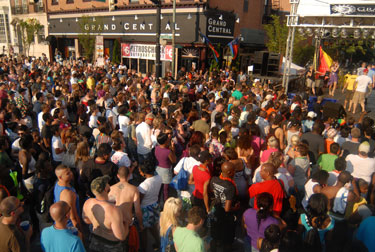 Controversy erupted on Thursday when Grand Central's owner, Don Davis, posted this note on Facebook:
"Facebook friends, I do not post something negative about someone unless I am told by several different people. Chuck Bowers [of the Hippo] took me to lunch on Tuesday and shared that a certain Restaurant owner has been trying to get rid of the Block party for two years now. I then met with Jason Curtis the President of [Mount Vernon-Belvedere Association] Wednesday morning to re-confirm as Chuck told me; and Jason said he was told that the Hippo and Grand Central are serving minors. Anyone that knows Chuck and I do not serve minors. And then a couple of people who are on the Pride committee have confirmed that this restaurant owner wants the block party shut down. I have since heard that Stoli Vodka was to be a major sponsor this year but has back out because of the accusations."
Davis added that the neighborhood association requested for the Block Party to "close at 9pm and not 10pm" and for the crowd to be pulled back one block away from City Cafe's corner. Davis went on to say that the pair of nightclubs operate "clean business[es]" and he would "not tolerate someone accusing me of serving minors."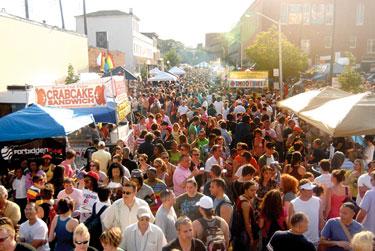 City Cafe quickly responded by saying there was "misinformation circulating in our community across Facebook." The cafe's post stated, in part:
"City Cafe has for the past 18 years supported and looked forward to our city's annual celebration of diversity and gay pride and continues to as strongly as ever.

"There are, however, longstanding problems with the Block Party component of the Saturday festivities. Namely, rampant underage drinking, public urination, drunken behavior, and littering. These issues have escalated in recent years and are a disgrace to what is supposed to be a joyous celebration for our community after decades of discrimination.

"Year after year we politely call these issues to the attention of the Gay & Lesbian Community Center of Baltimore (GLLCB) following Pride Weekend. And, year after year the crowds get bigger and these nagging issues go unaddressed.

"This year we took our concerns to the Mount Vernon-Belvedere Association with a plea that they as the authoritative voice of our community intervene, NOT TO STOP or HINDER the PARADE & BLOCK PARTY, BUT TO SAVE IT! .... City Cafe would never oppose these events nor tolerate anyone else who did. The allegation that we do is scandalous and intolerable."
Responses in the comments of both posts were at times heated and personal. More claims were made that the event had gone out of control with public intoxication and urination next to and behind an adjacent grocery store. (Note: Portable toilets are provided nearby.) Other comments focused on the alleged claim of "underage drinking."
Wendy Fox, of S.H.E. Productions, pointed out that:
"These are issues with ANY city festival, event or parade. What concerns me is that both Grand Central and the Hippo have been targeted as sources for underage drinking when in fact much of the alcohol consumption at the event comes from private coolers, back packs etc."
Perhaps one emcee summed up the celebration's controversies back in 2009 when she said:
"Girl, there is no party like a party on the blocks of Baltimore when you can drink outside. Let's face it."
View more Pride photos by Ward Morrison