CNN talk show host Piers Morgan brought Janet Mock, a writer and transgender woman, back to his show on Wednesday night to follow up on their discussion the night before.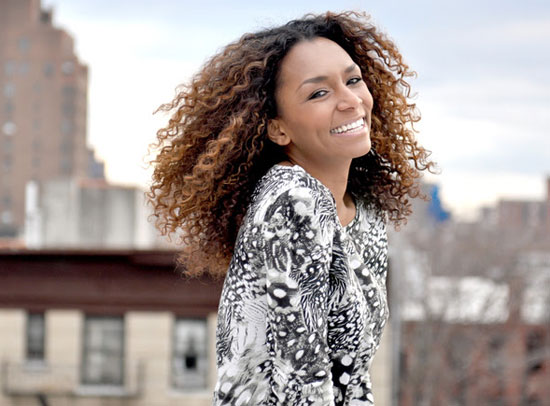 Don't miss Janet Mock's new Metro Weekly interview
(Photo by Aaron Tredwell)
After their pre-recorded interview was broadcast, Mock took to Twitter to express some dissatisfaction with the innacurate, on-screen title card that appeared below her image:
"Was a boy until 18." @PiersMorganLive get it the f*k together. #redefiningrealness

— Janet Mock (@janetmock) February 5, 2014
.@PiersMorganLive I was not "formerly a man." Pls stop sensationalizing my life and misgendering trans women. #redefiningrealness

— Janet Mock (@janetmock) February 5, 2014
Morgan fired back at the flood of complaints which followed, tweeting snarky comments like:
As for all the 'transgender community members' currently sending me vicious abuse - I'm truly sorry....that you're so ignorant.

— Piers Morgan (@piersmorgan) February 5, 2014
I fear I am now a victim of 'cisphobia'.

— Piers Morgan (@piersmorgan) February 5, 2014
Piers Morgan expressed his irritation by launching into this second, confrontational interview with his perspective:
"I called you a woman throughout the interview. I never disputed the fact that you were a woman. And yet, today, I have spent, literally, 12 hours being viciously abused by the transgender community, egged on by your own tweeting last night....

"Now, I was surprised, because you never said anything during the interview to indicate you were remotely dismayed with any of the terminology I was using.... So, I ask you, Janet Mock, to explain to me... why you then felt the need to tweet quite hostile tweets in my direction that sparked this furore amongst the transgender community, because I feel pretty peeved about it!..."

"Why have I been vilified for being transparently supportive of you. I don't get it!"
Janet Mock explained to Morgan:
"Maybe you don't get it because you're not a trans woman.... Before commercial break, we had a lovely conversation, and then all of a sudden you said: '...who was formerly a man.'

"I was a baby. I was assigned male gender because of the appearance of my genitals.

"As I grew up, I discovered my girlhood. I discovered my womanhood. And I proclaimed and defined myself for myself...."

"I did not [correct you] because I was scared. And I wanted to be a cordial guest... because I was appreciative of having two segments on a mainstream show.... I think that being offensive and being kind are not mutually exclusive things...."

"I did not choose the title [of that Marie Claire article, 'I Was Born a Boy'], just like I did not choose the title on the title cards that were underneath my name on that [CNN] segment, or the tweets that went out from the show."
The CNN host complimented Mock but continued picking out "boy" words from the magazine article. He also defending himself by repeatedly saying that he was a strong supporter of LGBT rights, then oddly asked Mock, "Do you dispute that you were born a boy?"
Mock said that the article shouldn't have been the basis for the interview -- the new book that she personally wrote for three years should have been the focus. She concluded by saying that the "exchange was good... but it was also bad" because, by her being publicly mislabeled and "misgendered," other transgender people may wonder what it means for their lives, too.
Read more about Janet Mock in Metro Weekly's great new interview, "Mighty Real."