Sunday Shake-Up
Mark Lee's post-Lizard Whirld
''I suppose people should think about this as Cher's final tour,'' longtime club promoter Mark Lee jokes as he talks about his future in the nightlife business. ''You're never really quite certain if this is the last one or not.''
Lee's latest endeavor launches this Sunday night. Whirld will spin into his Atlas Events orbit in the same space that hosted his wildly successful Lizard Lounge, which ended not quite two months ago.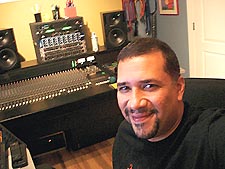 Rosario
Unlike Lizard, there is a cover charge to get into Whirld, which will be held on special holiday weekends, not every Sunday. Lee expects to have four Whirld events this year. His main Lizard DJ Kostas will rotate with the other resident Lizard DJ, Jean-Philippe Aviance, spinning on the swanky, intimate third level. Aviance is up this weekend, as a means to promote his debut artist album, out in early August, and his new remix of ''Giv Me Luv,'' a 10-year-old international club hit he co-wrote for Alcatraz.
Lee is bringing in nationally prominent guest DJs for the main levels. First up: Chicago-based Ralphi Rosario. ''Ralphi was someone we worked hard to get,'' says Lee. ''One of the things that has come to distinguish our Atlas Events is that we offer some of the best music available out there.'' A 25-year industry veteran, Rosario is best known for his remix of the Pussycat Dolls' ''Don't Cha,'' last year's club anthem. He's also known for his work with DJ Abel Aguilera, who spin together as Rosabel. The pair are working to create a full-length artist album, featuring fun, upbeat party music similar to their 2004 dance smash ''Cha Cha Heels.''
''Most [dance producers] out there are really taking themselves too seriously,'' says Rosario. ''When you're too serious, people do not take you seriously.''
Whirld debuts this Sunday, May 28, at MCCXXIII Nightclub, 1223 Connecticut Avenue NW. Doors open at 9pm. Cover is $10 before 10pm, $15 after. Visit www.atlasevents.com/MemorialDayHoliday/.
---