Partying to XS
Pennsylvania's Club XS prepares to ring in its third year
Charles Oswald knows how to throw a party. As the bar and events manager for Club XS in York, Pa., it's a job requirement.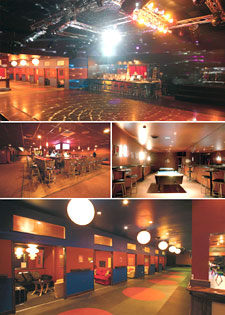 Club XS
''It can be a tough market,'' Oswald says of south-central Pennsylvania, roughly 90 minutes out of D.C. ''It's a spread-out region. To get people to travel you have to do something really off-the-hook, something that's really innovative. So it really makes you think outside the box.''
In addition to a cabaret show and a massive Halloween party, the club will soon host a Pride Pro Wrestling show organized by a gay grappling group out of Philadelphia. And it will continue to present a popular monthly ''swingers party'' for couples.
But first, Club XS will raise a glass to three years in business. ''It's really, truly going to be an awesome anniversary," says Oswald. "Something for everybody.'' Headlining the night is DJ Junior Vasquez, who originally hails from Lancaster, Pa., about 25 minutes from York. ''It's his only local performance in a long time," says Oswald. "It's definitely a special treat."
Joel Weinstein launched Club XS after decades working with his brother Steve, managing bars in Florida and D.C., including the original Green Lantern, the Circle Bar on Connecticut Avenue and the Fireplace, which Steve still runs today. The Club XS space was formerly known as The Velvet Rope. ''We made a lot of changes,'' says Weinstein, ''including installing state-of-the-art sound, as good as any big-city club.''
It's shaping up to be quite a special season for the club, and especially for Oswald, who will marry his partner Greg King in Connecticut over Thanksgiving. Oswald tapped dance singer CeCe Peniston to perform for his open-to-the-public wedding party at the club on Saturday, Dec. 5. Says Oswald: ''We just want everybody to be able to come and help us celebrate."
DJs Junior Vasquez and Seth Gold spin Saturday, Oct. 3, from 9 p.m. to 2 a.m., at the 3rd Anniversary Party for Club XS, 36 W. 11th Ave. York, Pa. Tickets are $10. Call 717-846-6969 or visit www.clubxsyork.com. ;
---