Multisensory Music
Kidd Madonny, known as one-half of club design/décor duo RKM, promises ''the wow factor'' for his stint at Town
You wouldn't expect a former performance and visual artist -- and before that, a go-go dancer -- to go quietly into the DJ booth, would you?
''People know me for the craziness, and I still wanted to keep those elements, like the wow factor,'' Kidd Madonny says. So when Madonny works as DJ, he's almost as likely to twirl sparklers and jump around as spin music on turntables, all while wearing sexy, sequined costumes, maybe even a mask. Chances are he'll toss out some inflatables into the crowd, as well.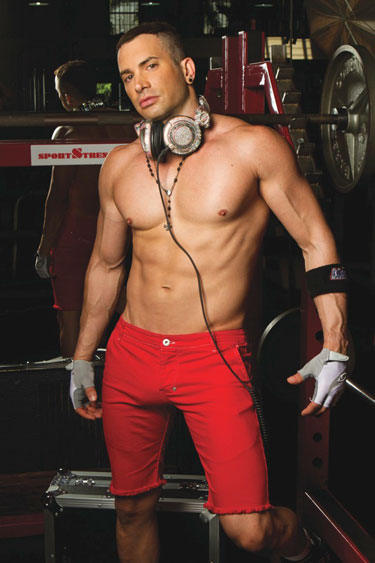 Kidd Madonny
(Photo by Dale Stine)
''I've created a show out of it, you know? Not many DJs have the opportunity to make it entertaining,'' says Madonny, who came to fame in the gay club scene as one half of the duo RKM. Along with his ex, Rubio, Madonny as RKM performed at and designed clubs all over the world last decade, including repeat appearances at Velvet Nation and Cherry. He also served as creative director for Showtime's traveling ''Queer as Folk Babylon Tour.''
Born and raised Javier Baez in Miami, Madonny took his stage name while working as a dancer at R&B icon Prince's former club Glam Slam in South Beach. ''I was a Madonna fanatic,'' he says, laughing, ''[but] I didn't know it was going to stick with me for the last 18 years of my life.'' Since RKM disbanded, roughly six years ago, Madonny has worked on decor and design for various DJs. He's also collaborated with his straight brother, Alejandro Baez, also known as DJ Shade.
But he's also been quietly honing his own craft as a DJ, something that he only started pursuing professionally the past couple years. ''I've been DJ'ing for a while, but I'm taking it to another level,'' he says. He also just released his debut DJ-mixed compilation, Workout.
''I've been working really hard on this CD for the last six months, trying to show the other side of me,'' says Madonny, who will celebrate by returning to Town Danceboutique this Saturday, March 30, for a CD release party. In addition to crazy decor and antics in the DJ booth, partygoers should expect ''very high-energy and fun music. A very playful night.''
DJ Kidd Madonny performs Saturday, March 30, at Town Danceboutique, 2009 8th NW. Cover is $8 before 11 p.m., or $12 after. Call 202-234-TOWN or visit towndc.com.
---