Jesson grew up in a college ''party town,'' which may explain his fearlessness and sense of independence compared to others his age. Despite the advice of his family, the native of State College, Pa., resettled in the D.C. area where he works as a sales manager for two Nine West stores. When he's not busy working or studying, the 19-year-old, who lives in Bloomingdale with his DJ boyfriend, likes to be as social as possible. You'll typically find him at Cobalt on Thursdays and Town on Fridays.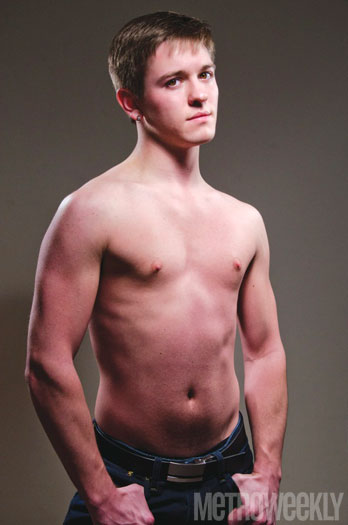 Coverboy: Jesson
(Photo by Julian Vankim)
What's on your nightstand?
Some half-empty drinks.
What's in your nightstand drawer?
A bunch of sex toys I'll probably never use. I generally use the nightstand drawer as a ''junk drawer,'' where I'll keep memorabilia and souvenirs from trips.
What are your television favorites?
Downton Abbey, The Walking Dead, RuPaul's Drag Race and, if we're counting YouTube, Willam's Beatdown.
What was your favorite cartoon when you were a kid?
It's a tie between Power Rangers, Blue's Clues and Scooby-Doo.

What superhero would you be?
Superman.
Who's your greatest influence?
Probably Madonna and Oscar Wilde. They both broke a lot of barriers.
What's your greatest fear?
Awkward people. I like having random conversations with people when I go out, meeting new people. But when they're like, ''I don't know you,'' it's annoying.
Pick three people, living or dead, who you think would make the most fascinating dinner guests imaginable.
Willam [Belli], Michelle Visage and Kesha.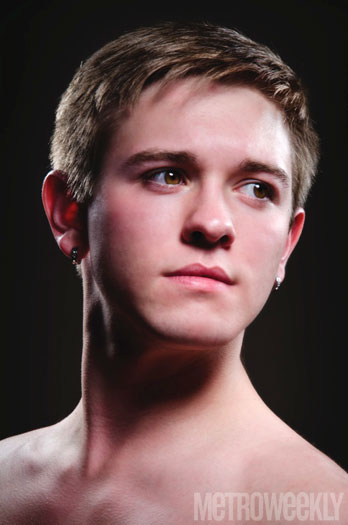 Coverboy: Jesson
(Photo by Julian Vankim)
What would you serve?
Svedka shots. Or ''flaming Dr. Peppers.''
How would you describe your dream guy?
Has to be a DJ. Tan, but not Snooki-orange tan. Really buff, nice hair, some facial hair. I usually fluctuate from really muscular to teddy-bear cute.
Define good in bed.
Uses a lot of lube, and not just for its intended purpose. Very creative in terms of position and variety, but not ''me being tied to the ceiling'' kind of creativity.
Who should star in a movie about your life?
Channing Tatum.
Who was your first celebrity crush?
Brad Pitt from Fight Club. I swear, just seeing him in that movie turned me gay.
Who gets on your nerves?
People who are stuck up and high-maintenance.
If your home was burning, what's the first thing you'd grab while leaving?
My phone. Though it's practically attached to me, so that wouldn't be a problem.
What's your biggest turn-on?
Underwear.
What's your biggest turn-off?
Really, really skinny guys and super-straight guy clothes, like baggy or athletic clothes.
What's something you've always wanted to do but haven't yet tried?
Parachuting with a big gay flag above me.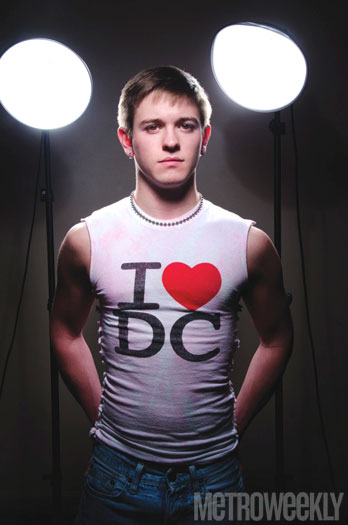 Coverboy: Jesson
(Photo by Julian Vankim)
What's something you've tried that you never want to do again?
Going to a bathhouse. It was scary.
Boxers, briefs or other?
Briefs all the way. Or jockstraps.
Who's your favorite musical artist?
Kesha.
What's your favorite website?
Xvideos.com or YouTube or Facebook.
What's the most unusual place you've had sex?
In a hammock. Strangest experience ever. It was creative, but it was a challenge.
What position do you play in the big baseball game of life?
A pitcher.
What's your favorite retail store – that you don't work at?
Universal Gear.
What's the most you'll spend on a haircut?
$90.
What about on shoes?
$240.
What's your favorite food to splurge with?
I just eat a lot, period.
Come on...
Five Guys Cajun fries.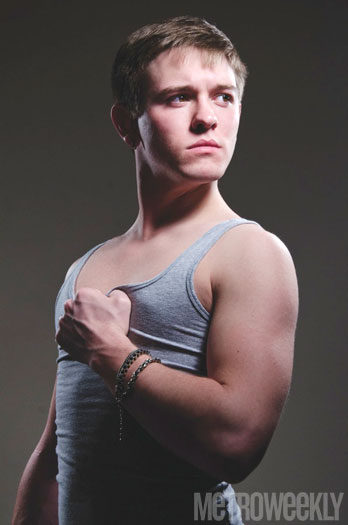 Coverboy: Jesson
(Photo by Julian Vankim)
What's your favorite season?
Summer. You can go out and do things. You can stay out late and roam around without worrying about what you're wearing.
What kind of animal would you be?
A white tiger, sexy and fierce.
What kind of plant would you be?
A Venus flytrap.
What kind of car would you be?
Convertible Dodge Viper. That gets a ''woof'' from me every time I see one.
What are you most grateful for?
Good looks and awesome people who are around me.
What's something you want more of?
More gay parties. I'm always hearing, ''Oh, Jesson, it's too bad you missed these warehouse parties or circuit parties at places like Nation.'' I just wish there were more venues like that – the '90s gay club scene.
State your life philosophy in 10 words or less.
Money, drink, party, friends. Money, drink, party, friends.