He might have been born and raised in Baltimore, but Dearl is in a New York state of mind. Dearl travels often between the District and the Big Apple, home to the man he's currently dating. At 26, this part-time model is still working out the details of his life, but doesn't shy away from the party scene, taking delight in traveling to big cities, drinking socially and hitting up clubs. A big follower of astrology, this Leo is self-assured, confident and seeks out other masculine, type-A personalities for friendship and fun.
What's on your nightstand?
An empty bottle of red wine, one of my watches and a lamp.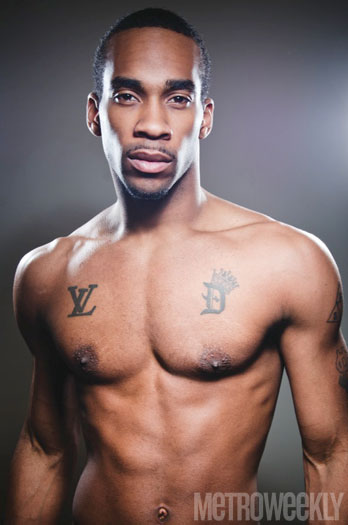 Coverboy: Dearl
(Photo by Julian Vankim)
What's in your nightstand drawer?
An empty bottle of lube, condoms and some other stuff I don't care to talk about.
What are your television favorites?
Anything on Bravo or HBO. Reality shows, like The Real Housewives of New Jersey or The Real Housewives of Atlanta.
What was your favorite cartoon when you were a kid?
Johnny Bravo. I used to love him as a kid.
What superhero would you be?
Spider-Man, so I could trap sexy people in my web.
Who's your greatest influence?
My grandmother. She raised all of us. My mother struggled with addiction at times, but my grandmother was always strong through all of that.
What's your greatest fear?
Heights. I hate heights. I stay at a lot of hotels, and I don't like when I'm way up off the ground.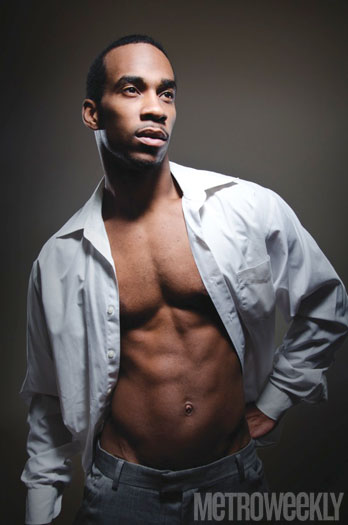 Coverboy: Dearl
(Photo by Julian Vankim)
Pick three people, living or dead, who you think would make the most fascinating dinner guests imaginable.
They guy I'm dating right now. I'd have my aunt who died a couple of years ago. And Beyoncé. I think they'd all like each other.
What would you serve?
Crackers, dip and wine.
How would you describe your dream guy?
I've got two types of dream guys, one black and one white. For black guys, I like ''hood'' guys. For white guys, I like someone sweet and charming. Regardless of race, I a hunk or a jock.
Define good in bed.
Me.
Who should star in a movie about your life?
My gay little brother, because he can imitate me well.
Who was your first celebrity crush?
Lil' Bow Wow.
Who gets on your nerves?
An Aquarius. We just don't get along.
If your home was burning, what's the first thing you'd grab while leaving?
My laptop. I need it. Everything's in it.
What's your biggest turn-on?
I'm attracted to guys' feet.
What's your biggest turn-off?
Somebody who nags me or complains a lot.
What's something you've always wanted to do but haven't yet tried?
Bungee jumping.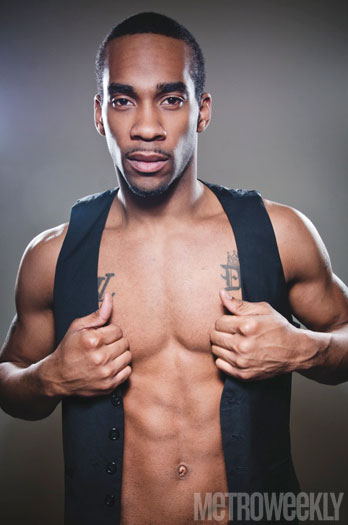 Coverboy: Dearl
(Photo by Julian Vankim)
What's something you've tried that you never want to do again?
Cigarettes.
Boxers, briefs or other?
Briefs. And other. I'd love to walk around naked.
Who's your favorite musical artist?
Beyoncé. Ever since Destiny's Child, I knew she would be big. I love a confident woman.
What's your favorite website?
Twitter. I love to tweet. I like the fact that I can say what I want and don't have to reply to anybody.
What's the most unusual place you've had sex?
On a Greyhound bus.
What position do you play in the big baseball game of life?
Top. I love to be in charge. And I'm good at what I do. Sometimes I feel like I want to be a bottom, but then I get over it.
What's your favorite retail store?
Zara.
What's the most you'll spend on a haircut?
$20.
What about on shoes?
$300.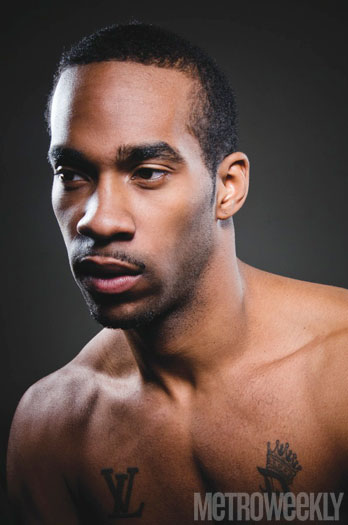 Coverboy: Dearl
(Photo by Julian Vankim)
What's your favorite food to splurge with?
I love seafood.
What's your favorite season?
I love wintertime. I love scarves, hats, gloves and trench coats. I also feel like the summertime is dangerous, like someone trying to rob me or jump me.
What kind of animal would you be?
A lion, because I feel like it represents me as a whole, plus I'm a Leo.
What kind of plant would you be?
Probably a grapevine, because I love wine. I actually prefer to drink wine. Liquor puts me out of control.
What kind of car would you be?
A Maserati.
What are you most grateful for?
My cock. It's done a lot for me.
What's something you want more of?
Money would be nice.
State your life philosophy in 10 words or less.
Go and get what you want.