Hearsay
Black Cat goes gay for a night; Taking underwear to a whole new level; Using the Black Party as a personal litter box
A prodigal if uncomplicated return... Testing. Testing. Is this thing on?... Oh, you don't TALK into it, you TYPE into it and when words come out there on the paper -- like so much chatty, gossipy diarrhea of the mouth. Why, it's positively magical! Okay, just kidding. Hearsay hasn't forgotten how to type, let alone gossip, chat, shamelessly promote, promote shamelessly, and gently rib-roast the local GLBTIQWXYZ community that comprises our local and social and international and universal, um, universe. Where has Hearsay been for the past three or so years, you ask? Hearsay has been on an incredible adventure, one that it will reveal in measured flashbacks in upcoming columns. Just like that show Lost. Except with no hatches or smoke monsters. Let's just say this for now: after a decade of sloshing around the bottom of a martini glass, olives and cocktail onions Hearsay's only source of nutrition, toothpicks its only means for pimple removal, Hearsay up and left for a stint in the Doodles Weaver Rehabilitation Habitat, which is a fairly nice facility in the Nevada desert, a flying saucer's throw away from Heinz Area 57. Or is that 51? The details are still fuzzy, as Hearsay is still healing from all that prolonged probing of alien objects. Nevertheless, Hearsay was released from the Habitat on its own recognizance, promising The Overseer it would never so much as touch a drink again. It returned to Washington -- only to find the Nightlife scene had dramatically changed. A baseball stadium is now being erected where some of Hearsay's traditional haunts once stood, where Hearsay spent many nights batting very different kinds of balls around. And what's with this no smoking except outside crap? It's enough to make one want to drink again. Which is what Hearsay promptly did (sorry, Overseer), ordering its favorite drink, shaken, stirred and undiluted. So Hearsay guesses the wagon is way off in the distance. Way off. Way, waaaaaay off....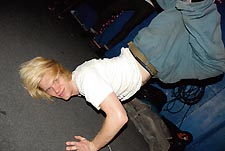 Straight to the gays... Last Friday wasn't just any DJ dance night at the Black Cat's Backstage space. It was a DJ dance night devoted to the Queen. Oh, how the queens love the Queen! On this night, the queens -- several hundred of them, enough to keep people waiting in line out in the cold for as long as four-digit minutes -- invaded the Queen's kingdom. DJs Stereo Faith and Julian S. Process played Britpop for their regular Sorted party, but this night was anything but ordinary, or, as the Jews say around Passover, ''Ma Nesh Ta Nah Ha Lila Ha Zeh?'' (Try saying that to any Rabbi and see what he answers back!) Anyway, it was the 3rd anniversary party for the Guerilla Queer Bar, the Internet-abetted effort that every month gays-up a different straight bar. It's what organizers Karl ''Me & Mr.'' Jones, Amy ''Spicy Sweet'' Mulry and Chris ''I'm Never Not on the'' Trott used to call a takeover, but now that the efforts have reached maturity and gone totally mainstream, they call it a blender (make Hearsay's frothy, please). Actually, they called it a ''blending'' in an ABCNews.com report that was accompanied by a poll, ''Are you comfortable with the organized effort by gay patrons to populate straight bars?'' Two days into it, the answer was a resounding YES! Good thing, too, since the three blending queens have no intention of stopping. The third anniversary was a resounding success -- Faith and Process, Hope and Technique really fired up the crowd, especially as the night wore on, when they switched from pop and soul to mostly hard house and minimal techno, inspiring one blond-haired bubblegum-chewing dude to dance on his head. Jones was fired up: He was last seen with a hot Latin luster who was trying to takeover -- er, blend into -- him. Jones appeared flattered, but certainly not frothed, about it. There was Chris ''Chrisafer'' McCarthy braying in his special bearded way about the tiny, pricey little vodka tonics they were serving at the Backstage bar. The Black Cat is definitely a beer drinker's delight. There was the skinny black boy in red from his ball-capped head to his blue jeans. He couldn't get enough of the dance music. He was definitely sorted. And so was Hearsay by the time it left....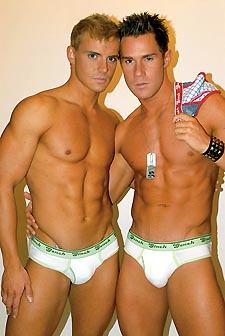 Underwear by any other name... How many inches in your Ginches? Hearsay asks variations of that question of every boy it meets. Recently, Hearsay asked it of two boys who resembled plastic figurines wearing nothing but a shred of cotton as a few weeks ago these designer underwear models strutted into Universal Gear and Cobalt in one fell swoop as part of a D.C. ''Brief Greeting.'' Benjamin ''What's Watergate?'' Bradley and Ethan ''Ten Tin Foil'' Reynolds are the official Ginch Gonch Boys. These official ambASSadors are representing the nascent Canadian underwear company that ''celebrates sexual awareness with flamboyant fashion,'' and that, according to a press release, further aims through its marketing to attack ''sexual repression, fanatic religious dogma and the ignorance that perpetuates AIDS.'' Take that, Calvin Klein. Bet you just thought it was just something soft and comfy to cover your private bits with. But no, this is high-falutin, high-priced underwear with a social mission! Nevermind that the company's tagline is ''Live Like a Kid.'' Or that the company provides no explicit examples of work in fighting repression or AIDS. But why quibble? Companies can say what they like.
Ginch bunched up these boys in February, and is parading them around as part of a two-year tour that includes gay movie premieres, gay cruises, gay circuit parties, gay crocheting festivals, gay boce ball tournaments and, of course, gay dude ranches. Before Ginch sniffed their crotches, the boys were just a very young couple -- six months now, which means they've got about a week to go -- employed in a different double-g-rated line of work: go-go dancing on the Vegas Strip. Actually, Bradley, 25, used to strip and so much more, when he was gainfully employed in what he politely referred to as the ''adult industry,'' working under Chi Chi LaRue. Reynolds, 25, has been a model for some time and also the ''President and Founder'' of Bratboyschool.com, which seems to serve as little more than a glorified blog for this bratty bottle blond. The two say they loved Ginch Gonch underwear before. ''We had a couple of pairs,'' Bradley said. ''But not like now. We have hundreds.'' Do they always wear Ginch Gonch? ''When we wear underwear we do,'' answered Bradley, the far more talkative one. ''When we don't, we don't.'' With communication skills like that, can the U.S. Presidency be far behind?
The boys were supposed to come to town during Universal Gear's spring underwear sale, going on now. But Gear's creative director James ''Model Citizen'' Neal said they had a scheduling conflict and had to come a few weeks early. They arrived more than an hour late to the store on Saint Patrick's Day Saturday night, and some early wannabe groupie gropers gave up and went home. In order to attract others, the boys, with assist from the Gear's ever-helpful store manager Yeme Mengistu, ambled outside to 17th Street. Nevermind that it was a brisk 36 degrees outside, the boys were well-heated by all the ultraviolet rays zapped into their skin. They later spent just a few minutes parading around Cobalt. They didn't stay long and they didn't go-go dance as expected. Cobalt's manager Jason ''Flashback'' Royce said that apparently the boys' luggage went missing or something, so they couldn't stay, preoccupied as they were with all the GG underwear they weren't going to be able to wear. And while in town on the year's most emerald evening, the boys weren't, in fact, wearing green underwear, at least not while Hearsay ogled and goggled them. But try as it might, Hearsay couldn't pinch an inch!....
In the black... The Ginch Gonch beaus were not seen, naturally, at New York's down and dirty Black Party a few weeks back. But who needs 'em? You couldn't walk around the leather-inspired but circuit-certified Black Party, which attracts some 8,000 revelers every year to Manhattan's vaunted Roseland Ballroom, without seeing familiar faces. Unfortunately, Hearsay can't report seeing any Washingtonians in the expansive lounge area, where sexy music -- and free condoms and lube -- inspired certain kinds of spring flings. (Is that your fist or are you just happy to see me?) Nor did it see any D.C. denizens in the ''Glory Hole Room,'' where makeshift stalls, with large holes, were set up in case of, uh, emergency. Though Hearsay bets Ron ''Well Heeled'' Brown tumbled into both places at some point during the long night's journey into day. Most others, like Shane ''Quiet Storm'' Maye and Paul ''Good to the Last Drip-Drop'' Dreps were too enthralled to leave the dance floor by DJ Tony ''Papi Beats'' Moran's hard-hitting but smooth-sailing set and Guy ''Pyrotechnic'' Smith's otherworldly way with lights and lasers. Apparently, someone else was too enthralled to leave the dance floor, and pooped in place. Yikes! The dancing queens around this shitfaced sad sack could be heard screaming as they scurried away from the smell.
Also spotted at the party: Al ''Wowie Zowie'' Baggett; Sean ''Purring Persian'' Soheil, who danced behind the screens up on the precarious three-story platform with no easy way up or down; and Michael ''Irrepressible'' Scott, who was quoted after the party by Gawker.com as having killed a horse. The closest thing to a horse Hearsay saw was Chris ''Ride 'Em'' Cowman. But despite his name, Cowman is a former model for Nasty Pig, the New York clothing line very well-worn at the Black Party. (Fun fact: The leather-inspired clothing line was not named after the owner's pet porcine, nor was it, at least directly, named after the owner's sexual proclivities. In fact, it was named after a dog)....
More morabito, please... Hearsay recently set foot in Apex, pleased to see that after all this time the venue's name had not changed back to Badlands, and quickly lost all hope of any sobriety once and for all, courtesy of a frazzled Mike ''Here, Have a Shot'' Harrington. The joint was jumping! Hearsay's liver was thumping! Along with the usual kiddies, Hearsay saw old clubbers it hasn't seen in years -- so long it can't remember any of their names! So long it was too embarrassed to ask again! The club was as packed and as busy as the music from Susan ''Rhythm Is My Bitch'' Morabito, the circuit stalwart who clearly has a devoted following. Manager Joey ''Oxygen! Is My Favorite Network'' O couldn't have been more pleased with the turnout. Zade ''Pretty as Punch'' Ramsey couldn't have looked more pleased if he tried. And Hearsay can't remember who else it saw the rest of the night. Hearsay can't binge like it used to, but with time, will again. Anybody got a cigarette?....
Got a tip for Hearsay? Wanna just say what's on your mind for Hearsay to possibly regurgitate in its own way down the line? Shoot an e-mail to Hearsay@metroweekly.com.
---