Soundwaves
Tiesto, Van Dyk and 'America's Favorite DJ'
VOTE NOW FOR FAVORITE DJ… One is focused on America, the other worldwide, though with a clear European bias. But no matter: Tiesto is likely to claim the top spot in both of the two most prominent annual reader polls ranking dance music DJs. Polls already closed for the influential British DJ Magazine's ranking, which Tiesto has topped for two years running. Results will be announced just in time for Halloween. But BPM Magazine's search for "America's Favorite DJ" continues on through to January 2, so there's plenty of time to pick your favorite three DJs, and then plenty of time to wait for the results. They're not due until the first of March 2005. Besides Tiesto, Paul Van Dyk, Armin Van Buuren and Paul Oakenfold, we expect the top of the list to include Sasha and DC's own Deep Dish.
There are over 200 DJs on BPM's list, and yet. There are barely a dozen DJs on the list known to be gay or at least regular spinners on the gay circuit, including Junior Vasquez, Peter Rauhofer, Frankie Knuckles, Victor Calderone, Irene and -- ain't it cool? -- Boy George. That's right, they missed, among others, DJ Abel Aguilera, he of the wildly popular Alegria parties at Crobar in New York. Instead, several "DJs" make it on here who are known almost solely as recording artists, not DJs, everywhere outside of Europe (remember, their focus is on "America's Favorite DJ"). Basement Jaxx, we love you, and Fatboy Slim and Groove Armada, you're pretty cool too. But what are you doing on this list?...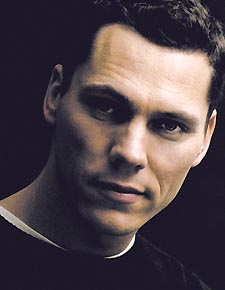 Tiesto
TIESTO, THE DANCE DRUG... Back to the most celebrated DJ of our time, Tiesto. Did you ever consider that this Dutchman, who just over four years ago was little known outside of his quiet hometown near the Belgian border, is really a gateway DJ? He said as much at the Billboard Dance Music Summit, held in New York two weeks ago. Serving on a Q&A panel session, he described to the audience his role as someone who turns people on to dance music -- through, essentially, branding of his sound and his image. Did you know his image was stuck to the sides of Coca-Cola cans in Europe recently? And then, of course, there was his role at this year's Athens Summer Olympic Games, where he was the first DJ ever to spin at an Opening Ceremony. (He also helped compile the set list for the Closing Ceremony.)  That's yet another reason why he should have no trouble holding on to the top spot in DJ popularity polls.
Tiesto told the Billboard panel that once he's got people hooked to his fast-paced, keyboard-happy, colored-glowstick trance sound, they move on to other dance DJs. It's a reasonable proposition, all the more remarkable because he said it without any hint of the distaste that most DJs, priding themselves on being underground, counterculture and ahead of the times, would. In fact, when asked if he worried about becoming too removed from the dance underground, about being too commercial, he shrugged his shoulders, shook his head and said, "I don't care." Actually, it seems pretty obvious he does care, that he wants to be a commercially successful, mainstream star, particularly in America. He said, to considerable surprise, that he's far more interested in seeing dance music merge with hip-hop than with rock. The latter is the approach that's the new rage in dance music today, from DJs to recording artists, and the fact that he's not so interested in that approach is surprising, because his last album, the appealing Just Be, incorporated many pop/rock elements, including guitars, into its otherwise straightforward, and affecting, trance sound. It's also surprising because it seems so calculated, as he admitted to a desire to become the toast of hip-hop-loving America and not just trippy pop-loving Europe.
He said he'd even like to work with a hip-hop star, just as Deep Dish and Felix da Housecat are doing with P. Diddy on his long-delayed dance album. But based on the preview he gave Summit attendees of his next album, comprising songs composed for or inspired by the Olympics, Tiesto's not moving in that direction just yet. Due Nov. 2, the album, Parade of the Athletes, sounds a bit more intense than Just Be, released just this past summer, but also less melodic and more repetitive…
VAN DYK'S DIG... Meanwhile, at another panel, Berliner Paul Van Dyk, who also incorporates pop/rock elements into his trance base, took a subtle dig at Tiesto, his main rival for the crown of world's favorite DJ. The fact that Tiesto and Van Dyk were the only two asked to sit for individual Q&A sessions at the Summit shows their significance. At his session, Van Dyk made it clear he's not the music populist that Tiesto is. (Though truth be told, their musical sounds to date are very similar, and at least on the surface would appeal to the same crew of danceheads.) He said he didn't like the attitude of one of his colleagues, who appears to consider himself more of a brand and less of an artist. He could be referring to someone else, but even if so, I still don't get the sense that Tiesto and Van Dyk are the best of friends...
---