Soundwaves
The Grammys, George Michael video, Kylie Minogue, Scissor Sisters
THE GRAMMY DANCE… In a typical year, we'd be crowing about Green Day's six Grammy nominations, Gwen Stefani's sole one-year-early nod, and Basement Jaxx's sweep of the dance categories. And we'd be crying about everything else. But there's nothing typical about 2004 -- it was the best year in pop music this century, and one of the best in at least a decade.
And for a change the 47th Annual Grammy nominees, announced last week, reflect reality. The Grammys rarely reflect the very best, just the very best of the very popular. But this year's nomination slate is exhaustively strong, particularly in the rock, alternative and country categories. And what of the dance categories? This year there are three. Yes, three -- one for song, one for remix, and a new one for best artist album. The competition is fierce, though as you might expect it's at its most uneven in the newest category. Basement Jaxx should easily take the Best Electronic/Dance Album honor for its Kish Kash, unless name recognition alone hands it to the Prodigy or Paul Van Dyk, whose Reflections is the second-best of the lot. Strange, isn't it, that Van Dyk got nominated while his arch-rival (and the arguably more popular) Tiesto didn't, for his equally remarkable Just Be? Strange, too, that Paul Oakenfold's Creamfields is here, given that it is, at base, a compilation, not an artist album. Actually that's a mistake, and one that could come back to haunt the dance community, especially should Oakenfold carry the day…
GRAMMY REMIX N.E.R.D.S… And what about Felix da Housecat? Well, his Devin Dazzle and the Neon Fever wasn't nominated for best album, but he is, for Best Remixed Recording honoring "Motor Inn" by Iggy Pop featuring Peaches. We haven't been able to track that one down, much less hear anything about it. Da Housecat produced the music for another remixer nominee, Sasha, but his work on "Watching Cars Go By" is as slight as the original was lackluster. Not so with Basement Jaxx's remix of N.E.R.D.'s "She Wants to Move." Jaxx took a deliriously funky track and -- as only they could do -- made it somehow funkier. Jacques Lu Cont, a.k.a. the Thin White Duke, is nominated too, but let's try to forget his cheesy remix of No Doubt's lifeless "It's My Life." That leaves Full Intention's Michael Gray and Jon Pearn as the most serious threat to the Jaxx, with their full-on house remix of George Michael's "Amazing." Their work features a thoroughly predictable bass line, but it works to make you nostalgic for Michael's glory days, during his mostly uptempo Faith era…
GEORGE MICHAEL'S BOUDOIR DANCING… George Michael managed to garner his own nomination at this year's Grammy -- and for one of his few modern-day uptempo tracks too. (Though it's not actually a dance nominee.) Who cares if he's only halfway responsible for the giddy delight of "Flawless (Go to the City)," originally performed by The Ones? He's even less directly responsible for the video, which is the odd-man-out nominee in Best Short Form Music Video. It's a strong if unrepresentative field of white rockers, and Michael. Though U2, Franz Ferdinand and Green Day all face better prospects for winning, Michael's is our favorite. "Flawless" is an inspired video of folks engaging in private boudoir dancing as they prep for a night on the town…
THREE TIMES A KYLIE… So will Basement Jaxx sweep all three dance awards? The odds are favorable, though the group's "Good Luck" does face serious competition in the most prestigious category, that of Best Dance Recording. Kylie Minogue's "Slow" is the one to beat here. This marks her third consecutive year as a nominee in the category, and it could be her second consecutive win, after last year's "Come Into My World." It should be: "Slow" is our pick, even over Britney Spears' fun but taxing "Toxic" -- and anyway, why wasn't Armand Van Helden nominated for his tax-free remix of the tune?
Still, Spears has the leg up, given that hers was the more popular dance hit -- and given that this marks her only nomination this year. And while we're on the subject of dissed divas, notice the absence of Janet Jackson? Well, she did manage to rack up two nods, both confined to the R&B categories -- none in her usual pop, and just as surprisingly none in dance, not even by association. Where's Sander Kleinenberg's remix nod for "All Nite (Don't Stop)" for example?
And by the way, notice anything about gender here? Yes, it's true men dominate dance music. But nowhere near as much as they do at the Grammys this year. Among 15 nominees, women only specifically account for two, and play a mere supporting role in just three others. What gives?…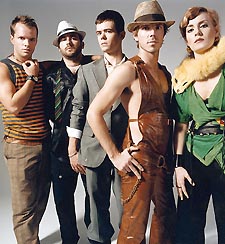 Scissor Sisters
SCISSOR SISTERS KEEP CUTTING… Kylie's latest hit in the U.K. is her collaboration with the Scissor Sisters, "I Believe In You," taken from her greatest-hits set Ultimate Kylie. The set will see a U.S. release Feb. 1. And for her second Grammy, Kylie will actually compete against Jake Shears, Babydaddy, Ana Matronic and co. That's right, the Scissor Sisters' tripped-out reworking of Pink Floyd's "Comfortably Numb" snagged a Grammy notice. Can you believe it? And that's not all: the quintet will stop yet again in our fair town, where they'll open yet another leg of a U.S. tour Jan. 12 at the 9:30 Club. Do they love us or what? The day before, the Sisters will release their first DVD, featuring scenes from a U.K. concert, a short documentary and much, much more, they promise…
---