Soundwaves
Deep Dish, Thievery Corporation, Rachel Panay, Suzanne Palmer, Anastacia, more
DANCE SPOTLIGHT ON D.C.… Could 2005 be the year D.C.'s dance community gains greater recognition? Well, let's do our part to push it. The community's pillars, house-heads Deep Dish and lounge-lappers Thievery Corporation, both have new artist albums on tap. Thievery's rocking new album, Cosmic Game, is due out later this month. And as has been reported several times earlier, our own Bob Mould and Rich Morel's duo Blowoff will also release its debut artist album this summer. Morel, who also works with Deep Dish, just posted on www.morelworld.com a video, drawn from concert footage, for its new single, "If You Love Me." That song should see light soon on the Billboard Club Play Chart, but he's actually already represented there -- last week he was on top, reaching the pinnacle by virtue of his remix of Seal's classic song, "Killer." Peter Rauhofer and J. Albert also remixed the song, rechristened for the occasion "Killer 2005" and released as an EP. All remixes are exceptional, but DJ Monk's is the most revolutionary reworking. Monk adds heavy beats and strips down the music, which has the effect of emphasizing the lonely feeling that's at the heart of Seal's tale.
Morel was joined in the Top Five by Rachel Panay, often seen on weekends hydrating at the very same watering holes where you might be found. Panay scores her highest charting single yet with her best song yet, "Back to Love," which rocketed from No. 9 to No. 4. The Josh Harris Love Anthem remix of the track closes in fine form David Knapp's latest Centaur compilation CD, White Party 6. It's also set to appear on this year's installment of the Queer as Folk compilation, due in March -- obviously a great development for Panay, as well as an early sign that the Folk compilers are turning back to dance music after a couple years straying into indie rock territory....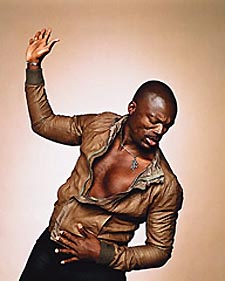 Seal
SEAL'S DANCE-FLOOR MOVES... Warner Bros. last week released the Killer 2005 EP at the same time it released on iTunes Seal: Best Remixes 1991-2005, which follows by a couple months a regular Best of Seal package. Overall, the Best Remixes set is a bit of a disappointment, with few truly phenomenal reworkings present. Still, most of the remixes are enjoyable, especially the guitar-centered remix from Burnin' Thick Dick (abbreviated as "Thick D.") of Seal's recent great hit "Waiting for You." And there are sure to be many Club Play chart-toppers to come from the set, too. Our bet for the next: "I'm Alive," a joint reworking of a 10-year-old ballad that comes from two of dance music's biggest producers, Sasha and D.C. native B.T....
BLONDES' DANCE AMBITION… At least two more blondes are gearing up to stir up dance floors with new songs. Baby Spice Emma Bunton reached No. 4 on the Club Play Chart recently with remixes of "Free Me," but her newest single, "Maybe," features a far better assortment, so it should do even better. Though the single hasn't been released in the U.S. just yet, and nor have the remixes, it's never too early to request and track down the Illicit Club Mix of the tune, or failing that, the Almighty Club Mix. Both capture the heady, sparkling energy of the original, though Almighty's is a little too forceful in its approach.
Suzanne Palmer will finally -- finally -- release her debut artist album on Star 69 Records within the next two months. Originally slated for last fall, Home will feature one of last year's biggest and best club hits, "Luv 2 Luv," as well as the title track, which has just been released as a single. After a quick spin, "Home" doesn't sound quite as amazing as its immediate predecessor, but it is as captivating as every previous Palmer effort. Palmer was the voice behind most of Peter Rauhofer's Club 69 mid-90s tunes, from "Muscles" to "Much Better." "Hide U" and "Show Me" revisited dance floors most recently…
ANASTACIA COMES HOME… Anastacia is another blonde who'll finally be back in the U.S. music headlines. It was just announced that her self-titled latest album, one of 2004's biggest albums worldwide, will finally see an American release, although not until June 7. Columbia Records obviously intends to spend months pushing the album, to finally make Chicago-born, New York-raised Anastacia the star she is everywhere else. Maybe third time's the charm. No word on whether the label will re-release her winning first hit, "Left Outside Alone," which got some club play last summer. Or whether it'll simply move on to the also appealing "Sick and Tired," which better shows off her album's dance-rock-pop fusion sound....
---