Soundwaves
Armand Van Helden, Jacques Lu Cont, Juliet, Lola and Leana
VAN HELDEN'S COMING CRUNK ROCK... If you haven't noticed, the guitars are surging in dance music, strumming out the new big thing: dance rock. Next month we'll see an album from one of dance-rock's longest-standing proponents, not to mention one of dance music's best producers. These days, however, Billboard reports Armand Van Helden is calling his disco-flavored but guitar-heavy rock sound -- which he formerly called ''cool cheese'' -- ''crunk rock,'' or ''crazy drunk rock.'' It's been five years since his last artist album, and it took Van Helden more than a year to find a label home for the fabulously named Nympho, which apparently many record label executives thought was a sort-of joke. "[It] has the beer-soaked spunk of summer roof-deck parties,'' as Billboard described it, and it features his two marvelous hits from last year, ''Hear My Name'' and the even better ''My My My,'' as well as his new single, ''Into Your Eyes.'' That latter track features Duran Duran's Andy Taylor, sampling an '80s hit from Taylor's short-stinted solo turn. Ultra Records will release the album stateside Sept. 6....
THE PRICE IS RIGHT... A more recent -- and thus far more-prominent -- proponent of dance-rock is Jacques Lu Cont. You have to pay attention to keep track of this prolific producer, since at various times he also goes by his birth name Stuart Price or by the nickname the Thin White Duke. As Lu Cont, he picked up the most recent Grammy for best remix, for his work on No Doubt's cover of ''It's My Life.'' But as Price, he was the musical director of Madonna's Re-Invention Tour. And again as Price he's been working with Madonna on her next album and its first single. Billboard reported that the album will be called Confessions on a Dancefloor, which certainly sounds promising, and the single is ''Hung Up"....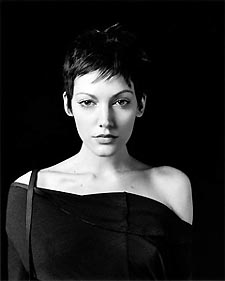 Juliet
PRICE PLAYS ROMEO TO JULIET... Stuart Price's work with Madonna is not due until at least the fall. But a peek into just how the end result may sound will be available soon, when Juliet Richardson's Price-produced debut, Random Order, drops. An early listen to the album, which Virgin Records will release on Aug. 30, finds Juliet and Price channeling some of the best, most idiosyncratic female-fronted pop from the '80s in a way that would make Price's fellow producer-extraordinaire Linda Perry jealous. We're talking Joan Jett, Annie Lennox, Siouxsie Sioux, Bjork -- and of course, to a minor extent, Madonna. Juliet, who co-wrote the album's songs, has a smoky, strong voice perfectly suited to Price's gritty rock, which makes you move. Virgin has just released remixes of her second single, ''Ride the Pain,'' after first single ''Avalon'' topped the dance charts months ago. For the first time I can remember, it's not a Thin White Duke Mix that is the most remarkable in the collection of three distinct remixes. Perhaps Price is too preoccupied with work for Madonna right now; his ''Pain'' is a little sleepy, and altogether too pain-free. Not so the Low End Dominatrix's remix. Low End, a relatively new New York production duo, finds pleasure from pain, playing up those two words throughout its mix and surrounding the track in the thick fog from a heavy, dense bass line....
STRANGER SEX... An early press photo of the 25-year-old Juliet, had her with short-cropped, bleach-blonde hair. On her album cover though, she's sporting short-cropped, spiky black hair as she shoots a sassy, straight-faced look to the camera. Juliet is, in short, different from most dance-pop starlettes who prefer to go by one-name. Two others who hew closer to the dirty-blond, seductive-looking norm are also riding high right now, both with sex-positive songs that are lyrically very similar. Both ''No Strings'' by Lola and ''Dance with a Stranger'' by Leana are perfect Club Play tracks. Leana, the ''Swedish Diva'' -- the name of her L.A.-based record label -- sings, ''Just one dance with a stranger, I don't need to know any numbers or names.'' And just like that her song has been decreed, no joke, the Official Stockholm Pride Song 2005. She's performing this weekend at that city's Pride celebration.
A Parisian-reared New Yorker who aspires to be categorized with Alicia Keys and Joss Stone, Lola seems a more appealing singer, with some grit to her soaring pipes. She certainly outdoes Leana on her first single. ''Baby, let's have sex, no strings attached,'' she sings, a little shyly, then shouting, ''I don't even know you, and I don't care/Cause you've got what I want, and I want what you've got.'' Sounds absolutely perfect as one night's theme at, and after, the club, right? Trouble is she doesn't quite have the courage of her convictions. The song is intended as a public service for women, who, Lola says in her official biography, are ''culturally robbed of desires and lust.'' But she's too quick to clarify that her song is ''an overtly honest fantasy (thought not an endorsement) about casual relations.'' And further, ''It's not a call to behave promiscuously.'' Right. Heaven forbid she should write a song about ''no strings'' sex and mean just that....
---