Soundwaves
Cyndi Lauper, Eurythmics, Jody Watley, Queer as Folk's Final Season soundtrack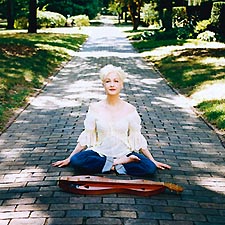 Lauper
SHE BOPS, WE BOP AGAIN... Would you believe Cyndi Lauper has only had one No. 1 club hit? Of course you know which one: her first single, ''Girls Just Wanna Have Fun.'' Last year she scored only her fifth Top Ten dance hit: ''Walk on By,'' her slow, sorrowful remake of a Dionne Warwick classic that Tracy Young remixed into a shimmering Sunday sunrise delight. While still not available as a stand-alone commercial release, Young's full ''Losing You'' remix closes out in fine form her recent masterful Dance Culture compilation.
And it's a pleasure to report we'll be hearing more from Lauper this year. First off, a new remix was included on the just-released compilation Queer as Folk -- Music from the Final Season. It's yet another remix of her several-years-old ''Shine.'' Essentially uncredited -- only named after the Showtime series' main club -- this Babylon remix is actually better than the Illicit Mix from 2002 or Tracy Young's mix from 2003. It actually sounds like a more refined version of Young's original.
Then in November, Lauper will release her ninth studio album, The Body Acoustic, co-produced with Rich Chertoff, who was behind her smash 1984 debut She's So Unusual. For the album Lauper will re-imagine her biggest hits, giving them a ''modern-day extreme makeover,'' a press release promises. So Lauper will rework ''Shine,'' ''True Colors'' and ''She Bop,'' among others. And on still others Lauper will get by with a little help from singing friends, including Vivian Green, Ani DiFranco and Shaggy. Sarah McLachlan will join Lauper on a stripped-down acoustic version of ''Time After Time,'' and Kelly Osbourne will add some punky punch to ''Girls Just Wanna Have Fun.'' And the album will contain two new songs. Finally, Lauper will tour in support of the album, stopping at the 9:30 Club on Dec. 16....
NEW SWEET DREAMS... Lauper isn't the only hit '80s act mining its repertoire looking for modern-day pop gold. In fact, one of that decade's most enduring duos, The Eurythmics, will return with a greatest-hits set, Ultimate Collection, also scheduled for release Nov. 8. So what, you ask? The duo of Annie Lennox and Dave Stewart already released a greatest-hits package soon after they originally broke up in 1990. As many times as you can listen to and never tire of ''Sweet Dreams (Are Made of This),'' ''Here Comes the Rain Again,'' ''Would I Lie To You?'' and ''Missionary Man,'' you only need to buy the hits once, right?
Probably, but there is this to encourage you to change your mind: new material. Five years after their first album in a decade, Peace, the duo got together earlier this year and recorded two new songs, including first single ''I've Got A Life.'' And even more promising, it happened because the two were inspired, not because anyone pressured them to. ''Annie and I didn't plan to go in the studio -- she was staying with me in Los Angeles and we seemed to spontaneously write and record some songs,'' Stewart told Billboard. ''It was just like the old days, songs coming at lightning speed and recorded and mixed in a week''....
LOOKING FOR RENEWED LOVE... Also mining her past is another club favorite, Jody Watley. Watley is putting together a Remixed, Reconstructed and Remade compilation of her past hits, which she notes on her Web site will also include several new tracks as well. It's not known how soon the set will be ready, but the first single drawn from the project garnered Watley her sixth solo No. 1 song, which also happens to be the same as her first solo No. 1 song: ''Looking for A New Love.'' The feat, achieved last month, happened eighteen years after the former Shalamar member's solo-debut hit topped the Billboard dance chart. The new chart-topping remixes were just recently commercially released, and we're obligated to tell you that the Chus & Ceballos tribal remix is, as expected, the best, although the full-length version of it is better than the truncated mix featured on David Knapp's Soakin Wet 2 compilation. But the song in any form sounds as good today as it did the first time around. And there's plenty of fun to be had with either Chris Joss's chunky disco Remix 1 or Henrich Z's giddy electro mix, too.
Watley, it should be noted, performed of her own volition outside San Francisco City Hall when the city last year rebelled and declared matrimony to thousands of gay couples. A clip of her performance, in which she ad-libs about the right of all to marry and serenades several of the just-married couples, can be seen from her Web site, www.jodywatley.net....
BRIT BY DESIGN... Queer as Folk's final season soundtrack is a nice assortment of new pop and rock tunes. But just as with previous QAF sets (and the retiring show itself), most tracks are British in origin. A Brit must have been in charge of assembly. Earlier this year saw release of the two-disc, very much non-British Queer as Folk: Club Babylon mixed set, which is essential to any gay dance compilation collection. Dance music still accounts for a little over a third of this new, unmixed album, but the true standouts are non-dance tracks from the likes of indie rockers PJ Harvey and The Charlatans UK and the Billie Holiday-influenced Madeleine Peyroux....
---