Soundwaves
International Dance Music Awards, Deep Dish, Junkie XL, Rihanna, Freemasons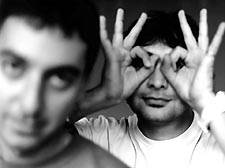 Deep Dish
DANCE AWARDS GO DEEP... Previous Grammy winner Deep Dish failed to grab a Grammy this year, but the International Dance Music Awards is the D.C. duo's to lose. Ali Shirazinia and Sharam Tayebi racked up the most nominations -- seven -- at dance music's most prestigious awards ceremony, to be held a week from Sunday during dance music's biggest annual event, Miami's Winter Music Conference. Other artists with multiple nominations at the 21st annual IDMAs for their work in 2005 include Paul Van Dyk, Above & Beyond, Gabriel & Dresden and the Pussycat Dolls.
Deep Dish's recognition signifies the duo's influence at all levels of the genre, as a DJ act, remixer, producer and label owner. The song ''Say Hello'' featuring Anousheh Khalili on vocals was nominated three times. The only category for which Deep Dish should have been eligible but was not nominated is as Best Dance Artist Group -- and that's the only category in which you'll find the group that stole this year's dance Grammys, the Chemical Brothers. And the Brothers won this IDMA category just last year, so that's another reason to hope Depeche Mode will best them, or failing that, The Killers. You can aid in the cause, if you hurry -- voting in the IDMA's 38 categories is open until this Friday, March 17 at www.wmcstore.com/idma/ballot.asp....
GET JUNKIFIED... He was mostly quiet last year, so understandably Tom Holkenborg, the California-based Dutch dance music producer known as Junkie XL, was not nominated for the IDMAs. Better luck next time: Junkie XL will release his fourth studio album, Today, on April 18. Today will feature just one vocalist, newcomer Nathan Mader, and is said to be focused on the rock-tinged progressive house sound for which Junkie XL is known. A press release says the new album often recalls the ''melodic beauty of New Order, while sometimes throbbing and pulsing like a house record.'' Sounds promising -- or you might even say, XL-ent....
PON DE RIHANNA... Another multi-nominated artist at this year's IDMAs is newcomer Rihanna. The Barbados native's infectious dancehall reggae-styled hit ''Pon de Replay'' was nominated in three categories. She was also nominated as Best New Dance Artist Solo. If she doesn't win, no worry, she'll assuredly be back next year. Less than a year after she burst onto the scene, a sophomore album is already ready. A Girl Like Me will be released late next month, preceded by first single ''S.O.S. (Rescue Me),'' which heavily samples Soft Cell's gay anthem ''Tainted Love.'' The end result is a song that works better than you fear, but not as well as it could. It sounds like it took all of 10 minutes to create. It's also not at all dancehall. Rihanna is obviously trying to show versatility in the uptempo genre, though so far she comes across as Beyonce Lite: tastes great, less filling....
FREEMASONS, A SECRET NO MORE... Last year saw the popular emergence of yet another dance music production duo. But Russell Small and James Wiltshire as the Freemasons are quickly becoming the go-to duo in the industry to remix R&B divas -- where have you gone, Hex Hector? And with good reason: the duo is part of a mostly European-based contingent of dance music producers successfully reviving the happy, ecstatic sounds of R&B-based disco, often through the use of disco-era samples. It's not clear if Small and Wiltshire are actually members of the secret society from which they derive their remixing handle, and it could be just a matter of time before that fraternal order legally threatens them to change their name.
But for now, the Freemasons are using the name to make a name for themselves. Nominated three times at the IDMAs, the duo recently topped the Club Play Chart with a remix of Heather Headley's ''In My Mind,'' and they generated some club heat with a remix of ''I Wasn't Kidding'' by Angie Stone. A new song from the duo called ''Watchin''' has just been released, a follow-up to the duo's hit last year, the IDMA-nominated ''Love On My Mind.'' Both songs feature vocalist Amanda Wilson, and both are neo-disco songs built on deft use of old samples. On ''Watchin''' Wilson sings the main vocal line from Deborah Cox's discofied 1999 hit ''It's Over Now,'' while the Freemasons add syrupy see-sawing strings and a punchy piano riff to create a cute but not very compelling track. The superior and more complex ''Love On My Mind'' sampled the music from a disco hit (''This Time Baby'' by Jackie Moore) and created lyrics using a line from that same song combined with a line from a recent Tina Turner song (''When The Heartache Is Over'').
Still, you're probably most familiar with these Brits because of their remix work for Faith Evans. On ''Mesmerized,'' Evans repeatedly sings, ''My heart is on fire since you put that thing on me...that thang, ba-bay.'' The Freemasons' chart-topping remix work here, with a jazzy piano sample and a quickly climbing synth line, is every bit as deliriously giddy and on fire as Evans. If the duo wins the Best Remix IDMA for which it's nominated, this will be the reason why....
---