Soundwaves
Lamya, Daniel Bedinger
Last week Christina Aguilera kicked off a "Dirrty" season of overwrought singing and undernourished diva-wannabes. This week, none other than Whitney Houston and Toni Braxton bow with new material. And soon making their way to a dance floor near you: Justin Timberlake, Deborah Cox, Jennifer Lopez and Mariah Carey. But pay attention only to them and you'll miss out on more satisfying, more original CDs. In fact, two of the more notable new artists of the year got lost in the shuffle of CDs released at the end of summer, so you can be sure they'll be forgotten now.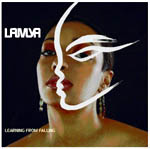 But how can you forget Lamya? The Middle East-native added her charming, extraordinary vocals to back up Soul II Soul, Duran Duran, David Bowie and others over the past decade. After years of waiting, her stunning debut album was released several months ago, and to this day we remain enthralled by her idiosyncratic music and pliable vocalizations that are never overdone, in the manner of Kate Bush, Tori Amos, Bjork and Erykah Badu. The album title, Learning from Falling, is drawn from one of the savviest pop songs to be heard in a while, "Splitting Atoms." From the get go we're hypnotized by the sitar chords and tabla beats, but especially by how the music powerfully, understatedly complements its poetic lyrics. Hear the notes fall as Lamya sings, "I'm learning from falling…down…hard." Admire her adroitness with words: "I lost my way, in all the shades of gray, and grades of shade, shadows put away to be forgotten, I lost but didn't lose the lesson."
Her "Empires" is unlike any modern-day pop song, beyond its unforgettable, peace-loving lyrics ("Bring me men to match my mountains…men to match my plains, empires in their purpose -- new eras in their brains"). Backed by an orchestra, it's a hoot in Lamya's spongy, playful voice.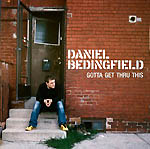 Daniel Bedingfield is not as category-defying as Lamya, and he could be grouped with today's waning boy-band brand of pop. But his sound is as much Robbie Williams as Justin Timberlake. Yes, as with Mr. N'Sync, he sings a song titled "Girlfriend" and he offers soulful coloratura, with several songs on Gotta Get Thru This featuring Michael Jackson falsettos. Bedingfield sometimes stretches his soothing, reedy voice to its tuneful limits. But his best work shows a modern-day British influence refreshing to our Amer-centric ears. His second best song, "Inflate My Ego," is every bit as theatrical in style (it samples Henry Mancini's "Peter Gunn Theme"), dramatic in sound and mockingly self-absorbed as Williams's music.
Bedingfield's most accomplished song, the album's title track, somehow managed to squeak its way to Billboard's Top Ten in September with little airplay or publicity, and topped the dance charts a few weeks later. Who needs Neptune's stripped-down bass grooves (see Justin, Britney, Jay-Z) when British two-step beats can jerk you just as well? No Doubt. It features a kickingly intense reverb and a delayed beat pattern similar to Madonna's "Music." Move past the album's occasional moldy bottles of syrup-sap collected from the Back Street Boys' once-prolific tree and savor the Jamaican-me-crazy manic mood of "Friday" waiting for the girlfriend to return home. Feast on the Sugar Ray-esque sunbaked, pleading vocals and pop-rock of "I Can't Read You" and "Girlfriend." You'll get through it all right -- and then come back for more.
---