Soundwaves
Christina Aguilera, Beyonce, Justin Timberlake, iTunes dance
AND THIS YEAR'S SUMMER ANTHEM IS... Now that the season has officially begun, it's time to consider contenders for Song of Summer 2006. At this very moment, the latest from Shakira and Nelly Furtado have the lead, but others are quickly catching up. And as in years past, they're all women. With ''Buttons,'' the Pussycat Dolls could bring it again, at least in gayville and in clubland (not mutually exclusive domains, of course). Meanwhile, neither Mariah Carey nor Rihanna seem to have the staying power with their respective hits ''Say Somethin''' and ''S.O.S.'' But Tony Moran does do a nice job reworking Rihanna's lackluster single, ''Unfaithful,'' so his remix could make that the sleeper summer song.
Chances are high, however, that Madonna will rule the gay airwaves with ''Get Together.'' Just weeks after release, the club-happy song is already dominating all dance charts. Among the remixes, only the disco-washed Danny Howell and Dick Trevor KinkyFunk Mix stands up to repeated play. Stick to the original, and you've got a real contender....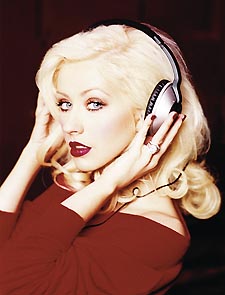 Aguilera
XTINA PACKS A SUMMER PUNCH TOO... Christina Aguilera is also riding high with her new song ''Ain't No Other Man.'' All it takes is one listen to reveal why it's another strong contender to be Song of Summer 2006. The funky horns, swaggering beats and Aguilera's celebratory attitude make the classic-styled R&B stomper the perfect genre-bending summer jam, along the lines of Beyonce's ''Crazy in Love'' from three years back. It's also an enticing preview of Aguilera's third album, Back to Basics, hitting stores August 15. Aguilera set out to revive and slightly modernize the sound of vintage jazz and soul from the greats that she says inspired her, including Billie Holiday, Etta James and Ella Fitzgerald. ''What I used to call my 'fun music' when I was a little girl,'' she explains. Aguilera re-teams with Linda Perry, who created the gay classic ''Beautiful'' and other tracks from 2002's Stripped. But she worked mainly with little-known hip-hop producer DJ Premier, and in previous reports she has said the album sounds different from her past work. But not completely different: One track, ''Thank You,'' features bits from her first hit, ''Genie in a Bottle.'' And another, ''Still Dirrty,'' has been described as a ''sassy club track,'' just like the Stripped hit that obviously inspired the title, ''Dirrty''....
BEYONCE'S SUMMER RETRY... If ''Ain't No Other Man'' isn't this year's ''Crazy in Love,'' then Beyonce hopes to take the honors again herself. But simply titling her latest summer release ''Déjà Vu'' doesn't make it so. It's a cute track for sure, and one that deserves to be a hit, no question. But Beyonce sounds more shrill than ever, and the song is more traditional R&B and not nearly as infectious as ''Crazy in Love.''
Fortunately, Beyonce did bring back ''Crazy in Love'' producer Rich Harrison for other tracks on her sophomore album, dubbed B-Day. In fact, she told Billboard she created ''healthy competition'' between the five hitmaking producers she tasked for the album, including the Neptunes as well as Harrison and ''Déjà Vu'''s Rodney Jerkins. She would begin work with each producer telling him that another one just laid down some ''great beats'' for her. No word on whether she actually added ''Can you keep up?'' But that was her intention, and apparently it worked -- none of the producers were dismissed. While 2003's Dangerously in Love focused on the joys of love, Billboard reports Beyonce's latest is ''about female empowerment,'' and ''speaks for every woman.'' Sounds like ''Independent Women, Pt. 3''....
JUSTIN COMING 'SEXYBACK' TOO... Is it 1999 all over again? Pretty much all we're missing is Britney and the boy bands. And if you count the tabloids -- but wait, here comes boy-band grad Justin Timberlake, expected to release his sophomore set, FutureSex/LoveSounds in September. The first single, ''SexyBack,'' won't be released until early July, so a little on the late side to make it a true contender for Song of Summer…
DANCE DIVA DUMP AT ITUNES... Still haven't had enough of divas? How about throwing into the mix some Whitney, Deborah, Angie, Annie and Kelly? Well, we can't promise you'll find anything new. But in case you didn't notice the last time you dived for divas at iTunes, the RCA Music Group recently dumped three loads of hard-to-find dance tracks from among its stellar roster of dance stars. Some of these were only available to DJs, others were only available in edited version; none were previously available in digital format.
But thanks to RCA's Hosh Gureli, dance music's biggest champion in the music industry, now you can have the digital full-length version of David Morales' aptly named Emotional Club Mix of ''So Emotional'' from Whitney Houston [iTunes]. That's 11 minutes, 22 seconds of dance-floor bliss, or nearly three times the edited remix included on Houston's The Greatest Hits set. Or you can download Peter Rauhofer's Club 69 Mix of ''Nobody's Supposed to Be Here.'' You say you only knew of Hex Hector's classic remix of that Deborah Cox [iTunes] signature? Hector's is better -- and it's here as well -- but check out Rauhofer's unique take anyway. It's a high-stepping sizzler.
The RCA Dance Vault is sometimes prominently flagged at iTunes, but if you can't find it, the best way is to either search by your chosen diva's name or use the keyword ''vault''....
---