Soundwaves
Britney Spears at VMAs,JC Chasez, Blake Lewis, Moby, Kult, more
HIT ONE MORE TIME... Oops, she did it again. But Britney Spears didn't just goof again. Though clearly she did that, with her sloppy and stilted performance at MTV's Video Music Awards. It's as if her tiny two-piece outfit were too tight, cutting off her inspiration. She could barely follow the beats or the lyrics. And she could barely care less. Grin and bare it -- that's all she did.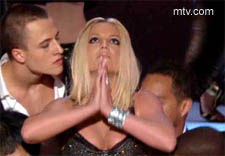 Britney Spears at VMAs
(Photo by MTV.com)
She certainly didn't sell the song. Did you even notice ''Gimme More?'' Listen again, because it's right up Britney Alley: If you liked ''Toxic'' and especially if you liked ''I'm A Slave 4 U,'' there's no reason you won't like this or consider this a hit in your playbook. Yes, in fact, she did it again. (Fun fact: Did you know ''Slave'' was originally written for Janet Jackson, but the ''Throb''/''Velvet Rope'' singer turned it down on account of being too sultry? Hard to believe, but we don't doubt Wikipedia.) ''Gimme More'' was produced by Nate ''Danjahandz'' Hills, who is Tim ''Timbaland'' Mosley's protégé and most frequent collaborator. And apparently there's more dance-pop goodness to come on Spears' next album, due in November and still waiting on a title -- as voted on by fans. We think Omg Is Like Lindsay Lohan Like Okay Like is just like, such as, super! Though What if the Joke Is on You would work too. (And yes, those really are in contention, along with more mundane and inappropriate choices like Integrity and Dignity.) ''Toxic'''s lead songwriter Cathy Dennis, the '90s one-hit-wonder [''Touch Me (All Night Long)''] and Grammy-winning Kylie Minogue contributor, is reportedly back on board. (Fun fact No. 2: The British Dennis not only wrote the theme song to the Pop Idol/American Idol franchise, she's also the one who chants, ''Wah-oh-uh-oh-uh-waah.'') And frequent Beyonce-producer Sean Garrett hyped Billboard on another track to appear on the album: ''I've got this one record I've been holding for 10 months that everyone has tried to buy, but I stayed with Britney on it. I guarantee it will shake up the world. It's uptempo, out of control ... it's wow-zers.'' Yeah, but if the ultimate seller turns you off -- or at least, fails to turn you on -- will you still buy it? The odds are diminishing fast for Britney....
OUT OF SYNC... JC Chasez is another '90s teen-pop sensation trying to keep a career alive a decade later. But Chasez, as a solo star, hasn't had even half of Britney's fame, not to mention former 'N Sync bandmate Justin Timberlake. So it's not altogether surprising that his long-time label home Jive Records has cut him loose, even if it came a couple years later than expected -- and a year after Chasez wrapped up work on an album. Oops. Jive was supposed to release earlier this year Chasez's follow-up to his 2004 debut Schizophrenic. Billboard reports the new set, tentatively titled Kate, will now appear ''on a new label to be announced'' -- which sounds like a polite way of saying never. Or, at least, a long time from now. It all depends on how lucky Chasez is to find a new label suitor. Though truth be told, Chasez should be pretty lucky. After all, his pal Timberlake did just start up his own label imprint, Tenman Records. And also, there's the fact the album features collaborations with both Tims -- Timberlake and Timbaland -- as well as other pop/rock heavy-hitters Dallas Austin and Billy Steinberg. So never say never....
IDOL BEATS... Remember the beat-boxing singer Blake Lewis, the improbable runner-up from this year's sixth American Idol? Well, his debut album, expected before the year's out, seems to be shaping up as something worthy of your time. ''It's your favorite '80s mix tape,'' Lewis told Billboard. ''Very inspired by Michael Jackson, Prince, Erasure, Depeche Mode, Duran Duran, the Cure.'' Sounds good so far, but then he qualified himself a bit. ''It's all over the map, really -- very influenced by '80s hip hop, old school breaks, whatever.'' Well, whatever won't cut it -- and the working title, Audio Daydream (ADD), isn't exactly promising either. And on top of that, too much beat-boxing, or even much at all, will keep us away. But so far, we're curious to see what he dreams up. Meanwhile, this year's American Idol Jordin Sparks will release her debut in November, and it's expected to be an uptempo, straightforward pop affair the likes of which we haven't really heard from an Idol before. So we're curious about that, too....
MOBY'S NEW HOUSE... As far as is known, Moby hasn't teamed up with any company to create his forthcoming album the way he did with his last set, Hotel, produced in partnership with W Hotels. In fact, this time Moby seems genuinely inspired by music, and of a sort he hasn't really created before: not techno, or just general dance-pop, but house, specifically diva-oriented early-house. Grace Jones and Donna Summer are touchstones, he told Billboard, though he's working with unknown and up-and-coming singers rather than celebrity guests. If nothing else, LOGO seems like a marketing partner for the album, which is expected in early February....
DANCE DEVIANTS -- AND 'DOOBIE'... Every so often a club track comes along with an attitude that makes you take notice. These are generally feisty and playful songs expressing deviant sentiments that clubgoers share, or at least relate to in the abstract -- generally about sex, drugs or the wonders of dance music. Tracks by Tom ''Superchumbo'' Stephan and Cazwell may come to mind, though Avenue D's ''Do I Look Like A Slut?'' is still tops in our book. But wait till you hear newcomer Eva, a New York-based Swedish singer. Eva has a way with words and timing that belies her acting and burlesque/cabaret experience. With her lightly, appealingly accented English, she's an incendiary storyteller on ''13th Street, New York City,'' a track produced by Eddie Cumana and Stuart Bridges. According to the label, it was Cumana who inspired Eva's spoken-word lyrics.
''I was on 13th Street, in the middle of the night,'' Eva says on the track, ''and up to me comes this guy and asks me, 'Do you want a puff?''' He didn't mean a puff pastry of course, but Eva couldn't refuse anyway. They proceeded to puff the night away, but that's only the half of it. ''We went up to my roof and we were screwing all night long!'' ''Oh yes!''
Ah, the beauty of an independent label with counterculture tendencies. Cumana & Bridges featuring Eva's ribald ''doobie'' track is just the latest from Kult Records. The label, headed by Cumana, has been a steady provider of underground club tracks since its formation more than a decade ago, though until now it's drawn little attention to itself. More smoke than fire, let's say. But it has plans to churn out more incendiary -- or at least infectious -- tracks this fall from the likes of Alan T and Lula and others you have been exposed to previously, most likely on a Star 69 release. There's a lot of overlap between those two labels especially, though Kult is a bit angrier and edgier and less mainstream than Peter Rauhofer's Star 69. Kult is more the domain of bitter, bitchy drag queens and those they inspire to be fierce and demanding -- not simply singing and shouting divas....
KULT'S DIVAS AND DRAGS... So how did Sheila Brody get on the Kult list? Well, actually, Kult has released many thunderous club diva ditties you'd at least recognize by sound [''Love Dominates (No Man Can Tame Me),'' ''Don't Want Another Man,'' ''Shake Yourself Loose''], from the likes of Tina Ann and Cissy ''Whitney's Mama'' Houston -- and credited to DYNAMIX, an alias for Cumana. No doubt you've seen or heard a drag queen lip-synch along to a Kult track or two; they're custom-made for drag queens. Brody, who usually records as Amuka, got her appreciative start several years ago with the Star 69 release ''Appreciate Me'' and then its follow-up ''U Ain't That Good,'' but she's now part of the Kult cult. Her follow-up to last year's chart-topper ''I Want More (Cling on to Me)'' is ''EQ (I Am An Effect For You).'' It's as catchy as all her previous hits. Here's hoping her effects continue to hit....
---