Soundwaves
Annie Lennox, Robyn, Vince Clarke and Yaz, Trentemoller
ANNIE'S PAVEMENT CRACKS... Once dubbed the ''Greatest White Soul Singer Alive'' by VH1, Annie Lennox has now been dumped on like so many soul singers of yore, white or black. Either that, or the 53-year-old singer is stirring up drama to get much-needed attention like so many before her, soul or otherwise.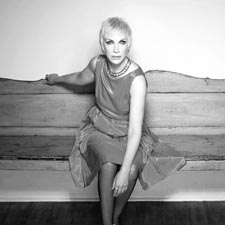 Annie Lennox
''They totally ignored me,'' The Mirror quoted the former Eurythmics singer referring to her label, Sony BMG. The British tabloid reported that the label wouldn't respond to her queries in the weeks leading up to the expiration date of her contract. ''It was bizarre, a kick in the teeth,'' the Mirror further quoted Lennox, reporting she'd been dumped by Sony.
Apparently, Lennox's travails are not quite as juicy as it sounds -- or maybe the Lennox camp is backtracking after calling the label's bluff. It's true that after 25 years, she's no longer on contract with Sony. And the fact that the label is obviously in no rush to change that state of affairs speaks volumes. Still, Billboard quoted Sony's U.K. chairman calling the Mirror's report ''ludicrous,'' gushing about their past and hopeful Lennox will want to work with the label in the future. ''She now has a choice as to whether she wants to continue to work with us in the future. We very much hope that she will.''
''I'm going to take my time over the coming months to figure out what to do with this freedom,'' Lennox told the Mirror in its original article, which also reported she plans to sell off some of her possessions on eBay for charity. Lennox's camp later suggested to Billboard her quotes to the Mirror ''had been taken out of context'' -- adding yet more mystery.
Whatever else happens, hopefully Lennox will manage to stir up more attention to last year's Songs of Mass Destruction. Our vote as her most accomplished album yet, the set didn't detonate with much force, either in her homeland or here -- though selling a quarter-of-a-million copies isn't exactly terrible in today's down music market. Also, even with an all-star backing lineup and a phenomenal remix from Harry ''Choo-Choo'' Romero, her anti-AIDS-benefiting single ''Sing'' barely dented the Top 20 of Billboard's Club Play chart, much less any other charts. ''What won't kill you will make you strong,'' Lennox sings in the song. Here's to something strong coming from this....
SHOW ME NEW LOVE... A decade ago there was a Swedish singer who registered as a cross of sorts between Britney Spears and Christina Aguilera. Remember Robyn? ''Show me love, show me life, baby show me what it's all about,'' she pleaded in her biggest hit, written by Britney's Swedish hitmaker Max Martin. The song went all the way to the top of the pop charts. Robyn was only 17 at the time, but unlike Britney, she took a break from the spotlight and grew up. And look at that, here she is, as cute as ever, but definitely an adult.
''Give me something illicit -- like that would get you in trouble or something,'' Robyn asks her drum machine for a dirty snare beat as ''Konichiwa Bitches'' opens. And she gets trouble in spades on this sassy but sweet track that finds her rapping about her prowess. Robyn's already chalked up renewing interest in Europe, and her label is working hard to make it happen stateside, too. One listen to her just-released The Rakamonie EP and you'll be ready to hear her self-titled full album, expected in the spring. The EP ends with ''Jack U Off,'' Robyn's cover of a Prince song that's decidedly not teen pop, especially considering she doesn't change the feminine pronouns....
WHAT ELSE IS THERE?... Dazzling Danish dance producer Trentemoller gave Robyn some recent dancefloor traction through his bombastic remix of ''Konichiwa Bitches,'' which you can hear on his overlooked two-disc Trentemoller Chronicles, released last fall. His remix of Robyn is a standout track, but only one of many. Trentemoller is probably the best purveyor of minimal electro house, which is all-the-rage right now -- unlike so many others he never loses sight of the need for melody or the central reason there's dance music in the first place: to, um, dance. His two-year-old take on Röyksopp's ''What Else Is There?'' remains one of the very best electro-tipped remixes around. It's all just surprising how sharp but little known stateside the rest of the set's 22 remixes and productions are. It hasn't helped that Trentemoller has only done limited touring this side of the Atlantic. Perhaps that will change with the release in March of a new single, ''Miss You''....
DON'T GO, AGAIN... Vince Clarke, the lesser-known and straight half of Erasure, took a break from the band a couple years back to have a baby. Now, he's taking another break for an even better reason: to re-team with Alison Moyet. More than 25 years after calling it quits as the duo Yaz (Yazoo in the U.K.), the duo is reuniting for a series of still-to-be-announced shows in the U.S. this summer, Billboard reports, in advance of the May release of a four-disc collection of remasters, remixes, B-sides and a DVD. Yaz hit big in the early '80s with ''Don't Go'' and ''Only You''....
From YouTube: Robyn: Konichiwa Bitches
---